"Miku" redirects here. For other uses, see Miku (disambiguation).
Hatsune Miku

Biographical information
Gender

Female

Age

16

Height

5'2" / 158 cm

Weight

92.4 lbs / 42 kg

Voice

Saki Fujita

Illustrator

• KEI (V2/2007)
• Masaki Asai (V2A/2010)
• Zain (V3 Eng/2013)
• iXima (V3/2013)

Product information
Company

Crypton Future Media, Inc.

Distributor

Crypton Future Media, Inc.

Language
Code

CV01
CV01A

Affiliation
Website

• Company homepage • Product page CV01 CV01a MV3e MV3
• Facebook (Jp) (Eng)
Hatsune Miku (初音ミク), codenamed CV01, was the first Japanese VOCALOID to be both developed and distributed by Crypton Future Media, Inc.. She was initially released in August 2007 for the VOCALOID2 engine and was the first member of the Character Vocal Series. She was the seventh VOCALOID overall, as well as the second VOCALOID2 vocal released to be released for the engine. Her voice is provided by the Japanese voice actress, Saki Fujita (藤田 咲, Fujita Saki).[1][2] There has since been numerous installments such as additional voice banks dubbed 'Append', as well as an upgrade to the VOCALOID3 engine, which includes her long awaited English vocal release.
She is considered the most popular and well known VOCALOID and the first to become a pop idol.
Concept
Crypton had the idea to release Miku as "an android diva in the near-future world where songs are lost."[3][4]
Her very first concept was of a bilingual Japanese and English vocal, but this later became the concept of Megurine Luka.[5]
Etymology
The name of the title and character for the software was chosen by combining Hatsu (初, first), Ne (音, sound), and Miku (ミク, future), thus meaning "the first sound from the future."
Her codename of "CV01" means "Character Voice 01".
Appearance
When KEI illustrated Miku, he was given a color scheme to work with (based on YAHAMA synthesizers' signature blue-green colour) and was asked to draw Miku as an android. Crypton also provided KEI with Miku's detailed concepts, however, Crypton said it was not easy to explain what a "Vocaloid" was to him. KEI said he could not create an image of a "singing computer" at first, as he did not even know what a "synthesizer" was. It took him more than a month to complete the commission.[6]
Miku was originally intended to have a different hairstyle, but after trying out pigtails, KEI thought they were more suitable. Her pigtails have since become an iconic part of her design. On June 22, 2012, Hatsune Miku's twin tails even earned her the title of the Twin Tail which best represented the 2000s, marking her the best set of Twin Tails from the dawn of the 21st century. She now shares her twin tail distinction with other characters like Sailor Moon (who won best Twin Tails for the 90s period).[7]
The digital design on Miku's skirt and boots is based off synthesizer program colours, and the bars represent actual bars within the program, following Crypton's ideas. Part of her design is based on some of YAMAHA's keyboard models, particularly the DX-100 and the DX-7.[8][9] The thin squares around her pigtails are futuristic ribbons made of a special material that floats in place. As seen in KEI's art for Miku, they are able to hold Miku's pigtails in place without having to physically touch the hair itself. The ribbons are also reported by KEI to be the hardest item on the character's design for cosplayers to recreate.
After an internet meme involving Hachune Miku, Miku was associated with a spring onion (often mistaken for a leek due to the similar appearance). This, along with KAITO's association with ice cream, started a discussion called "the Item War" within the VOCALOID fandom, where it became traditional for new VOCALOIDs to have an item assigned to them and the items were debated upon until one stuck via an Internet Meme. This occurrence has since died out.
VOCALOID Releases
Examples of Usage
Music featuring Hatsune Miku
This VOCALOID is featured in 535 songs and on 695 albums on this wiki.
There are listings for notable, original and cover songs.
External search →
To our readers and editors: For section notes, please read this tutorial. And before adding translated videos, please read this tutorial.
ぶれないアイで

Romaji/English
Burenai ai de (With An Unblurred Eye)
Featuring
Hatsune Miku
Author(s)
Mitchie M
Category
Original song

Description

This is Hatsune Miku and eye drops "digieye" collaboration song "Burenai eye de" full version music video. Kasoku Sato made new Miku 3D model.
閃光⇔Frustration

| | |
| --- | --- |
| Romaji/English | Senkou⇔Frustration (Flash⇔Frustration) |
| Featuring | Hatsune Miku |
| Author(s) | Yairi |
| Category | Original song |
ダストテイル

| | |
| --- | --- |
| Romaji/English | Dasutoteiru (Dust Tail) |
| Featuring | Hatsune Miku Append; Dark, Vivid, & Solid |
| Author(s) | KulfiQ |
| Category | Original song |
セカイにただヒトリの

| | |
| --- | --- |
| Romaji/English | Sekai ni tada Hitori no (Alone in the World) |
| Featuring | Hatsune Miku Append; Sweet |
| Author(s) | fatmanP |
| Category | Original song |
gift nor art

| | |
| --- | --- |
| Romaji/English | gift nor art |
| Featuring | Hatsune Miku Append; Dark & Light |
| Author(s) | HSP (song), chu-ji (lyrics), Tripshots (video) |
| Category | Original song |
Glass Wall

Romaji/English
Glass Wall
Featuring
Hatsune Miku V3 English
Author(s)
Guitar Hero Piano Zero
Category
Original song

Description

"Glass Wall" was one of the songs performed by Hatsune Miku during her opening acts for Lady Gaga's ArtRAVE: The ARTPOP Ball concerts.
Leap

| | |
| --- | --- |
| Featuring | Hatsune Miku V3 English |
| Author(s) | MJQ (music), Eri (lyrics) |
| Category | Original song |
Addicted

Romaji/English
Addicted
Featuring
Hatsune Miku V3 English
Author(s)
Circus-P
Category
Original revised song
Reft Heart and Light

| | |
| --- | --- |
| Featuring | Hatsune Miku V3 English |
| Author(s) | Ady S |
| Category | Original song |
More Examples 
Yesterday

Romaji/English
Yesterday
Featuring
Hatsune Miku V3 English
Author(s)
mush
Category
Cover song
Once Upon a December

| | |
| --- | --- |
| Romaji/English | Once Upon a December |
| Featuring | Hatsune Miku V3 English |
| Author(s) | Karin12822 |
| Category | Cover song |
Last Night, Good Night Ver.2

| | |
| --- | --- |
| Romaji/English | Last Night, Good Night |
| Featuring | Hatsune Miku V3 English |
| Author(s) | AfiquTheVocaloid12 |
| Category | Cover song |
Top Of The World

| | |
| --- | --- |
| Romaji/English | Top Of The World |
| Featuring | Hatsune Miku V3 English |
| Author(s) | lparadorn |
| Category | Cover song |
unravel - Dubstep remix

| | |
| --- | --- |
| Romaji/English | unravel |
| Featuring | Hatsune Miku V3 |
| Author(s) | dj-Jo Music |
| Category | Cover song remix |
Genesis

Featuring
Hatsune Miku V3; Soft
Author(s)
Tripshots
Category
Original song
アネモネにさよならを

| | |
| --- | --- |
| Romaji/English | Anemone ni sayonara o (Goodbye to anemone) |
| Featuring | Hatsune Miku V3; |
| Author(s) | Neji-Shiki |
| Category | Original song |
PARANOID

| | |
| --- | --- |
| Featuring | Hatsune Miku V3; Solid |
| Author(s) | mianamaxi (Mixing), iikibiz (VSQ) |
| Category | Cover song |
More Examples 
Tender signal

| | |
| --- | --- |
| Featuring | Hatsune Miku V3; |
| Author(s) | askas |
| Category | Original song |
Tell Your World Piano ver.

| | |
| --- | --- |
| Romaji/English | Tell Your World |
| Featuring | Hatsune Miku V3; Dark |
| Author(s) | COSSUN |
| Category | Cover song, arrangement |
へたくそユートピア政策
WAVE

| | |
| --- | --- |
| Romaji/English | WAVE |
| Featuring | Hatsune Miku V3 |
| Author(s) | KalfinaYork, Circus-P (VSQx) |
| Category | Cover song |
Marketing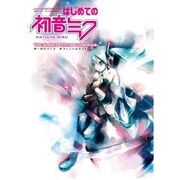 Miku's initial marketing was similar to past software synthesizers and VOCALOID voicebanks, and was standard marketing for the software at her time of release. She was originally aimed only at professional producers; the amateur and Otaku market hadn't fully formed yet, and so it was not initially considered.[10] For a variety of reasons, Miku received unexpected commercial success. Due to Miku's popularity boom, Crypton had the chance to take advantage of early technical support for Miku and several guidebooks and magazine support were released solely focused on her vocals. This type of technical coverage was even possible long after Miku's initial release and methods of adapting her vocals are the most well documented among the VOCALOID2 era vocals.
Since the success of her voicebank led to an expansion of marketing possibilities, most of the mass marketing has come after her initial release as a response to her popularity. Even with the addition of other Character Vocals, Miku's name continues to be used as the primary source of marketing for Crypton Future Media, to the point where most products for their VOCALOIDs will usually only feature Miku's name, despite the inclusion of other Crypton VOCALOIDs. In March 2012, the Nomura Research Institute estimated that the sales of all "Hatsune Miku" brand goods added up into the region of ¥10,000,000,000 since her release in 2007.[11] Miku's name is now the easiest of all VOCALOIDs to market. Also owed to her popularity, many VOCALOID related products such as piano sheet music packs, books, and magazines carry her image on the front cover. Around January 28, 2013, a 3 day survey was run by Tokyo Polytechnic University. During the survey (based on ages 12–38) 95% of those entering reported knowing who Hatsune Miku was, in comparison participants barely knew who Megpoid, IA or Aoki Lapis were.[12]
Corolla Miku, presented in 2011, wears slightly different attire compared to KEI's original design: instead of one skirt stripe and single floating ribbons, she now has two, as was intended by the client.
In 2011, Crypton began to focus on marketing Miku to U.S. audiences. On May 7, USAmazon placed a preview of Supercell's hit song, "World is Mine", as a single. When the song finally went on sale, it came 7th in the top 10 World singles list on iTunes in its first week of sales.[13] The entry was presented as "The World is Mine Feat. Hatsune Miku". Crypton had to consider who they were aiming the advertisements of Miku at (mostly the web fanbase) and had to check the differences between the Japanese and English fan communities. Since Crypton had always sold Miku as a virtual instrument in Japan, they asked their Japanese fan base if it was acceptable for them to sell her as a virtual singer to the new market audience.[14] The main purpose of the Miku English version is to allow Japanese producers to break into the west and also expand their audiences.[15]
Crypton Future Media do not approve of using Miku in politics. This is, so far, one of the biggest areas of marketing that Miku has avoided being used for.[16] However, Hatsune Miku sung the theme song for Japanese National Election candidate, Yoshikazu Tarui. Despite this, her mascot was not used; instead, a pink twin-tailed girl dubbed Android Rui replaced her.[17]
Main article: VOCALOID in other media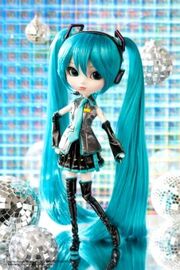 Manga
A manga called Maker Hikōshiki Hatsune Mix began serialization in the Japanese manga magazine Comic Rush on November 26, 2007, published by Jive. The manga is drawn by KEI, the original character designer for Miku. A second manga called "Hachune Miku no Nichijō Roipara!" drawn by Ontama began serialization in the manga magazine Comp Ace on December 26, 2007, published by Kadokawa Shoten. Miku sometimes wears glasses in the manga, and Rin and Len call her "onee-chan" (big sister). A yonkoma webcomic made by artist Minami called Chibi Miku-san can be found on his webpage, as well as on third party sites. [18][19]
Clothing
She has appeared on T-shirt designs, often to promote Miku herself or particular albums by Producers.
In 2011, Piapro held a contest with members to design Goth Lolita clothing for VOCALOIDs, the designs were produced by the company Putumayo. Amongst the winners were designs based on Miku's own attire.[20]
An official cosplay outfit has been produced.[21]
A Miku motif hat with mittens is currently available for pre-order. A bear face is at the back. It is produced by AmiAmi.[22]
ACOS have also produced an official cosplay outfit and wig.[23]
In December 2012, Miku items also appeared in the "earth music & ecology Japan Label".[24]
In October 2013, headphones resembling Miku's own headphones (minus logos) appeared also for sale. These were the first headphones to be produced for commercial sale to be accurately recreated from the vocaloid2 images.[25]
In 2014, official wigs for Miku and her fellow Crypton Vocaloids were shown for sale.[26]
Figurines
Miku's popularity has led to numerous figurines based on her image. Many are inspired by PVs made by fans and Vocaloid users.
For Miku's Append, a standard figurine was produced, as well as both Figma and Nendoroid figurines.
A special version of Miku "Snow Miku" has also seen a number of figurines. This started out as a special seasonal Nendoroid but has since been updated to add joints and become a Pullip doll alongside Kagamine Rin and Kagamine Len. After the Earthquake in Japan in 2011, both a figure and Nendoroid "support" version of Miku were made with donations going to the Japanese Red Cross for every sale. Due to the popularity of the Lucky Star Kagami cosplay scene in the OVA, both a Nendoroid and a figma version of the character dressed as Hatsune Miku were produced. A figurine from the "Soul of Chogokin" series of figurines made by Bandai were also produced as a special release. As a cross over, a figurine of Miku based on Fei-Yen from "Cyber Troopers Virtual-On: Operation Moongate" a game made by SEGA, was also released. The release was because SEGA owned the rights to produce games based on the Crypton Future Media VOCALOIDs and had also previously produced other models based on Miku as part of promotions for the game "Project Diva".
Many of the figurines have been made based on the Crypton fanbase input, such as both a standard and DX "Love is War" figurines being released in 2011. Other releases include VN02, a figurine based on the MMD "Lat" model and "The World is Mine," to name but a few examples.
She also had a Tony Taka model. A note about this particular model is that it can be stripped down until Miku was in just her underwear as her clothes were layered; these could also be removed to leave her as a makaizou model, but this will damage the model in the process.[27]
The Good Smile racing company have also produced figurines every year since 2009. These have been special releases not set for overseas shipping and can only be bought with a season ticket. She also had a couple of figurines amongst the Prize Fair figurines in September 2011.[28]She also has had several resin kits made for her. In December 2010, Brindle made two such kits. During the Winter Wonderfest 2011, a White Miku figurine was produced by Polygonia. In the Summer Wonderfest 2011, Replyfrom made a non-scale resin kit for Miku and Polygonia made a 1/7 scale model.[29][30] Honeycomb also produced an Append Miku figurine at the 2011 Winter event earlier that year and the model was tweaked and reissued for the summer event.[31][32] During the May 2011 Treasure-Festa, an Append non-scale kit was produced by Ambivalent.[33]
Snow Miku 2013 version will be sold at Sapporo during the Snow Miku event. This figure will also be sold as Hokkaido Figure Miyage, a special capsule toy, from February 2013. Snow Miku trains will also run in Sapporo from December 17, 2012 to March 17, 2013. Toy models of the Snow Miku Trains from both 2012 and 2013 will be sold at the Snow Miku event in March 2013.[34]
Unfortunately, her popularity has led to a number of bootleg goods being produced, particularly towards Nendoroid and Figma models.
Sony Walkman;NW-S764
A limited edition of the Sony Walkman NW-S764 has been produced in association with Miku's 5th birthday.[35]
Calendar
Crypton Future Media VOCALOIDs have appeared in some 2013 calendars.[36][37]
PlayStation Vita Limited Edition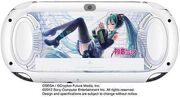 A limited edition Hatsune Miku PlayStation Vita handheld was revealed in May 2012 in association with SEGA and Crypton Future Media. The limited edition was made as part of promotions for the next Project Diva game.[38]
PowerPuff Girls
A special set of merchandise was produced in a PowerPuff girls × VOCALOID crossover. This featured characters from the Character Vocal series and the PowerPuff Girls in the others' clothes. A series of keyrings were produced for this event.[39]
Hello Kitty
Hatsune Miku and other Crypton Future Media VOCALOIDs have also featured in merchandise as part of a Sanrio + Hello Kitty crossover.[40]
Samsung × Hatsune Miku
It would appear that a fan is going to create the first ever Miku cell phone with Samsung. Not much else is known other than the fact that the fan's name is "Autumn-P".
Precious Memories
The Japanese trading card game Precious Memories (PreMemo) will release a Hatsune Miku starter and booster pack on March 9, 2013. Rin, Len, Luka, KAITO and MEIKO are also a part of this.[41]
i-Pad mini cover
Miku has had a i-Pad mini cover designed based on her.[42]
Android Tablet
A Hatsune Miku Android tablet has been designed.[43]
Manicure set
Miku appeared on a nail varnish set along with the other 5 Crypton VOCALOID characters. The colours within the set match the colours of the VOCALOIDs' own nails.[44]
Smartphone
A smartphone was produced for her, upon its release the phone produced by Xperia was expected to reach 30,000 units of sales.[45]
Korg Keyboard
A Hatsune Miku themed Korg keyboard was released by FamilyMart in 2014.[46]
Concerts
Miku and other Vocaloids began to appear in concerts in Japan 2009. Hatsune Miku performed her first "live" concert like a virtual idol on a projection screen during Animelo Summer Live at the Saitama Super Arena on August 22, 2009.[47][48] At the "MikuFes '09 (Summer)" event on August 31, 2009, her image was screened by rear projection on a mostly-transparent screen.[49] Miku also performed her first overseas live concert on November 21, 2009, during Anime Festival Asia (AFA) in Singapore.[50][51] On March 9, 2010, Miku's first solo live performance titled "Miku no Hi Kanshasai 39's Giving Day"「ミクの日感謝祭 39's Giving Day Project DIVA presents 初音ミク・ソロコンサート~こんばんは、初音ミクです。~」 was opened at the Zepp Tokyo in Odaiba, Tokyo.[52][53] The tour was run as part of promotions for Sega's Hatsune Miku: Project Diva video game in March 2010.[54] The success and possibility of these tours is owed to the popularity of Hatsune Miku and so far Crypton is the only studio to have established a world tour of their Vocaloids, which led to subsequent concerts to be premiered on March 9.
Later, the CEO of Crypton Future Media appeared in San Francisco at the start of the San Francisco tour where the first Hatsune Miku concert was hosted in North America on September 18, 2010, featuring songs provided by the Miku software voice.[55][56] A second screening of the concert was on October 11, 2010 in the San Francisco Viz Cinema. A screening of the concert was also shown in New York City in the city's New York Anime Festival.[57] Hiroyuki Ito, and planner/producer, Wataru Sasaki, who were responsible for Miku's creation, attended an event on October 8, 2010 at the festival.[58][59] Videos of her performance are due to be released worldwide.[60]
Miku's Los Angeles concert sold out on the 26th of May 2011. Not only was she the first singer to sell out but this was the only time AX, the company in charge of selling her tickets, had ever sold out. This also caused a huge fan outroar on the AX forums, as usually AX tickets did not sell out and because of the numerous spare tickets it had been possible to enter a concert for free if you turned up 10 minutes before the show. Because there were no tickets left, regulars who had expected to be able to get in for free on the day had not expected to be able to not get into the concert at all.[61] Because demand was so high AX are currently looking to book more seats. Previously, only the first floor seats were booked as those were the seats where viewing the Vocaloid concert's hologram-like visual was most optimal. However, they had been trying to ascertain if the balcony seats would suffice and if more tickets could be sold. [62]
On March 9, 2011, Miku's 2nd Performance, "Hatsune Miku's Live Party 2011 39's Live in Tokyo"「初音ミク ライブパーティー 2011 -39's LIVE IN TOKYO-」marked a new step in broadcasting concerts. Not only was the concert held at the same location Zepp Tokyo in Odaiba, Tokyo, it was also broadcasted into 15 others theaters within the vicinity of Japan, under the name "Hatsune Miku Live Party 2011 Live Viewing in Theater"「初音ミク ライブパーティ2011 ミクパ♪ 39's ライブビューイング イン シアター」. This particular concert did not use the traditional glass screen but a box screen to present Miku and the team.[63] The same concert was to be repeated in Yamaha's Home, Sapporo Hokkaido at Zepp Sapporo under the name "Hatsune Miku's Live Party 2011 39's Live in Sapporo"「初音ミク ライブパーティー 2011 -39's LIVE IN SAPPORO-」, but was postponed due to the Great Japan Earthquake that occurred 2 days after the Tokyo Concert. [64] It wasn't until April 27 where details of the postponed concert was given. [65]
On July 2, 2011, Miku's first concert performance in the United States was held at the NOKIA Theater in Los Angeles, California, during the Anime Expo 2011 event. The concert was based on the "Miku no Hi Kanshasai 39's Giving Day" Concert, with improvements and new songs. [66]
On August 16 to 17, the postponed "Hatsune Miku's Live Party 2011 39's Live in Sapporo"「初音ミク ライブパーティー 2011 -39's LIVE IN SAPPORO-」took place and was held for two days. It was held at the Sapporo Education and Culture Hall at Sapporo, Hokkaido. This concert had been redone and the transparent glass screen was once again implemented. The concert was not broadcasted on NicoNicoDouga unlike previous concerts.[67] It was broadcasted in the same theaters that broadcasted the last concert, but it included 2 additional theaters, one from Hong Kong and one from Taiwan. [68][69]
A sequel to the Sapporo Concert took place in Singapore on November 11, 2011 at the I Love Anisong Concert.[70] This marked her second visit to Singapore, with her performing at the 2010 I Love Anisong Concert. This was Rin, Len, and Luka's first visit, as the concert last year lacked them.
On February 10, 2012, Miku performed twice at the Snow Festival from Sapporo with a secret mini-concert that was not announced or broadcasted. This performance was the first time that she appeared singing outside.
Miku will also appear in the opera "THE END" on the 1st and 2nd of Decemeber. The outfits designed for this concert are done by Louis Vuitton and based off of the Mark Jacobs' spring/summer 2013 collection. Tickets for the event were publically put on sale on the 14th of Novemeber, however, sold out soon after.[71]
On February 9 and 10, 2013, Miku will have another concert called "初音ミク ライブパーティー 2013 in Sapporo 「ミクパ♪」 ("Hatsune Miku Live Party 2013 in Sapporo 'MikuPa♪'". A two day concert in Sapporo, Japan, during Snow Miku festival. MEIKO and KAITO will make an appearance as well.[72]
2013 is the fourth year in a row a concert will take place on March 9. The event, titled "初音ミク ライブパーティー 2013 in Kansai(ミクパ♪) (Hatsune Miku Live Party 2013 in Kansai (MikuPa♪) -39's Spring the 3rd Synthesis-" will be held in the Wakayama Prefecture, in Kansai, at the Wakayama Big Whale. As this is a collaboration with WOWOW, the show will also be broadcast live over WOWOW's satellite channel. This is the first time an official Miku concert has been held in the Kansai region of Japan; previous concerts have been held in Tokyo (which is in the Kantou region of Japan) and Sapporo (which is in Hokkaido). It is expected to last for three hours.[73][74]
Toyota Corolla ad and Toyota Big Air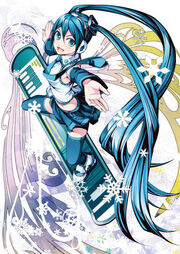 For the 2012 Toyota Big Air, Hatsune Miku will be used as part of the sponsor of the event. 3,000 more sets of limited-edition "Toyota Big Air x Hatsune Miku" tickets will be sold in advance at major subway stations starting on January 10. The first 1,000 people who present their ticket stubs at the event site on February 12 will receive a "Toyota Big Air x Hatsune Miku" original collaboration sticker. The event is also held in Sapporo.[75] Main article: Toyota Corolla Campaign
Food Marketing
Miku was also promoted by FamilyMart in Japan and a few FamilyMart figurine versions were also released in related to this by the Good Smile company.[76][77]  A promotion for with Coca-Cola was introduced and featured a competition where those entering were challenged to depict Miku in Coca-Cola's colors.[78] The wining entry was announced on the 5th of April 2012, it has since appeared in ads related to the art piece.[79][80]
Miku also had a collab with Domino's Pizza.[81] The collaboration with Domino's Pizza has made an app used for ordering pizza with Miku on the interface of the app. By ordering the pizza, customers can use the app's AR function on the pizza box to see Miku sing Luv4night, a song produced by the Domino's crew
Google Chrome
The Japanese version of Google Chrome also has done an advertisement campaign to do with Hatsune Miku.[82] The Chrome advertisement on Youtube beat similar Justin Bieber and Lady Gaga ads, gaining 500,000+ views in its first 3 days, although the difference was that the view counts of Justin Bieber and Lady Gaga ads came from mostly Japan alone while the Hatsune Miku ad views came from across the world.[83]
LincEnglish
LincEnglish is currently collaborating to make use of Megurine Luka and Hatsune Miku's English voicebanks to teach Japanese kids "English". The lessons are "coming [sic] soon" according to the advertisement.[84]

Misc. Appearances
Red Cross
Hatsune Miku appeared on a poster for the Red Cross, promoting people to donate of blood to the organization.[85]
Good Smile company
Main articles: Good Smile Racing and Sapporo Winter Festival
Cosplay Mania Cameo
Cosplay Mania , a cosplay festival in the Philippines, is the first known appearance of Hatsune Miku in the Philippines that was officially sanctioned by Crypton Future Media, apart from Singapore. This was first announced in Hatsune Miku's Facebook page controlled by Karen-T. Her appearance will only be in the form of the said sticker. [86]
Let's Play with Hatsune Miku!
Miku will have an event/attraction in the Mitsui Greenland amusement park in Japan. Not much is known yet except that it will take place from March 16 to May 6.[87]
Wing Shop
A shop dedicated to Miku was opened in Jan 2014 called "Hatsune Miku Wing Shop".[88]
初音ミク -Project DIVA- Series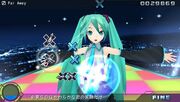 The Hatsune Miku -Project DIVA- franchise is a series of musical video games by SEGA starring Hatsune Miku as the main protagonist. The premise of the gameplay is rhythm action and players need to press a certain sequence of buttons to keep in play. The series portrays Miku as a school girl (which interestingly, is what her design was based on) who attempts to become the greatest singer in the world. Miku (along with her fellow Crypton Vocaloids) has since become an official and copyrighted SEGA character, as well as one of SEGA's major mascots.
Hatsune Miku -Project DIVA- is the first rhythm game to feature the VOCALOID Hatsune Miku. It was released on July 2, 2009, for the PSP (PlayStation Portable). It features modules of the other Crypton VOCALOIDs, though only the Kagamine vocals are in the game besides Miku. A PlayStation 3 expansion with graphical updates called Hatsune Miku -Project DIVA- Dreamy Theater was released on June 24, 2010.
Hatsune Miku -Project DIVA- 2nd is the direct sequel to -Project DIVA-. It was released on July 29, 2010, for the PSP. It gives more attention to the other Crypton VOCALOIDs, given them all at least one solo song. -Project DIVA- 2nd received it's Dreamy Theater expansion on August 4, 2011.
Hatsune Miku -Project DIVA- extend is an expansion to the previous game, -Project DIVA- 2nd. It was released on November 10, 2011, for the PSP. Like previous Project DIVA games, extend was given a Dreamy Theater upgrade on September 13, 2012 with the support of stereoscopic 3D for the first time in the series.
Main articles: Hatsune Miku -Project DIVA- (game), -Project DIVA- 2nd, and Extend
Hatsune Miku -Project DIVA- f is the fifth game in the series. It was released on August 30, 2012, and is the first game for the PlayStation Vita. Hatsune Miku -Project DIVA- F was released for the PlayStation 3 on March 7, 2013. Other than getting a slight graphical enhancement, the game also came have 6 new songs plus matching modules. These additions became DLC for -Project DIVA- f, and was the first game in the series to be released in the west. A direct sequel, Hatsune Miku -Project DIVA- F2nd was released in March 2014, also for the PS Vita and PS3 and was also given a Western release in November 2014.
Main article: Hatsune Miku -Project DIVA- f
Main article: Hatsune Miku -Project DIVA- F 2nd
Hatsune Miku -Project DIVA- Arcade is the Arcade version of the Project DIVA series. It was released in January 2010, for arcade machines. It is the only Project DIVA game to be released in countries outside Japan. Most of the songs are from other already released games and the song / module list is updated monthly. A sequel title Hatsune Miku -Project DIVA- Arcade Future Tone was released in November 2013.
Main article: Hatsune Miku -Project DIVA- Arcade
Main article: Hatsune Miku -Project DIVA- Arcade Future Tone
Project mirai Series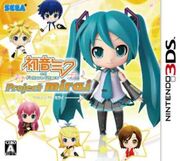 Hatsune Miku and Future Stars Project mirai (often shortened to just Project mirai) is the first VOCALOID game for the Nintendo 3DS and was released on March 8, 2012. It is also the first game to feature a non-Crypton VOCALOID. Hatsune Miku Project mirai 2 is the sequel to Project mirai. It was released on November 28, 2013, for the Nintendo 3DS with both a regular and limited edition. Project mirai 2 features a greater number of songs and costumes than the first. mirai 2 will be see Western release in early 2015 with the title mirai DX.
Main articles: Hatsune Miku and Future Stars Project mirai and mirai 2
Mobile Apps
Miku Flick is a spin off to the Project DIVA series and was released in Japan on March 9, 2012, and internationally on April 12, 2012. It is available for the iPhone, iPad and iPod Touch. Only Miku is featured in this game. Miku Flick/02 is the sequel to the aforementioned game. It was released internationally on August 10, 2012. Unlike the previous however, all the other Crypton VOCALOIDs are featured in this game. Downloadable song packs (DLC) are released regularly, though these must be purchased.
Main articles: Miku Flick and Miku Flick/02
Hatsune Miku Live Stage Producer is a mobile game developed by SEGA. It is the first game to be developed for Android devices and was released in Japan on November 8, 2012. The game became available on iOS in Japan on December 6, 2012. An English version has been promised by SEGA, yet no date has been given as of this time.
Main article: Hatsune Miku Live Stage Producer
A app called Miku Labo was also released, this was a battery widget for the Andriod.[89]
Music Girl is an iPhone app made by the same team who made Project DIVA. It was released in July 2012 in Japan and the models seen in the video advertisement are made by Marza who had organized the MikuPa concerts.[90][91]
She also appears in the app "AR Vocaloid Walk", a Augmented Reality app. Several other Vocaloids, UTAU and Derivative characters also appear in the app.[92]
Miku Miku Hockey is a AR program. It is sold by Sony for the PS Vita and allows you to play table hockey with Hatsune Miku.[93]
Miku Miku Hockey 2.0, like its predecessor is a AR program. This version has a different icon which the AR software reacts to and has some additions such as the Snow Miku 2014 attire.[94][95]
SNOW MIKU AhR is a AR app based on the Snow Miku 2014 design.[96][97]
Hatsune Miku AR LIVE is another AR app. This reactions to a card with Miku's eye printed on it. This app if powerful enough, that if the user has a hand-drawn version of the card made in freehand, it may register it if everything is approx the same as the original card.[98][99]
Miku flick icon
Miku flick/02 icon
Live stage producer icon
Miku Labo icon
Music Girl icon
AR Vocaloid Walk icon
Miku Miku Hockey
Miku Miku Hockey 2.0
SNOW MIKU AhR
Hatune Miku AR LIVE
Unofficial Games
Mirai no Kimi to, Subete no Uta ni is a visual novel game released on December 31, 2007, and became downloadable on April 4, 2008. Rin ga Utau, Mirai no Neiro, the sequel, has a Miku side which picks up where the previous game left off. It was released on September 16, 2008, and became downloadable on April 4, 2008.
Main articles: Mirai no Kimi to, Subete no Uta ni and Rin ga Utau, Mirai no Neiro
Additional information
Popularity
Hatsune Miku Popularity
To our readers and editors: For section notes, please read Wiki notes:Popularity sections.
Sales
The initial sales of Hatsune Miku were so high that Tokyo could not keep up with the demand. In the first 12 days of sale, nearly 3,000 sales reservations were made. This was around one sale in 250 in the music software industry, quoted as "an impossible number" by Wataru Sasaki — the person in charge of the planning and production. Amazon.co.jp stated on September 12, 2007 that they had sales of Hatsune Miku totaling 57,500,001 yen, making her the number one selling software at that time.[100] It was confirmed in her first year alone, Miku sold 40,000+ units, on an average of 300 units per week.[101] Later reports came that she had sold 60,000+ copies of her software. To add perspective, normally selling 1,000 copies of a synthesizing software was considered good business.[102]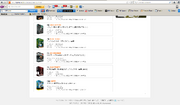 Miku's Append was not as well received as her original voicebank, though it managed to stay in the top ten products from Crypton Future Media. However, it disappeared from the list entirely from time to time. Despite this, it has been known to have reached the top 3 products on occasion, as well as to knock other CV vocals further down the charts.[103] Miku was ranked as the no.1 VOCALOID™ product they sold, and despite drifting between ranks on their product list, her Append managed to grab 2nd place.[104]
Hatsune Miku V3 English was reported as being the top selling "Virtual Instrument" on Big Fish Audio's blog in August 2013.[105] In September, it came in 2nd place and went back up to 1st in October.[106][107]
Hatsune Miku V3 was reported to have over saturated Yamaha's servers with requests for activation upon release.[108] In October 2013, Hatsune Miku V3 and its bundle package disrupted the Crypton Future Media product charts, taking both the 1st and 2nd place spots between them. Other Vocaloid products sold by Cryton Future Media ended up being misplaced from their normal ranking spots. This was the first time the Vocaloid products had been impacted so drastically since their charts began.[109]
On October 15th, Wat reported there was 10,000+ orders of the Hatsune Miku V3 package on backlog.[110]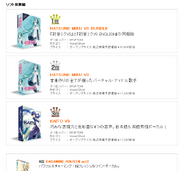 For most of 2014, Hatsune Miku's V3 and Hatsune Miku V3 complete packages held the 1st and 2nd spot of the product rankings. Even after the release of MEIKO V3, the two packages soon retook their positions and MEIKO V3 managed to only hold the top spot for a month and a half.
Reaction
Before Miku was released, VOCALOID™ was not much more than an obscure program. Nico Nico Douga played a fundamental role in the recognition and popularity of the software today. Soon after its release, users of Nico Nico Douga started posting videos with songs created by the software. According to Crypton, a popular video with a comically-altered Miku holding a spring/Welsh onion, singing Ievan Polkka, presented multifarious possibilities of using the software in multimedia content creation. As recognition and popularity grew, Nico Nico Douga became a place for collaborate content creation. Popular original songs written by a user would generate illustrations, animations in 2D and 3D, and remixes by other users. Other creators would show their unfinished work and ask for ideas.
Miku has remained the fan favorite among the Japanese fandom, having the strongest following and usage even after the release of much better VOCALOID2 vocals. Her popularity was so high that when GazettE's Aoi made a negative comment about her through twitter, he was immediately met with outraged fans and was forced to retract some of his statements after trying out the software for himself. Indeed, most of the more popular songs of VOCALOID are sung by Miku, having more hit songs on Nico Nico Douga than any other VOCALOID.
It was stated in 2013, that videos tagged with Miku's name reached between 1,000 and 1,500 videos each month. This was by far the most videos of any Vocaloid on Nico nico Douga.[111]
According to google trends, Miku has had a fairly stable popularity since April 2008. While interest in her under the name of "初音ミク" has fallen quite dramatically, increase of her as "Hatsune Miku" has risen in comparison, likely due to the increase interest overseas. Oddly, despitre the reported amount of registrations for Miku in the month of her release, Miku has lost much of her stable popularity using the name "初音ミク".
Impact
Hatsune Miku's popularity had a major impact on the development of other Crypton Future Media voicebanks. Due to the huge market for her voicebank and character image, Crypton have sometimes been overwhelmed by demand. This caused delays to other VOCALOID2 projects, including the release of an additional character, CV04. How much impact her popularity has had on other VOCALOID™ voicebanks is unknown, but Crypton Future Media has many delayed voicebanks that were originally set for a VOCALOID2 release.
Project If... was largely impacted also by Hatsune Miku's popularity, even in the early planning stages. Wat also felt this was a nightmare and that the relationship between Vocaloid and humans had gone wrong.[112][113][114]
Her design has also influenced the VOCALOID™ mascot designs of other companies, creating common design influence that divides fans opinions on character design. Her design has also spawned many producer based derivatives. She is the most common VOCALOID™ vocal to receive derivatives due to the popularity of her voicebank and heavy promotions by Crypton Future Media.
Because of Miku's success, Crypton Future Media were able to open up services to allow more support for their VOCALOIDs, including websites such as Piapro and Karen-T, concerts and merchandise. By 2009, some were referring to her as VOCALOID™'s first "Diva". In 2010, Crypton Future Media produced a ranking of the VOCALOIDs they sold on their website; since then, Miku has consistently led or been close to leading.
Miscellaneous
In 2012, a poll was held for the London Olympic Games 2012 which asked people which singer or group they would like to see at the Olympics. Miku reached the no.1 spot, beating famous singers such as Lady Gaga and Justin Bieber. The poll was not official and was done for popularity reasons.[115]
An independent search on Nico Nico Douga revealed that most VOCALOIDs had less then 1,000 videos uploaded on Nico Nico Douga between July 1 and December 15, 2011. Miku, however, had managed to gain 9,904 uploads to the site during this period, making her number one in video submissions for VOCALOID related videos. She also had the highest number of total views during this period with 23,847,081 views and 1,943,303 mylists. However, Miku was put in 3rd place on average number of views per video with 2407.82 views per video (and 196.21 mylists). However, a comment led by the report noted that due to the popularity of the most famous producers it was much harder to assess. When the mean number was conducted, which was a more accurate report of the VOCALOIDs during this period, Miku did not make it into the top 6 VOCALOIDs despite having consistent no.1s throughout this period.[116]
In 2014 a poll was run to find the top things that made people think of "Cool Japan", 1000 people took part in the vote. In the poll, Miku came 8th, gaining 35.8% of all votes (total 358 voters).[117]
Trivia
Because she is the first VOCALOID many got to know and the first to draw a large amount of attention, there are a number of common misconceptions about her:

Miku is often mistaken as the very first VOCALOID produced by those new or unfamiliar with the software's history, or the first VOCALOID2 released.

While she was the first VOCALOID2 to be released for the Japanese market, it was PowerFX's Sweet ANN who claimed the place as the first VOCALOID2, released 2 months prior to Miku.
When Miku became more well-known in 2010, the media also followed this misconception. On more than one occasion Crypton Future Media have labelled her as the first, though this is likely an error as they usually introduce her as "the first of the character vocal series".
However, Miku was the first VOCALOID developed specifically for VOCALOID2 as Sweet ANN, codenamed "JODIE" was originally developed for the VOCALOID engine, not VOCALOID2.

Since 2010, Miku has won the classification of "Virtual Diva" and has become a pop star in her own right. However, some reports mislabel her as "the first virtual star" when other "virtual stars" have been released prior to her existence as early as the mid-1990s, although these "stars" never rose to the level of popularity Miku has reached.
Miku is also not the first VOCALOID to debut in America, as Zero-G's VOCALOIDs were already on sale prior to her arrival. However, all previous VOCALOIDs failed to make an impact in the USA.
Miku is also not the first VOCALOID2 to have an avatar; the first was Sweet ANN, who was based on a "bride of Frankenstein" theme. However, Miku was the first to have a profile that expanded on the concept of an avatar. LEON and LOLA did not feature a character on their boxart, MIRIAM had a blurred photo of MIRIAM Stockley, and though KAITO and MEIKO had characters on their boxart, they were not originally meant to represent their vocals.
She was also not the first to feature in a concert; MIRIAM was the first, in 2004. However, Miku was the first to actually be featured "live" in the concert whereas MIRIAM's concert featured just her vocal.
Sound Horizon, a popular band that uses music to tell stories, used Hatsune Miku in their third single "Ido e Itaru Mori e Itaru Ido" and its corresponding album, "Marchen". Saki Fujita, Miku's voice actor, also does narrations.
With a total of 15 voicebanks released, Miku now has the most vocals released for the VOCALOID™ engine.
Notable for...
First Japanese VOCALOID2 to be released
First of Crypton Future Media's Character Vocal series
First specialized vocal of VOCALOID2
First VOCALOID to have a "true" avatar given
First VOCALOID to have a bio
Highest amount of pre-orders of a software synthesizer
Holds the highest sales figures of all VOCALOIDs
First VOCALOID to earn the status of "Diva"
Most awarded VOCALOID software released
First VOCALOID to be Appended
Most common/popular VOCALOID
A number of the Internet Memes linked to VOCALOID
Most songs created to date
Most merchandise to date
First VOCALOID to have a videogame
First VOCALOID to be on stage
One of 3 voicebanks used by the robot HRP-4C
First to have a song with a million views
First VOCALOID2 by Crypton to be upgraded to VOCALOID3
Gallery
The image gallery for Hatsune Miku may be viewed here.
References
External links
Language
Description
Site
Japanese
Crypton Future Media Inc. official homepage
Link
Japanese
VOCALOID2 Hatsune Miku product page for CV01
Link
Japanese
Miku Append product page for CV01a
Link
English
Hatsune Miku V3 English product page for MV3e
Link
Japanese
Hatsune Miku V3 product page for MV3
Link
Japanese
Hatsune Miku V3 product page for MV3 Bundle
Link
Japanese/English
Hatsune Miku The official Facebook page for VOCALOID Hatsune Miku
Link
Global
HatsuneMiku The official YouTube channel for VOCALOID Hatsune Miku
Link


English
deviantArt , art and media community
Link
Japanese
Pixiv , art and media community
Link
Japanese
Piapro , art and media community
Link
English
MikuMikuDance wiki for models
Link
English
Fanloid wiki for derivatives
Link
VOCALOID by Voicebank gender factor