Ad blocker interference detected!
Wikia is a free-to-use site that makes money from advertising. We have a modified experience for viewers using ad blockers

Wikia is not accessible if you've made further modifications. Remove the custom ad blocker rule(s) and the page will load as expected.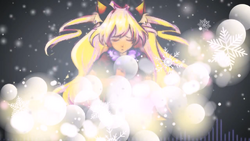 Song title
"Метелица"
Romanization: Metelitsa
English: Blizzard
Uploaded May 20, 2014, with 1,500+ (YT) / 870+ (NND) views
Singer(s)
SeeU
Producer(s)
Myriad:
Lystrialle (composer, mix)
DoNotCross-P (arrangement, lyrics)
Xue (bass)
Ameno (video)
Links
Niconico Broadcast • YouTube Broadcast

Background
Edit
The first song by the circle Myriad, a folk-style song sung in Russian by SeeU.
Russian (Русский текст)
Romanization (Романизация)
English
Дышит тяжелеющим холодом
Dyshit tyazheleyushchim kholodom
A boundless grey firmament
Бескрайний серый небосвод
Beskrayniy seryy nebosvod
Breathes with heavy cold
Над застывшим дремлющим городом
Nad zastyvshim dremlyushchim gorodom
Above the still-dormant city
Богини водят хоровод
Bogini vodyat khorovod
Goddesses are dancing in a circle


Тают их печальные голоса
Tayut ikh pechal'nyye golosa
Their doleful voices
Не долетая до земли
Ne doletaya do zemli
Fade away, not reaching the ground
«Приди, приди же, Метелица
"Pridi, pridi zhe, Metelitsa
"Come, come, Blizzard
Наш мир больной исцели»
Nash mir bol'noy istseli"
Heal our sick world"


Бетонные истуканы
Betonnyye istukany
Concrete idols,
Безмолвный грозный оплот
Bezmolvnyy groznyy oplot
that mute menacing stronghold
Видят ли
Vidyat li
Do they see,
В своих снах
V svoikh snakh
in their dreams,
Что их ждёт?
Chto ikh zhdot?
what waits for them?


Вьётся и вьётся история миров
V'yotsya i v'yotsya istoriya mirov
Weaves and weaves, a history of worlds
Прозрачным узором, мазками несмелыми
Prozrachnym uzorom, mazkami nesmelymi
With a transparent pattern, with timid strokes
Все наши беды укроет белоснежный покров
Vse nashi bedy ukroyet belosnezhnyy pokrov
All our ills will be covered by a snow-white shroud
Забудь обо всём
Zabud' obo vsom
Forget about everything


Льётся и льётся мелодия веков
L'yotsya i l'yotsya melodiya vekov
Flows and flows, a melody of ages
И стелется на землю хлопьями белыми
I steletsya na zemlyu khlop'yami belymi
And it spreads on the ground with white flakes
Нежная ложь, мир в плену её холодных оков
Nezhnaya lozh', mir v plenu yeyo kholodnykh okov
Tender lies, the world captured in its cold chains
Почил тихим сном
Pochil tikhim snom
Sleeps a silent sleep


«Пусть забудутся мысли мрачные
"Pust' zabudutsya mysli mrachnyye
"Let the solemn thoughts be forgotten
Пускай забудется страх
Puskay zabudetsya strakh
Let the fear be forgotten
Мир безумный, жаром охваченный
Mir bezumnyy, zharom okhvachennyy
Lull in your arms
Ты убаюкай на руках
Ty ubayukay na rukakh
That troubled feverish world


Пусть уснёт, несчастный, умаянный –
Pust' usnot, neschastnyy, umayannyy –
Let it sleep, so miserable, so tired
Ты спой ему в тишине
Ty spoy yemu v tishine
Sing to it in silence
Пусть забудется, неприкаянный
Pust' zabudetsya, neprikayannyy
Let it lose itself,
В твоём целительном сне»
V tvoyom tselitel'nom sne"
that dejected one in your healing sleep"


Молчит бескрайнее небо
Molchit beskrayneye nebo
The boundless sky is silent
Морозный воздух молчит
Moroznyy vozdukh molchit
The frosty air is silent
Как дитя
Kak ditya
Like a child,
Город спит
Gorod spit
the city sleeps,
Город спит
Gorod spit
the city sleeps


Вьётся и вьётся история миров
V'yotsya i v'yotsya istoriya mirov
Weaves and weaves, a history of worlds
Прозрачным узором, мазками несмелыми
Prozrachnym uzorom, mazkami nesmelymi
With a transparent pattern, with timid strokes
Все наши беды укроет белоснежный покров
Vse nashi bedy ukroyet belosnezhnyy pokrov
All our ills will be covered by a snow-white shroud
Забудь обо всём
Zabud' obo vsom
Forget about everything


Льётся и льётся мелодия веков
L'yotsya i l'yotsya melodiya vekov
Flows and flows, a melody of ages
И стелется на землю хлопьями белыми
I steletsya na zemlyu khlop'yami belymi
And it spreads on the ground with white flakes
Нежная ложь, мир в плену её холодных оков
Nezhnaya lozh', mir v plenu yeyo kholodnykh okov
Tender lies, the world captured in its cold chains
Почил тихим сном
Pochil tikhim snom
Sleeps a silent sleep


Ревёт свинцовое небо
Revot svintsovoye nebo
The leaden sky growls
Печально, тихо ревёт
Pechal'no, tikho revot
It growls dolefully, silently
Она здесь
Ona zdes'
She's here,
Метелица идёт
Metelitsa idot
the Blizzard is coming


Вьётся и вьётся история миров
V'yotsya i v'yotsya istoriya mirov
Weaves and weaves, a history of worlds
И белыми нитками на землю стелется
I belymi nitkami na zemlyu steletsya
And it spreads on the ground with white threads
Кончится пряжа, и вдруг под канонаду ветров
Konchitsya pryazha, i vdrug pod kanonadu vetrov
The yarn will run out and with a cannonade of winds
Прервётся она
Prervotsya ona
It will be broken


Льётся и льётся мелодия веков
L'yotsya i l'yotsya melodiya vekov
Flows and flows, a melody of ages
И маршем победным грохочет Метелица
I marshem pobednym grokhochet
And Blizzard roars her victorious march
С криком последним, с отчаянною песней без слов
S krikom poslednim, s otchayannoyu pesney bez slov
With the last scream, with a desperate wordless song
Порвётся струна
Porvotsya struna
The string will break


Больше не льётся мелодия веков
Bol'she ne l'yotsya melodiya vekov
The melody of ages flows no more
Лишь тихо поёт свою песню метелица
Lish' tikho poyot svoyu pesnyu metelitsa
Only Blizzard sings its song quietly
Спит мир, уставший, в объятьях своих ласковых снов
Spit mir, ustavshiy, v ob"yat'yakh svoikh laskovykh snov
The tired world sleeps in the arms of its sweet dreams
Спокойного сна
Spokoynogo sna
Have a quiet sleep
External links
Edit
| | |
| --- | --- |
| | Articles |
| | |
| --- | --- |
| | Lyrics |
| | |
| --- | --- |
| | Downloads |