This song article is lacking a proper background. You can help by adding one! The relevant section in the Song Article Guideline is a good starting point, and this blog post may also be helpful. We apologize for the inconvenience this may cause in the meantime.

Song pages lacking proper backgrounds are automatically sorted into this category.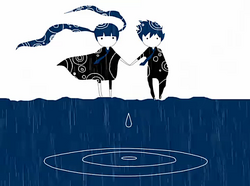 Song title
"ЯΛΝ!"
Uploaded September 8, 2010, with 44,600+ views
Singer(s)
Hatsune Miku
Hiyama Kiyoteru (chorus)
Producer(s)
Shosho-P (arrangement, tuning)
co (arrangement)
Hirano (music, lyrics)
Daizuchan (illustration)
Links
Niconico Broadcast
Background
Edit
This song is featured in the album Jumble Smile.
Japanese (日本語歌詞)
Romaji (ローマ字)
何もないのに 探してる
nani mo nai no ni sagashiteru
顔を上げた 猫が笑う
kao o ageta neko ga warau
跳ねる尻尾
haneru shippo


当てもないのに 走ってる
ate mo nai no ni hashitteru
疲れたら 向日葵が
tsukaretara himawari ga
そっぽ向いた
soppo muita


耳を塞いで 叫んでる
mimi o fusaide sakenderu
降り出した 雨の中
furidashita ame no naka
一緒に泣こう
issho ni nakou


そして僕等は 歌ってる
soshite bokura wa utatteru
揺れながら 抱き合って
yure nagara dakiatte
キスをしよう
kisu o shiyou


聴かせて欲しいな
kikasete hoshii na
君の 明日の話
kimi no ashita no hanashi


ねぇ 君じゃなくても 僕じゃなくても
nee kimi ja nakute mo boku ja nakute mo
よかったとして 何になれる?
yokatta toshite nani ni nareru?
そんなバカな クダラナイ話
sonna baka na kudaranai hanashi
フワリ僕等 夜に浮かぶ
fuwari bokura yoru ni ukabu


届かないから 見上げてる
todokanai kara miageteru
眩しさ 慣れるまで
mabushi sa nareru made
手を繋ごう
te o tsunagou


ワカラナイけど 信じてる
wakaranai kedo shinjiteru
神様が 見てるから
kamisama ga miteru kara
笑っていよう
waratte iyou


聴いて欲しいな
kiite hoshii na
僕の 今までの話
boku no ima made no hanashi


ねぇ 君じゃなくても 僕じゃなくても
nee kimi ja nakute mo boku ja nakute mo
よかったとして 楽になれる?
yokatta toshite raku ni nareru?
そんなバカな ツマラナイ話
sonna baka na tsumaranai hanashi
ユラリ僕等 朝に霞む
yurari bokura asa ni kasumu
External links
Edit
| | |
| --- | --- |
| | Articles |