Ad blocker interference detected!
Wikia is a free-to-use site that makes money from advertising. We have a modified experience for viewers using ad blockers

Wikia is not accessible if you've made further modifications. Remove the custom ad blocker rule(s) and the page will load as expected.
This song article is lacking a proper background. You can help by adding one! The relevant section in the Song Article Guideline is a good starting point, and this blog post may also be helpful. We apologize for the inconvenience this may cause in the meantime.

Song pages lacking proper backgrounds are automatically sorted into this category.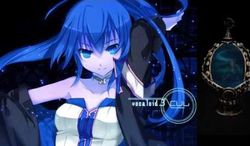 Song title
"あたしって、ほんとバカ"
Romaji: Atashi tte, Hontou Baka
English: I'm such an idiot
Uploaded December 31, 2011, with 63,000+ views
Singer(s)
CUL
Producer(s)
I$COM (Music, Lyrics)
Kirabagani (illustration)
Links
Niconico Broadcast • YouTube Broadcast (reprint, subbed)

Background
Edit
"I'm such an idiot" is an original song by I$COM featuring CUL. This song is I$COM's 31st work.
"I'm such an idiot" is focused around the 2011 anime Mahou Shoujo Madoka Magica, and more specifically the character Sayaka Miki. The lyrics have various references to it, such as "Sayonara, ai suru anata" (Farewell, my dear, who I love) which is talking about Kyosuke, or "Taisetsu na hito mo midori no hito no moto ni" (My dear person left for the green person) which is talking about Hitomi.
One detail that is obviously referencing the anime is Sayaka's Soul Gem on the right hand side, which gradually darkens over the course of the song, when it originally glowed bright.
Succeeding versions
Edit
Gackpo's V3 Power cover

Featuring
Camui Gackpo V3 Power
Author(s)
I$COM (music, lyrics), Kirabagani (illust)
Category
Self cover

Description

A self cover by I$COM featuring Camui Gackpo.
Off Vocals

Author(s)
I$COM (music), Kirabagani (illust)
Category
Instrumentals

Description

The off vocals upload by I$COM.
Japanese (日本語歌詞)
Romaji (ローマ字)
魔女化×12
majo ka×12


愛するあの人の為に
aisuru ano hito no tame ni,
願いと引き換えに
negai to hikikae ni
契約して手に入れたチカラ
keiyaku shi te te ni ire ta chikara
この街の平和は
kono machi no heiwa wa,
このあたしが守るよ
kono watashi ga mamoru yo
少女はそう無邪気に微笑んだ
shoujo wa sou mujaki no hohoen da


さよなら愛するあなた
sayonara, aisuru anata
悲劇の現実
higeki no genjitsu
こんなはずじゃなかったのに
konna hazu ja nakatta noni
引き返せない
hiki kaesenai
絶望の海に沈んでゆく
zetsubou no umi ni shizun de yuku


涙が止まらないよ
namida ga tomara nai yo
止まらないよ涙が
tomaranai yo namida ga
あたしって、
atashitte,
あたしって、
atashitte,
ほんとバカ
hontou baka


涙が止まらないよ
namida ga tomara nai yo
止まらないよ涙が
tomara nai namida ga
あたしって、
atashitte,
あたしって、
atashitte,
ほんとバカ
hontou baka


魔女化×12
majo ka×12


あたしが犠牲になればと
atashi ga gisei ni nare ba to,
影からそっと見守った
kage tara sotto mimamotta
大切な恭介(ひと)も緑の仁美(ひと)のもとに
taisetsu na (hito) mo midori no (hito) no moto ni
僅かな希望それさえも
wazukana kibou sore sae mo,
漆黒の渦に飲まれて
shikkoku no uzu ni nomarete
胸に胸に刺すは
mune ni mune ni sasu wa,
未練雨
miren ame


赤い涙が流れ
akai namida ga nagare
悲哀の現実
hiai no genjitsu
大切なもの幾つも失くしてしまった
taisetsu na mono ikutsu mo naku shi te shimatta
目の前の魔女を切り刻む
me no mae no majo o kiri kizamu


痛みも感じないよ
itami mo kanjinai yo
感じないよ痛みも
kanjinai yo itami mo
あたしって、
atashitte,
あたしって、
atashitte,
ほんとバカ
hontou baka


痛みも感じないよ
itami mo kanjinai yo
感じないよ痛みも
kanjinai yo itami mo
あたしって、
atashitte,
あたしって、
atashitte,
ほんとバカ
hontou baka


涙こらえて
namida koraete
声にならない声でさよならを叫ぶよ
koe ni naranai koe de sayonara o sakebu yo


涙が止まらないよ
namida ga tomara nai yo
止まらないよ涙が
tomara nai namida ga
あたしって、
atashitte,
あたしって、
atashitte,
ほんとバカ
hontou baka


涙が止まらないよ
namida ga tomara nai yo
止まらないよ涙が
tomara nai namida ga
あたしって、
atashitte,
あたしって、
atashitte,
ほんとほんとバカバカ
hontou, hontou, baka, baka


涙が止まらないよ
namida ga tomara nai yo
あたしって、
atashitte,
あたしって、
atashitte,
ほんとバカ
hontou baka


涙が止まらないよ
namida ga tomara nai yo
あたしって、
atashitte,
あたしって、
atashitte,
ほんとバカ
hontou baka


魔女化×24
majo ka×24
External links
Edit
| | |
| --- | --- |
| | Articles |
| | |
| --- | --- |
| | Official |
| | |
| --- | --- |
| | Lyrics |