Ad blocker interference detected!
Wikia is a free-to-use site that makes money from advertising. We have a modified experience for viewers using ad blockers

Wikia is not accessible if you've made further modifications. Remove the custom ad blocker rule(s) and the page will load as expected.
!

Warning:

This song contains questionable lyrics and themes; it may be inappropriate for younger audiences.

The Vocaloid Wiki does not have a policy on lyrical content or theme; however, it attempts to follow the Wikia TOU.
For further discussion see Thread:68883. Questionable songs are automatically sorted into this category.

!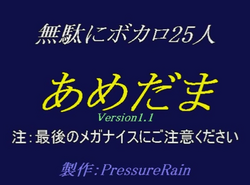 Song title
"あめだま"
Romaji: Amedama
English: Candy
Uploaded May 03, 2013, with 139+ views
Singer(s)
Hatsune Miku, Kagamine Rin (act1 and act2), Kagamine Len (act1 and act2), LEON, LOLA, MIRIAM, MEIKO, Megurine Luka (Jpn. and Eng.), Nekomura Iroha, SF-A2 miki, GUMI, VY1, Kaai Yuki, Lily, Utatane Piko, SONiKA, BIG AL, Ryuto, Tonio, Sweet ANN, Prima, Hatsune Miku Append, Kagamine Rin Append, Kagamine Len Append, VY2, KAITO, Camui Gackpo and Hiyama Kiyoteru
Producer(s)
PressureRain
Links
Niconico Broadcast (deleted)

Background
Edit
"Amedama" is an original Japanese VOCALOID song that features every voicebank from both the VOCALOID and VOCALOID2 series.
Succeeding versions
Edit
Version 1.1

| | |
| --- | --- |
| Featuring | Hatsune Miku, Kagamine Rin (act1 and act2), Kagamine Len (act1 and act2), LEON, LOLA, MIRIAM, MEIKO, Megurine Luka (Jpn. and Eng.), Nekomura Iroha, SF-A2 miki, GUMI, VY1, Kaai Yuki, Lily, Utatane Piko, SONiKA, BIG AL, Gachapoid, Tonio, Sweet ANN, Prima, Hatsune Miku Append, Kagamine Rin Append, Kagamine Len, VY2, KAITO, Camui Gackpo and Hiyama Kiyoteru |
| Author(s) | PressureRain |
| Category | Succeeding version |
Singer + Color

Miku/Miku Append

Rin (act1/act2/Append)

Len (act1/act2/Append)

LEON

LOLA

MIRIAM

MEIKO

Luka (Jpn./Eng.)

Iroha

miki

GUMI

VY1

Yuki

Lily

Piko

SONiKA

BIG AL

Ryuto

Tonio

Sweet ANN

Prima

VY2

KAITO

Gackpo

Kiyoteru
Japanese (日本語歌詞)
Romaji (ローマ字)
あめだまなめた
amedama nameta
あめだまなめた
amedama nameta
あめだまなめた
amedama nameta
なくなった

■

■

■

naku natta

■

■

■



あめだまなめた 
amedama nameta
あめだまなめた 
amedama nameta
あめだまなめた
amedama nameta
なくなった

■

■

■

naku natta

■

■

■



関係ないけどガム噛んだ
kankei nai kedo gamu kanda
チョコをちょこっとなめてみた
choko wo chokotto namete mita
ガムが溶けてく
gamu ga toketeku

溶けて流れて

なくなった

■

■

■

tokete nagarete

naku natta

■

■

■



あめだまなめた 
amedama nameta
あめだまなめた 
amedama nameta
あめだまなめた
amedama nameta
なくなった

■

■

■

naku natta

■

■

■



あめだまなめた
amedama nameta
あめだまなめた
amedama nameta
あめだまなめた
amedama nameta
なくなった

■

■

■

naku natta

■

■

■



あめだまなめた
amedama nameta
あめだまなめた
amedama nameta
あめだまなめた
amedama nameta
なくなった

■

■

■

naku natta

■

■

■



あめだまなめた
amedama nameta
あめだまなめた 
amedama nameta
あめだまなめた
amedama nameta
なくなった

■

■

■

naku natta

■

■

■



みんなに関係ないけれど
minna ni kankei nai keredo
いつの間にやら大所帯
itsu no ma ni yara oojotai
お金飛んでく
okane tondeku

財布の中身

なくなった

■

■

■

saifu no nakami

naku natta

■

■

■



あめだまなめた
amedama nameta
あめだまなめた
amedama nameta
あめだまなめた
amedama nameta
なくなった

■

■

■

naku natta

■

■

■



あめだまなめた
amedama nameta
あめだまなめた
amedama nameta
あめだまなめた
amedama nameta
なくなった

■

■

■

naku natta

■

■

■



あめだま
amedama
あめだま
amedama
あめだま
amedama
あめだま
amedama
あめだま
amedama
あめだま
amedama
なくなった
naku natta


あめだま
amedama
あめだま
amedama
あめだま
amedama
あめだま
amedama
あめだま
amedama
あめだま
amedama
なくなった

■

■

naku natta

■

■



あめだまなめた
amedama nameta
なくなった
naku natta



つけてもらった

メガナイス

■

■

■

tsukete moratta

meganaisu

■

■

■

誰も覚えてくれないよ
dare mo oboete kurenai yo
いまじゃすたれて
ima ja sutarete

とんと出番も

なくなった

■

■

■

tonto deban

naku natta

■

■

■



はだかになった
hadaka ni natta
はだかになった
hadaka ni natta
はだかになった
hadaka ni natta
つかまった

■

■

■

tsukamatta

■

■

■
External links
Edit
| | |
| --- | --- |
| | Articles |
| | |
| --- | --- |
| | Lyrics |