This song article is lacking a proper background. You can help by adding one! The relevant section in the Song Article Guideline is a good starting point, and this blog post may also be helpful. We apologize for the inconvenience this may cause in the meantime.

Song pages lacking proper backgrounds are automatically sorted into this category.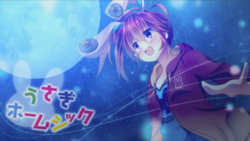 Song title
"うさぎホームシック"
Romaji: Usagi hoomushikku
English: Rabbit Homesick
Uploaded December 22, 2012, with 1,500+ views
Singer(s)
CUL
Producer(s)
OECD (music)
Urara (illust)
Links
Niconico Broadcast
Background
Edit
"Usagi Homestick" is an original song by OECD featuring CUL. This song is OECD's fourth original song. This song was written in celebration of CUL's first anniversary.
Japanese (日本語歌詞)
Romaji (ローマ字)
銀色のロケットで この星に来たんだ
Gin'iro no roketto de kono hoshi ni kita nda
そんなこと忘れるくらい 最近忙しいよ
Son'na ko to wasureru kurai saikin isogashii yo
高い高いビルが多くて たまに月も隠れて
Takai takai biru ga ookute tama ni tsuki mo kakurete
ケータイの送信エラー 無くなる場所まで走るよ
Keetai no soushin eraa nakunaru basho made hashiru yo


パーカー1枚じゃダメだな 最近急に寒くなってさ
Paakaa ichi mai ja DAME da na saikin kyuu ni samuku natte sa
場違いな自分は フードで隠そう
Bachigai na jibun wa fuudo de kakusou


ああ 今日も心が 満ちたり欠けたりして
Aa kyou mo kokoro ga michitari kaketari shite
昨日の自分も 少しキライになったりする
Kinou no jibun mo sukoshi kirai ni nattari suru
夜は一人で 聞き耳立ててみても
Yoru wa hitori de kiki mimi tatete mite mo
うさぎたちの 声は聞こえてこないよ
Usagi tachi no koe wa kikoete konai yo


周りと違う運命だって 初めからわかっていたのに
Mawari to chigau unmei datte hajime kara wakatte ita no ni
現実を目の前にして なぜだか少し落ち込んだんだ
Genjitsu wo me no mae ni shite naze da ka sukoshi ochikonda nda
人より赤い眼が 今日はやけに気に触れてさ
Hito yori akai me ga kyou wa yake ni ki ni furete sa
少しだけ眼が潤んで 月も霞んで見える
Sukoshi dake me ga urunde tsuki mo kasunde mieru


ああ こんな気持ちも そっと時間が満たすなら
Aa kon'na kimochi mo sotto jikan ga mitasu nara
少し思い出に頼るけど ゆっくりと頑張ってみるよ
Sukoshi omoide ni tayoru kedo yukkuri to ganbatte miru yo


頑張っていくよ
Ganbatte iku yo
External links
Edit
| | |
| --- | --- |
| | Articles |
| | |
| --- | --- |
| | Lyrics |
Ad blocker interference detected!
Wikia is a free-to-use site that makes money from advertising. We have a modified experience for viewers using ad blockers

Wikia is not accessible if you've made further modifications. Remove the custom ad blocker rule(s) and the page will load as expected.