Ad blocker interference detected!
Wikia is a free-to-use site that makes money from advertising. We have a modified experience for viewers using ad blockers

Wikia is not accessible if you've made further modifications. Remove the custom ad blocker rule(s) and the page will load as expected.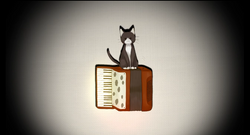 Song title
"うたうたいのうた"
Romaji: Utautai no Uta
English: A Singer's Song
Uploaded December 25, 2010, with 283,000 views
Singer(s)
Hatsune Miku
Producer(s)
Hoehoe-P (music, lyrics)
mztm (illustration)
Hotarusou (video)
Links
Niconico Broadcast
Background
Edit
Note: This song is known as "A Song That I'd Like to Sing" in the Western fandom, but "A Singer's Song" is more suitable. This tradition comes from Vgperson's mistranslated title.
"
"What does a song mean to you?" is the theme or something of this song.
Merry Chirismas.
"
 

— Author's comment
This song is featured in the album VOCAROCK collection 2 feat. 初音ミク.
Japanese (日本語歌詞)
Romaji (ローマ字)
ラララ 僕のご主人は歌唄い
rarara boku no goshujin wa utautai
誇らしげな顔して言葉を吐く
hokorashite na kao shite kotoba o haku
くだらないと人は言う ありふれた歌
kudaranai to hito wa iu arifureta uta
まだ僕らが幸せだった頃の話
mada bokura ga shiawasedatta koro no uta


一日中机と睨めっこして
ichinichijuu tsukue to niramekko shite
頭の中の音を描き殴る
atama no naka no oto o kakinaguru
楽しい事も悲しい事も嫌な事も
tanoshii koto mo kanashii koto mo iyana koto mo
ごちゃ混ぜに五線紙を塗り潰す
gochamaze ni gosenfu o nuritsubusu


歌の中なら何処へでも行けた 何にでもなれた
uta no naka nara dokoe de mo iketa nanni demo nareta
例えば月の裏側とか 夢の終わりとか
tatoeba tsuki no uragawa toka yume no owari toka
メロディーを奏でていく まだ見ぬ誰かの為に
merodii o kanadete iku mada minu dareka no tameni
届かないと知っていても
todokanai to shitte itemo


さぁ 声を枯らして唄うのさ
saa koe o karashite utauno sa
寂しさも温もりも 皆忘れて
sabishisa mo nukumori mo mina wasurete
でも朝になったら元通り
demo asa ni nattara motodoori
ホラ 今日もまた夜が明けていく
hora kyou mo mata yo ga akete iku


ラララ 僕のご主人は歌唄い
rarara boku no goshujin wa utautai
少しづつ唄うのが減ってきて
sukoshi zutsu utau noga hette kite
たまに思い出したように僕を抱え
tamani omoidashita youni boku o kakae
満足げな顔して言葉を吐く
manzokuge na kao shite kotoba o haku


もう唄う事がなんにも無いと 泣いていた夜も
mou utau koto ga nannimo nai to naite ita yoru mo
あの子が褒めてくれたんだと 喜んだ夜も
ano ko ga hoete kuretanda to yorokonda yoru mo
叶うならもう一度 あの頃に戻って
kanau nara mou ichido ano koro ni modotte
くだらない歌を唄いたい
kudaranai uta o utaitai


ねぇ 声を枯らして唄う事
nee koe o karashite utau koto
それさえも少しだけ 疲れてしまった
sore sae mo sukoshi dake tsukarete shimatta
ぎゅっと閉じた瞼 その奥で
gyutto tojita mabuta sono oku de
堪えきれず 涙落ちる
tae kirezu namida ochiru


あなたが望んだ事ならば
anata ga nozonda koto naraba
諸手を挙げて祝いましょう
morote o agete iwaimashou
新たな門出に乾杯を
arata na kadode ni kanpai o
そこに僕が居なくとも
soko ni boku gainaku tomo


ところがご主人 何を思ったか
tokoroga goshujin nani o omotta ka
いきなり立ち上がり
ikinari tachi agari
「まだまだ大事な事を唄っていない」と
"mada mada daiji na koto o utatte inai" to
僕を手に取って
boku o teni totte


ラララ 僕のご主人は歌唄い
rarara boku no goshujin wa utautai
誇らしげな顔してケースを開けた
hkoroshige na kao shite keesu o aketa


さぁ 声を枯らして唄うのさ
saa koe o karashite utau nosa
寂しさも温もりも 皆忘れて
sabishisa mo nukumori mo mina awsurete
そして朝になったら新しい
soshite asa ni nattara atarashii
毎日がホラ 続いてゆく
mainichi ga hora tsuzuite yuku
External links
Edit
| | |
| --- | --- |
| | Articles |