Ad blocker interference detected!
Wikia is a free-to-use site that makes money from advertising. We have a modified experience for viewers using ad blockers

Wikia is not accessible if you've made further modifications. Remove the custom ad blocker rule(s) and the page will load as expected.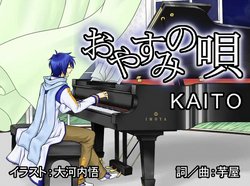 Song title
"おやすみの唄"
Romaji: Oyasumi no Uta
English: Goodnight Song
Uploaded April 9, 2008, with 202,000+ views
Singer(s)
KAITO
Producer(s)
Iceimo-P
Links
Niconico Broadcast
Background
Edit
"Oyasumi no Uta" is an original KAITO song. In it, KAITO sings a song wishing his Master goodnight.
The song has entered the Hall of Fame.
Japanese (日本語歌詞)
Romaji (ローマ字)
今日が静かに終わりを告げ
kyou ga shizuka ni owari o tsuge
音もなく明日が始まる
oto mo naku ashita ga hajimaru
疲れた身体を安らげて
tsukareta karada o yasuragete
ゆっくりお休み
yukkuri oyasumi


あなたと出会った
anata to deatta
始まりの日から
hajimari no hikara
私に見せる横顔は
watashi ni miseru yokogao wa
いつも明日を見つめている
itsu mo ashita o mitsumete iru
ひたむきな眼差し
hitamuki na manazashi


急がないで
iso ga naide
誰かに勝つ必要など無い
dareka ni katsu hitsuyou nado nai
あなたのことを
anata no koto o
愛する人は きっといる
aisuru hito wa kitto iru


微かに息をたてている
kasuka ni iki o tatete iru
あなたの穏やかな寝顔を
anata no hoda yaka negao o
明日も見られますように
ashita mo mirare masu you ni
ゆっくりお休み
yukkuri oyasumi


あなたと歌って暮らす日々
anata to utatte kurasu hibi
うまくいかない雨の日に
umaku ika nai ame no hi ni
あなたは自分のせいだよと
anata wa jibun no seidayou to
私に笑った
watashi ni waratta


思い詰めないで
omoi tsumenai de
私は とても幸せだから
watashi wa totemo shiawase dakara
叶わなくても
kanawa nakute mo
夢は美しいのだから
yume wa utsukushii no dakara


曇り一つなく輝いた
kumori hitotsu naku kagayaita
あなたのまっすぐな笑顔を
anata no massugu na egao o
明日も見られますように
ashita mo mirare masu you ni
ゆっくりお休み
yukkuri oyasumi


明日へ… おやすみ
ashita e... oyasumi
(おやすみ…マスター)
(oyasumi... masutaa)
External links
Edit
| | |
| --- | --- |
| | Articles |