Ad blocker interference detected!
Wikia is a free-to-use site that makes money from advertising. We have a modified experience for viewers using ad blockers

Wikia is not accessible if you've made further modifications. Remove the custom ad blocker rule(s) and the page will load as expected.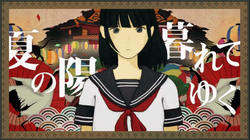 Song title
"お別れ囃子"
Romaji: Owakare Bayashi
English: Farewell Orchestra
Official English: Festival music sounds at the end of summer
Uploaded July 16, 2015, with 107,780+ (NN) and 27,850+ (YT) views
Singer(s)
Hatsune Miku
Producer(s)
Kobayashi Onyx (music, lyrics, video)
Kahan (mastering)
Links
Niconico Broadcast • YouTube Broadcast (official)

Background
Edit
The song was originally composed by Koyabashi Onyx with Meaw for the ending theme of Honto ni Atta! Reibai-sensei anime.
After 4 years of the song was released as a single, a new version featuring Hatsune Miku and Sachiko respectively was released on Koyabashi Onyx's channel.
Preceding and succeeding versions
Edit
Meaw's version

Featuring
Meaw
Author(s)
Kobayashi Onyx
Category
Preceding version

Description

This version is featured on King Records's single, pair*.
Sachiko's cover

| | |
| --- | --- |
| Featuring | Sachiko |
| Author(s) | Kobayashi Onyx |
| Category | Succeeding version |
Japanese (日本語歌詞)
Romaji (ローマ字)
笛の音 聴こえたら
fue no ne kikoetara
もうこの刻もサクッと おしまいなんです
mou kono koku mo sakutto oshimai nan desu
夏の陽 暮れてゆく
natsu no you kurete yuku
お別れ囃子が ピーヒャララ
owakare hayashi ga piihyarara


課せられた問いかけなどは
kaserareta toikake nado wa
手を付けないで積み重ね
te o tsukenaide tsumikasane
回答は埋められぬまま
kaitou wa umerarenu mama
先送りにして舞い踊る
sakiokuri ni shite mai odoru


嗚呼 長すぎるようで
aa nagasugiru you de
短すぎる 楽園のような日々
mijikasugiru rakuen no you na hibi


こんな日が いつまでも
kon'na hi ga itsumade mo
続かないことなんて 知らない振りして
tsuzukanai koto nante shiranai furi shite
過ごせりゃいいのにな
sugoserya ii no ni na
せつない調べで ピーヒャララ
setsunai shirabe de piihyarara
笛の音 聴こえたら
fue no ne kikoetara
このままじゃね サクッと おしまいなんです
kono mama ja ne sakutto oshimai nan desu
夏の陽 暮れてゆく
natsu no you kurete yuku
お別れ囃子が ピーヒャララ
owakare hayashi ga piihyarara


先送りした問題の 先送り日に追いついて
sakiokuri shita mondai no sakiokuri hi ni oitsuite
何ひとつ ままならぬまま
nani hitotsu mama naranu mama
計画倒れで 舞い踊れ
keikaku daore de maiodore


嗚呼 落日重ね やがて夏は楽日を迎えてく
aa rakujitsu kasane yagate natsu wa rakubi o mukaeteku


終わらないのに 季節だけがおわってゆく
owaranai no ni kisetsu dake ga owatte yuku


牡丹火 咲き誇る
botan hi sakihokoru
打ち上げられ パチッと 夜空にたゆたう
uchiagerare pachitto yozora ni tayutau
ハラハラ 消え落ちて
harahara kie ochite
幻みたいに 夏しじま
maboroshi mitai ni natsu shijima


こんな日は続かないや
kon'na hi wa tsuzukanai ya
知らない振りしたって 分かってたんです
shiranai furi shitatte wakatteta ndesu
そんじゃ ホント おつかれさん
son ja honto otsukare-san
明日からはまた ピーヒャララ
ashita kara wa mata piihyarara


笛の音 聴こえたら
fue no ne kikoetara
もうこの刻もサクッと おしまいなんです
mou kono koku mo sakutto oshimai nan desu
夏の陽 暮れてゆく
natsu no you kurete yuku
お別れ囃子が ピーヒャララ
owakare hayashi ga piihyarara
External links
Edit
| | |
| --- | --- |
| | Articles |
| | |
| --- | --- |
| | Lyrics |