Ad blocker interference detected!
Wikia is a free-to-use site that makes money from advertising. We have a modified experience for viewers using ad blockers

Wikia is not accessible if you've made further modifications. Remove the custom ad blocker rule(s) and the page will load as expected.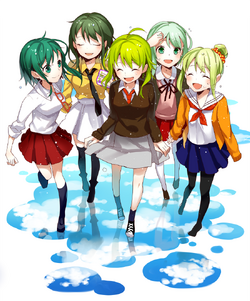 Song title
"きょうもハレバレ"
Romaji: Kyou mo Harebare
English: Today is Cheerful too
Uploaded July 12, 2013, with 875,000+ views
Singer(s)
GUMI
(Native, Power, Adult, Sweet, Whisper)
Producer(s)
Fuwari-P (music, lyrics)
Yunkel (illustration)
Not-116 (video)
Links
Niconico Broadcast • YouTube Broadcast

Background
Edit
FuwariP's 13 published work.
It features all of available GUMI V3 voicebanks aside of GUMI English.
The song debuted on EXIT TUNES compilation album GUMitia.
This song has entered the Hall of Fame.
Japanese (日本語歌詞)
Romaji (ローマ字)

(かけごえ) あどーん

(Shouting) adoon

あいぇいいぇい

aieiiei

あふあふあ

afuafua

あいぇいいぇい

aieiiei

あふー

afuu






(ネイティブ) とけいのかねが ひびくそら

(Native) tokei no kane ga hibiku sora

(スウィート) きょうも てんてけてんてんてん

(Sweet) kyou mo ten teke ten tenten

(パワー) そ〜れ ぴんぴきぴんぴんぴん

(Power) so~re pin piki pin pin pin

(ウィスパー) カーテンをひらいて あさが

(Whisper) kaaten o hiraite asa ga

(アダルト) そよぐ てんてけてんてんてんてんてんのてんてん

(Adult) soyogu ten teke ten tenten tenten no tenten




(スウィート) ひだまりに あくびして

(Sweet) hidamari ni akubi shite

(ウィスパー) ななめに せのびして

(Whisper) naname ni senobi shite

(アダルト) ことりを ながめたら

(Adult) kotori o nagametara

(ネイティブ) トースターにいちまい パンをのせて

(Native) toosutaa ni ichimai pan o nosete




(パワー) きょうがはじまる

(Power) kyou ga hajimaru




(みんなで) あざやかに まちはかがやいている

(Everyone) azayaka ni machi wa kagayaite iru

きらきらと わらっている

kira kira to waratte iru

ひろばへとつづいてく ほどうが

hiroba e to tsuzuiteku hodou ga

みどりいろの かみにゆれた

midori iro no kami ni yureta






(かけごえ) あどーん

(Shouting) adoon

あいぇいいぇい

aieiiei

あふー

afuu






(パワー) うたたね してしまいそうな

(Power) utatane shite shimai sō na

(ウィスパー) おひる てんてけてんてんてん

(Whisper) ohiru ten teke ten tenten

(アダルト) そ〜れ ぴんぴきぴんぴんぴん

(Adult) so~re pin piki pin pin pin

(スウィート) おひさまが やねにのぼって

(Sweet) ohisama ga yane ni nobotte

(ネイティブ) あそぶ てんてけてんてんてんてんてんのてんてん

(Native) asobu ten teke ten tenten tenten no tenten




(アダルト) くだりざかを はしって

(Adult) kudarizaka o hashitte

(スウィート) しんごうで とまって

(Sweet) shingou de tomatte

(ネイティブ) みぎみて ひだりみて

(Native) migi mite hidari mite

(ウィスパー) もういちど みぎみて わたりましょう

(Whisper) mou ichido migi mite watarimashou




(パワー) きょうもハレバレ

(Power) kyou mo harebare




(みんなで) あざやかに まちはかがやいている

(Everyone) azayaka ni machi wa kagayaite iru

きらきらと わらっている

kira kira to waratte iru

くるまのボンネットに うつった

kuruma no bonnetto ni utsutta

くもが まるくながれていた

kumo ga maruku nagareteita






(みんなで)たびゆけば ゆけばわかるような

tabi yukeba yukeba wakaru you na

きがしたらそれは いいかんじ

kiga shitara sore wa ii kanji






(ネイティブ) ゆうぐれに かげがのびてゆく

(Native) yuugure ni kage ga nobite yuku

(スウィート) ならんで あかりをぬけてく

(Sweet) narande akari o nuketeku

(アダルト) どこかで はずんだボールの

(Adult) dokoka de hazunda bōru no

(パワー) ねいろが そらにひろがっていった

(Power) neiro ga sora ni hirogatte itta

(ウィスパー) しずけさ ひらひら まう

(Whisper) shizuke sa hirahira mau




(アダルト) とけいのかねが ひびいた

(Adult) tokei no kane ga hibiita

(ウィスパー) ことりが はばたいて

(Whisper) kotori ga habataite

(ネイティブ) きょうを わたった

(Native) kyou o watatta




(スウィート) せかいはつづく

(Sweet) sekai wa tsuzuku

(パワー) そうしてつづく

(Power) soushite tsuzuku






(みんなで) あざやかに まちはかがやいている

(Everyone) azayaka ni machi wa kagayaite iru

きらきらと あすをつなぐ

kira kira to asu o tsunagu

くれてゆく ひのひかりのおくに

kurete yuku hi no hikari no okuni

いつかの そらをうつしだす

itsuka no sora o utsushidasu




あめがふり ずぶぬれのまま

ame ga furi zubunure no mama

みずたまりを あるくきょうも

mizu tamari o aruku kyou mo

やがて またはれて あしたがくる

yagate matawarete ashita ga kuru

まちは きょうも わらっている

machi wa kyou mo waratte iru






(かけごえ) あどーん

(Shouting) adoon

あいぇいいぇい

aieiieii

あふあふあ

afuafua

あいぇいいぇい

aieiieii

あふー

afuu
External links
Edit