Ad blocker interference detected!
Wikia is a free-to-use site that makes money from advertising. We have a modified experience for viewers using ad blockers

Wikia is not accessible if you've made further modifications. Remove the custom ad blocker rule(s) and the page will load as expected.
This song article is lacking a proper background. You can help by adding one! The relevant section in the Song Article Guideline is a good starting point, and this blog post may also be helpful. We apologize for the inconvenience this may cause in the meantime.

Song pages lacking proper backgrounds are automatically sorted into this category.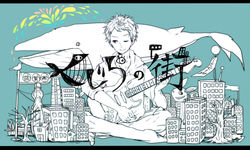 Song title
""くじらの街"
Romaji: Kujira no Machi
English: Whales' City
Uploaded March 12, 2013, with 266,000+ views
Singer(s)
GUMI
Producer(s)
Ramune (music)
Awoko (illust)
Studio Moko (mix, mastering)
Links
Niconico Broadcast
Background
Edit
"Kujira no Machi" is an original song by Ramune featuring GUMI.
This song is featured in Ramune's album, Hachi-Bit Cider and Futon. This song is also featured in the GUMI compilation album, EXIT TUNES PRESENTS GUMing from Megpoid, and the second anniversary IA compilation album, IA/02-COLOR-.
This song has entered the Hall of Fame.
Japanese (日本語歌詞)
Romaji (ローマ字)
明日はどうか考えるけど
ashita wa douka kangaeru kedo
分からない 分からない 分からないよ
wakaranai wakaranai wakaranai yo
いつものように眠りにつけば
itsumo no you ni nemuri ni tsukeba
何故だか知らない街に迷い込んだ
naze da ka shiranai machi ni mayoikonda


ビルの隙間を掻い潜ってく
biru no sukima wo kaikugutteku
微かに見えた光の粒を
kasuka ni mieta hikari no tsubu wo
追いかけて上手くいかなくて
oikakete umaku ikanakute


流されないよう歩けるかな
nagasarenai you arukeru kana
何度も転ぶ また転ぶ 傷だらけさ
nando mo korobu mata korobu kizu darake sa
流されないよう歩けるかな
nagasarenai you arukeru kana
周りが全部 羨ましくなって困るなあ
mawari ga zenbu urayamashiku natte komaru naa


何が有るかも分からないような
nani ga aru kamo wakaranai you na
街はこんなにも面白くて
machi wa konna ni mo omoshirokute
明日はどうか分かる気がして
ashita wa douka wakaru ki ga shite
何故だかそのまま歩き出していた
naze da ka sono mama aruki dashite ita


ビルの隙間は狭くなってく
biru no sukima wa semaku natteku
地図に無かった知らない道を
chizu ni nakatta shiranai michi wo
通り抜け新しい場所へ
toorinuke atarashii basho he


飛ばされないよう歩けるかな
tobasarenai you arukeru kana
何度も揺れる また揺れる 埃まみれさ
nando mo yureru mata yureru hokori mamire sa
空にくじら 泳いでいた
sora ni kujira oyoide ita
僕の事 忘れちゃったなら寂しいなあ
boku no koto wasurechatta nara sabishii naa


そして僕が欲しかったもの
soshite boku ga hoshikatta mono
夢や希望? それとも淡い心?
yume ya kibou? soretomo awai kokoro?
僕がずっと見ていたもの
boku ga zutto mite ita mono
優雅に泳ぐ一頭の白いくじらだった
yuuga ni oyogu ittou no shiroi kujira datta


怖くはないよ 歩けるなら
kowaku wa nai yo arukeru nara


流されないよう歩けなくても
nagasarenai you arukenakute mo
明日はきっと変わるはずって目が覚める
ashita wa kitto kawaru hazu tte me ga sameru
External links
Edit
| | |
| --- | --- |
| | Articles |
| | |
| --- | --- |
| | Lyrics |
| | |
| --- | --- |
| | Downloads |
| | |
| --- | --- |
| | Official |