Ad blocker interference detected!
Wikia is a free-to-use site that makes money from advertising. We have a modified experience for viewers using ad blockers

Wikia is not accessible if you've made further modifications. Remove the custom ad blocker rule(s) and the page will load as expected.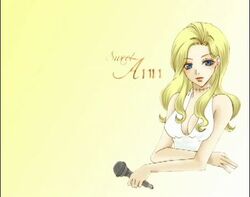 Song title
"すいーとあん のうた"
Romaji: Suiito An no Uta
English: Sweet Ann's Song
Uploaded June 6, 2008, with 3,000+ views
Singer(s)
Sweet ANN
Producer(s)
Daisuke-P (music, lyrics)
Links
Niconico Broadcast
Background
Edit
A song of Sweet Ann introducing herself. Daisuke-P also made a Miku & Luka cover of this. According to the video description, the lyrics were written with help from Excite Translate.
Derivatives
Edit
初音ミクのうた

Romaji/English
Hatsune Miku no Uta (Hatsune Miku's Song)
Featuring
Hatsune Miku
Author(s)
Daisuke-P
Category
Succeeding version

Description

A cover using Miku.
巡音ルカのうた (Jazz version)

Romaji/English
Megurine Ruka no Uta (Megurine Luka's Song)
Featuring
Megurine Luka
Author(s)
Daisuke-P
Category
Succeeding version; Arrangement

Description

A cover and arrangement using Luka.
Hello everyone
Nice to meet you
My name is Sweet Ann
I'm from Sweden




I sing the songs which you made
I sing it for you beautifully
My input is difficult
However please hold out by your ability




Sweet Ann ×4
Virtual singer Sweet Ann
Sweet Ann ×4
Please give me any songs
Sweet Ann ×4
I don't understand Japanese
Sweet Ann x4
Please get along well with me




Japanese (日本語歌詞)
Romaji (ローマ字)
私の名前は スイート・アンです
watashi no namae wa suiito an desu
年齢はヒミツ
nenrei wa himitsu
体重もヒミツ
taijuu mo himitsu
あなたが作った歌を
anata ga tsukutta uta wo
私が歌ってあげるわ
watashi ga utatte ageru wa




入力難しいの
nyuuryoku muzukashii no
でもあなたの力で何とかして
demo anata no chikara de nantoka shite




Sweet Ann ×4
Virtual singer Sweet Ann
Sweet Ann ×4
私に歌わせて
watashi ni utawasete
Sweet Ann ×4
日本語が苦手アンアン
nihongo ga nigate an an
Sweet Ann ×4
みんなよろしくね
minna yoroshiku ne




間奏
kansou
ギターとバイオリンの
gitaa to baiorin no
バトルバトルバトル
batoru batoru batoru
ランランラーラー ×4
ranranraaraa X 4




ラーラン
raaran




「にゃんにゃん!」
"nyannyan!"




Sweet Ann ×4
Virtual singer Sweet Ann
Sweet Ann ×4
Please give me any songs
Sweet Ann ×4
I don't understand Japanese
Sweet Ann ×4
みんなよろしくね
minna yoroshiku ne