Ad blocker interference detected!
Wikia is a free-to-use site that makes money from advertising. We have a modified experience for viewers using ad blockers

Wikia is not accessible if you've made further modifications. Remove the custom ad blocker rule(s) and the page will load as expected.
This song article is lacking a proper background. You can help by adding one! The relevant section in the Song Article Guideline is a good starting point, and this blog post may also be helpful. We apologize for the inconvenience this may cause in the meantime.

Song pages lacking proper backgrounds are automatically sorted into this category.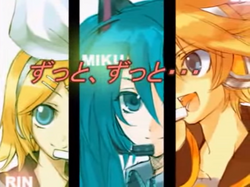 Song title
"ずっと、ずっと・・・"
Romaji: Zutto, Zutto...
English: Forever, Always...
Uploaded March 9, 2008, with 391,000+ views
Singer(s)
MEIKO, KAITO, Hatsune Miku, Kagamine Rin, Kagamine Len
Producer(s)
Kurousa-P (music, lyrics)
arter, kikurage, kisala, nuka, ratix, Suzumi, ChihoP, Tsuchino, Mouri, Rakuto, 一花, 朱夏, 椛朗 (illustrations)
Links
Niconico Broadcast
Background
Edit
"Zutto, Zutto" is an original VOCALOID song by Kurousa-P, featuring MEIKO, KAITO, Hatsune Miku, Kagamine Rin and Len.
This song has entered the Hall of Fame. It is featured in the albums VOCALO LOVERS feat. 初音ミク and Kimi no iru Keshiki.
| | | | | | | |
| --- | --- | --- | --- | --- | --- | --- |
| Singer | MEIKO | KAITO | Miku | Rin | Len | Chorus |
Japanese (日本語歌詞)
Romaji (ローマ字)

出会いはきっと 春風に誘われて

deai wa kitto harukaze ni sasowarete

君の名前を 繰り返してた

kimi no namae o kuri kaeshiteta

半そでのまま 追いかけた夏の午後

hansode no mama oikaketa natsu no gogo

一緒に見てる 夜空恋花火

issho ni miteru yozora koi hanabi



一年が経ったけど 伝えられずに

■

■

■

ichinen ga tatta kedo tsutaerarezu ni

■

■

■

勇気をヒトカケラ 進みだす

■

■

■

yuuki o hito kakera susumi dasu

■

■

■



いつも笑顔をありがとう それだけで嬉しくて
itsumo egao o arigatou sore dake de ureshikute
あしたからもよろしくね ずっとずっとよろしくね
ashita kara mo yoroshiku ne zutto zutto yoroshiku ne


小さな嘘で すれ違った秋の朝

■

■

chiisana uso de surechigatta aki no asa

■

■

「ゴメンネ」それが 言えなかった

■

■

"gomen ne" sore ga ie na katta

■

■

冷たい冬は 照れ隠し赤い顔

tsumetai fuyu wa terekakushi akai kao

小さな距離が もどかしかったこと

chiisana kyori ga modokashikatta koto



写真には写らない 気持ちがあるよ

■

■

■

shashin ni wa utsura nai kimochi ga aru yo

■

■

■

優しさをいっぱいに 歩き出す

■

■

■

yasashisa o ippai ni aruki dasu

■

■

■



いつも笑顔でいたいから こっちから微笑みを
itsumo egao de itai kara kocchi kara hohoemi o
あしたからも楽しくね ずっとずっと忘れずに
ashita kara mo tanoshiku ne zutto zutto wasurezu ni



いつも笑顔をありがとう それだけで嬉しくて

itsumo egao o arigatou sore dake de ureshikute

あしたからもよろしくね

ashita kara mo yoroshiku ne




ずっと、ずっと・・・

zutto, zutto...



いつも笑顔でいたいから こっちから微笑みを
itsumo egao de itai kara kocchi kara hohoemi o
あしたからも楽しくね ずっとずっと忘れずに
ashita kara mo tanoshiku ne zutto zutto wasurezu ni


ずっとずっとよろしくね
zutto zutto yoroshiku ne
External links
Edit
| | |
| --- | --- |
| | Official |
| | |
| --- | --- |
| | Articles |
| | |
| --- | --- |
| | Lyrics |