Ad blocker interference detected!
Wikia is a free-to-use site that makes money from advertising. We have a modified experience for viewers using ad blockers

Wikia is not accessible if you've made further modifications. Remove the custom ad blocker rule(s) and the page will load as expected.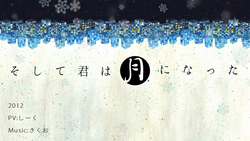 Song title
"そして君は月になった"
Romaji: Soshite Kimi wa Tsuki ni Natta
English: And Then You Became the Moon
Uploaded June 24, 2012 (NND) and November 17, 2012 (YT), with 176,200+ (NND) and 32,900 (YT) views
Singer(s)
Hatsune Miku
Producer(s)
Kikuo (music, lyrics)
si_ku (video)
Links
Niconico Broadcast • YouTube Broadcast

Background
Edit
Kikuo's 12th VOCALOID song, a song about a pair of best friends who has disappeared into (and afterwards from) the sky, having "become a moon and a star". The song features a common theme used by Kikuo, dying together and happily being together forever after death.
"Soshite Kimi wa Tsuki ni Natta" is included on the albums EXIT TUNES PRESENTS Supernova 7 and KikuoMiku 2.
Japanese (日本語歌詞)
Romaji (ローマ字)
そして君は月になった 僕は宇宙(そら)で星になった
soshite kimi wa tsuki ni natta boku wa sora de hoshi ni natta
銀河のほとりでいつも一緒さ
ginga no hotori de itsumo issho sa


そして僕は崩れ散った 月が空けた穴に落ちて
soshite boku wa kuzurechitta tsuki ga aketa ana ni ochite
宇宙のどん底でずっと一緒さ ひゅー ひゅー ひゅーうー
uchuu no donzoko de zutto issho sa hyuu hyuu hyuuuu






かくん かくん 揺れてる 月の首をポケットに
kakun kakun yureteru tsuki no kubi wo POKETTO ni
月が死んだ夜空は 暗く 暗く 落ちてゆく
tsuki ga shinda yozora wa kuraku kuraku ochiteyuku
くる くる 狂った雪女の踊りを
kuru kuru kurutta yukion'na no odori wo
凍った目で見つめ続けた僕は (ぽろ ぽろ)
kootta me de mitsumetsuzuketa boku wa (poro poro)
崩れた身体を空に落としてた (ぽろ ぽろ)
kuzureta karada wo sora ni otoshiteta (poro poro)
ぽろぽろ ぽろぽろ ひゅるら ひゅるら ひゅるら ひゅうるりら
poroporo poro poro hyurura hyurura hyurura hyururira






そして僕は星になった 君は宇宙(そら)で月になった
soshite boku wa hoshi ni natta kimi wa sora de tsuki ni natta
オーロラの畔でいつも一緒さ
OORORA no hotori de itsumo issho sa


そして僕は落ちて消えた 悲しい雪雲の向こう
soshite boku wa ochite kieta kanashii yukigumo no mukou
奈落のどん底で月を見ながら ひゅー
narali no donzoko de tsuki wo minagara hyuu




ラララ・・・
RARARA...




聞こえない 触れない 動かない でも見える
kikoenai sawarenai ugokanai demo mieru
温かいポケットに私を入れてる
atatakai POKETTO ni watashi wo ireteru
くる くる 苦しい震えは優しく
kuru kuru kurushii furue wa yasashiku
心地良い眠りについた私は (ぽろ ぽろ)
kokochi yoi nemuri ni tsuita watashi wa (poro poro)
崩れた君を夜空に送ってた (ぽろ ぽろ)
kuzureta kimi wo yozora ni okutteta (poro poro)
ぽろぽろ ぽろぽろ ひゅるら ひゅるら ひゅるら ひゅうるりら
poroporo poroporo hyurura hyurura hyurura hyururira




そして君は月になった 暗く崩れ落ちた僕を
soshite kimi wa tsuki ni natta kuraku kuzure ochita boku wo
壊れた塊が照らし続ける
kowareta katamari ga terashitsuzukeru


そして僕は星になった 月はもう輝かない
soshite boku wa hoshi ni natta tsuki wa mou kagayakanai
星も消えてく 光の中に
hoshi mo kieteku hikari no naka ni


そして月と星は消える 消えた二人は見つからない
soshite tsuki to hoshi wa kieru kieta futari wa mitsukaranai
宇宙のどん底でずっと一緒さ
uchuu no donzoko de zutto issho sa


そして月と星は消える それは一夜のおとぎ話
soshite tsuki to hoshi wa kieru sore wa ichiya no otogibanashi
宇宙のどん底でずっと一緒さ
uchuu no donzoko de zutto issho sa
External links
Edit
| | |
| --- | --- |
| | Articles |
| | |
| --- | --- |
| | Downloads |