はじめてのボーカロイド VOCALOID3 オフィシャルガイドブック was a beginners guide to using the VOCALOID3 software.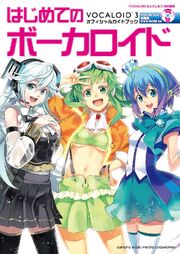 The book was focused on new Vocaloid users and was designed to help prevent users from giving up. It covered exisitng information on VOCALOID2 and new features for VOCALOID3, as well as interviews with popular producers on "how to feel VOCALOID3". It includes a step-by-step guide from launch to completion of a song centered around the Tiny Editor for VOCALOID3. It also contained a soundtrack for "Happy birthday to you".
The following navigation template is currently being improved for the benefit of all visitors. Please bear with us while improvements are being made, and as soon as an editor is available to do so assume good faith until the edits are complete. We apologize for the inconvenience this may cause in the meantime.
Literature
Music material
Fandom material
Ad blocker interference detected!
Wikia is a free-to-use site that makes money from advertising. We have a modified experience for viewers using ad blockers

Wikia is not accessible if you've made further modifications. Remove the custom ad blocker rule(s) and the page will load as expected.