はじめての初音ミク ボーカロイド2 オフィシャルガイドブック is a paperback and DVD containing information on how to use Hatsune Miku and VOCALOID2 for the first time.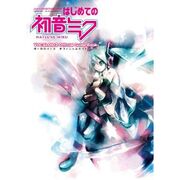 The book contains a trial version of the Hatsune Miku software and is centered around how to use Miku to produce songs. The trial lasts for 14 days and is issued with the book so producers can learn from scratch how to make a song using Miku's voice. Karaoke data for 6 songs and instructions on how to also uninstall the software at the end of the trial are also included with the book.
Songs featured in the book are;
HAPPY BIRTHDAY TO YOU
大きな古時計
創聖のアクエリオン
風の谷のナウシカ
アベ・マリア
いつか王子様が
残酷な天使のテーゼ
大きな古時計(三部合唱)
HAPPY BIRTHDAY TO YOU
The following navigation template is currently being improved for the benefit of all visitors. Please bear with us while improvements are being made, and as soon as an editor is available to do so assume good faith until the edits are complete. We apologize for the inconvenience this may cause in the meantime.
Literature
Music material
Fandom material
Ad blocker interference detected!
Wikia is a free-to-use site that makes money from advertising. We have a modified experience for viewers using ad blockers

Wikia is not accessible if you've made further modifications. Remove the custom ad blocker rule(s) and the page will load as expected.