Ad blocker interference detected!
Wikia is a free-to-use site that makes money from advertising. We have a modified experience for viewers using ad blockers

Wikia is not accessible if you've made further modifications. Remove the custom ad blocker rule(s) and the page will load as expected.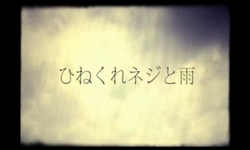 Song title
"ひねくれネジと雨"
Romaji: Hinekure Neji to Ame
English: An Uncooperative Screw and the Rain
Uploaded May 6, 2012, with 189,000+ views
Singer(s)
IA
Producer(s)
nekobolo (music, lyrics)
Suti, Hinoue Riku, and others (photography)
Links
Niconico Broadcast
Background
Edit
nekobolo's second song with IA, a vague song that seems to be about someone lamenting someone lost and feeling lost in the world. It is included on nekobolo's album TEXT and has entered the Hall of Fame.
Japanese (日本語歌詞)
Romaji (ローマ字)
「ねえ 鼓膜 溶ける感覚
"nee komaku tokeru kankaku
指の 先で 光る体温
yubi no saki de hikaru taion
僕は 未だ わからないよ」
boku wa mada wakaranai yo"


時が経てば 忘れてしまう
toki ga tateba wasureteshimau
いつかの君も 色褪せてしまう
itsuka no kimi mo iroaseteshimau
でも僕は 未だ、 「忘れないよ」
demo boku wa mada, "wasurenai yo"


まわる まわる 世界は
mawaru mawaru sekai wa
僕の事など無視をして
boku no koto nado mushi wo shite
何も知らずに そっと
nanimo shirazuni sotto
僕の心 錆び付かせる
boku no kokoro sabitsukaseru
もう君を守るなんて言えないな
mou kimi wo mamoru nante ienai na


こわれ こわれる 僕は
koware kowareru boku wa
誰も 信じられなくなる
daremo shinji rare nakunaru
「誰も知らずに そっと
"dare mo shirazu ni sotto
雨に溶けて 無くなる」とか
ame ni tokete nakunaru" toka
ああそんなふざけた事 言えないな ああ
aa sonna fuzaketa koto ienai naa aa


ああ 鼓膜 突き破る赤
aa komaku tsukiyaburu aka
頭の裏で 溶けてなくなる
atama no ura de toketenakunaru
そう僕はまだ 聴こえ「ないよ」
sou boku wa mada kikoe"nai yo"


まわる まわる 世界は
mawaru mawaru sekai wa
僕の事など無視をして
boku no koto nado mushi o shite
何も知らずに そっと
nanimo shirazuni sotto
僕の鼓動 錆び付かせる
boku no kodou sabitsukaseru
もう君を見る事無く消えたいな ああ
mou kimi o miru koto naku kietai na aa


-nonsense-


相対 曖昧な 返答でごまかし
soutai aimaina hentou de gomakashi
大体 反対な 顔を作る
daitai hantaina kao wo tsukuru
後悔 先に立たずだ
koukai saki ni tatazu da




まわる まわる 世界は
mawaru mawaru sekai wa
僕の事など無視をして
boku no koto nado mushi wo shite
何も知らずに そっと
nanimo shirazuni sotto
僕の心 錆び付かせる
boku no kokoro sabitsukaseru
「もう君を守るなんて言えないな」
"mou kimi o mamoru nante ienai na"


こわれ こわれる 僕は
koware kowareru boku wa
誰も 信じられなくなる
daremo shinjirarenakunaru
「誰も知らずに そっと
"dare mo shirazu ni sotto
雨に溶けて 無くなる」とか
ame ni tokete nakunaru" toka
ああそんなふざけた事言えないな
aa sonna fuzaketa koto ienai na


ああ
aa
まわる
mawaru
まわる
mawaru
まわるまわる
mawaru mawaru
まわるまわるまわる
mawaru mawaru mawaru


これで終わる落ちる目眩だ
kore de owaru ochiru memai da
ああ ああ ああ ああ ああ
aa aa aa aa aa
Derivatives
Edit
Len's Cover
Matsudappoiyo's Cover

| | |
| --- | --- |
| Featuring | Matsudappoiyo |
| Author(s) | HopeandJoy9 (cover), ZettaSloooow (UST) |
| Category | UTAU cover |
External links
Edit
| | |
| --- | --- |
| | Articles |
| | |
| --- | --- |
| | Lyrics |
| | |
| --- | --- |
| | Downloads |