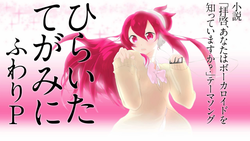 Song title
"ひらいたてがみに"
Romaji: Hiraita Tegami ni
English: The Opened Letter
Uploaded January 8, 2012, with 18,000+ views
Singer(s)
CUL
Producer(s)
Fuwari-P (music, lyrics)
Mikotokkusu (illust)
Links
Niconico Broadcast
Background
Edit
"The Opened Letter" is an original song by Fuwari-P featuring CUL.
This song is the official theme song for CUL's backstory novel, "Dear Sir, Do You Know Vocaloid?".
Succeeding versions
Edit
Off Vocals

Author(s)
Fuwari-P (music, lyrics), Mikotokkusu (illust)
Category
Instrumentals

Description

The off vocals upload by Fuwari-P.
Japanese (日本語歌詞)
Romaji (ローマ字)
しばらくぶりのあめも まばらになって
shibaraku buri no ame mo mabara ni natte
しずくのねいろが めをとじてく
shizuku no neiro ga me o tojiteku
かわべにうつるまどに あかりがともり
kawabe ni utsuru mado ni akari ga tomori
じてんしゃのかげが そばをぬけてく
jiten syanokagega soba o nuketeku


すこしさきの なみきみちにそいながら
sukoshi saki no na miki michi ni soi nagara
なつの しゃしんがひろがる
natsuno syashingahirogaru
フェンスにもたれてながめた つきは
fensu ni mo tarete nagameta tsuki wa
きのうよりも あかるくそらにのぼり
kinou yori mo akaruku sora ni nobori
くさきをつつむ
kusaki o tsutsumu


わたりどりたち やまのまをわたって
wataridori tachi yamanoma o watatte
よるをはこんだ かなたで はねがまった
yoru o hakonda kanatade hane ga matta


こもれびさして じゃりにのびる きみどりのあさ
komore bisashite jari ni nobiru kimi dori no asa
やねにてをかけて まちをながめた
yane nite o kakete machi o nagameta


いつかにみた ここからのながれはいま
itsuka ni mita koko kara no nagare wa ima
どこか ちいさくもみえて
doko ka chiisaku mo miete
ななめむかいから きこえた
naname mukai kara kikoeta
グラウンドのチャイム
guraundo no chaimu
だいだいにかわる そら
daidai ni kawaru sora
にぎわいの こえ
nigiwai no koe


てらされゆれる まちのひは
terasareyureru machi no hi wa
かえりのみちを てらした
kaeri no michi o terashita
いつでも みえるように
itsu demo mieru you ni


えきのホームに ゆきかう
e kino houmu ni yukikau
ゆくひと かえるひとが
yuku hito kaeru hito ga
おなじしゃりょうに のりこみ
onajisha ryou ni norikomi
おなじゆきさきへ むかう
onaji yuki saki e mukau


とちゅうえきで おりるひと
tocyuuekide oriru hito
きたみちを ながめるひと
kita michi o nagameru hito
たのしみに はしゃぐひとや
tanoshimi ni hashagu hito ya
それを みおくったひと
sore o miokutta hito


しずかに そよかぜがひとつふいて
shizuka ni so yo kaze ga hitotsu fuite
ひがしずみ よるのそら
higashi zumi yoru no sora
まちとほしが かさなった
machi to hoshi ga kasanatta


ほそくながくのびてゆく
hosoku nagaku nobite yuku
きんいろの かがやきは
kin iro no kagayaki wa
うみのひかりに かわり
umi no hikari ni kawari
そらを もういちどてらした
sora o mou ichido terashi ta
あかりが あめあがりの
akari ga ame agari no
まどべへと さしこんだ
madobe e to sashikon da


はまべのなみが きらり
hama be no nami ga kirari
すいへいせんのひが ゆらぐ
sui eisen no hi ga yuragu
えがおが
egao ga
なきがお
naki ga o
すがおが
suga o ga
いろあせてゆきながら
iroasete yuki nagara
いちまい
ichimai
また いちまい
mata ichimai
あしたへ つみあげられてく
ashita e tsumiagerare te ku


そして ひとつにかさねて
soshite hitotsu ni kasanete
あらたな きょうがはじまる
arata na kyou ga hajimaru
あめはもう あがったから
ame wa mou agatta kara
あすはきっと
asu wa kitto
きっとはれるから
kitto hareru kara


あたらしいひが のぼってく
atarashii hi ga nobotteku
わたりどりが そらをまう
wataridori ga sora o mau
しろいひかり かげおちて
shiroi hikari kageochi te
あさをはこんだ
asa o hakonda


めざめの かねがなって
mezame no kane ga natte
すべてがまた うごきだした
subete ga mata ugokidashi ta
よろこびの こえを
yorokobi no koe o
かなしみのこえを つつんで
kanashimi no koe o tsutsun de
つぼみが ひかりあびて
tsubomi ga hikari abite
はなびら ひらきはじめた
hana bira hirakihajime ta
きょうも きょうも
kyou mo kyou mo
あさひが
asahi ga
まちにのびた
machi ni nobita
External links
Edit
| | |
| --- | --- |
| | Official |
| | |
| --- | --- |
| | Lyrics |
Ad blocker interference detected!
Wikia is a free-to-use site that makes money from advertising. We have a modified experience for viewers using ad blockers

Wikia is not accessible if you've made further modifications. Remove the custom ad blocker rule(s) and the page will load as expected.