Ad blocker interference detected!
Wikia is a free-to-use site that makes money from advertising. We have a modified experience for viewers using ad blockers

Wikia is not accessible if you've made further modifications. Remove the custom ad blocker rule(s) and the page will load as expected.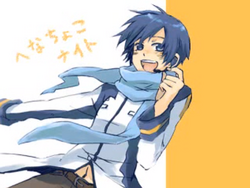 Song title
"へなちょこナイト"
Romaji: Henachoko Knight
English: Knight in Training
Uploaded January 30, 2008 (NND) / May 5, 2008, with 161,000+ (NND) / 30,000+ (YT) views
Singer(s)
KAITO
Producer(s)
Eccentric-P (music)
Satoh (illustration)
Links
Niconico Broadcast • YouTube Broadcast

Background
Edit
"Knight in Training" is an original KAITO song.
The song has entered the Hall of Fame.
Japanese (日本語歌詞)
Romaji (ローマ字)
ひとつ あくび
hitotsu akubi
背伸びして
senobishite
今日も おはよう
kyou mo ohayou
元気かい?
genki kai?


準備整ったら
junbi totonottara
どこへ 行こうか
doko e ikou ka
素敵な場所へ
sutekina basho e
連れて いくよ
surete iku yo


君が 決めて いいよ
kimi ga kimete iiyo
僕は ただの ナイト
boku wa tada no naito
おてんば 君は
otenba kimi wa
怖いモノ知らず
kowai mono shirazu


君が 決めて いいよ
kimi ga kimete iiyo
僕は ただの ナイト
boku wa tada no naito
転んだら 手をとってあげる
korondara te o totte ageru
僕は へなちょこナイト
boku wa henachoko naito


遠くまで 来たね
tooku made kita ne
身を寄せて
mi o yosete
もう帰ろうか
mou kaerou ka


本当はこのまま
hontou wa kono mama
一緒に いたい
issho ni itai
ふたりきりで
futari kiri de
このまま ずっと
kono mama zutto


君が 決めて いいよ
kimi ga kimete iiyo
僕は ただの ナイト
boku wa tada no naito
微笑む 君は
hohoemu kimi wa
ふわりと飛んだ
fuwari to tonda


君が 決めて いいよ
kimi ga kimete iiyo
僕は ただの ナイト
boku wa tada no naito
落ちても 受けとめてあげる
ochite mo uketomete ageru
僕は へなちょこナイト
boku wa henachoko naito
君だけのナイト
kimi dake no naito
External links
Edit
| | |
| --- | --- |
| | Articles |
| | |
| --- | --- |
| | Lyrics |
| | |
| --- | --- |
| | Downloads |