!

Warning:

This song contains questionable lyrics and themes; it may be inappropriate for younger audiences.

The Vocaloid Wiki does not have a policy on lyrical content or theme; however, it attempts to follow the Wikia TOU.
For further discussion see Thread:68883. Questionable songs are automatically sorted into this category.

!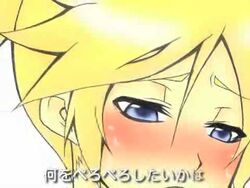 Song title
"ぺろぺろ"
Romaji: Peropero
English: Licking
Uploaded July 23, 2010, with 236,000+ views
Singer(s)
Kagamine Len
Producer(s)
Ehehe-P
Takkyuu Shounen (music, lyrics)
hami (arrangement)
Sachi Dai (illustration)
Links
Niconico Broadcast
Background
Edit
This song has entered the Hall of Fame. A song featuring Len singing about wanting to lick something so embarrassing he can't say it.
Japanese (日本語歌詞)
Romaji (ローマ字)
ぺろぺろしたいお
peropero shitai o
ぺろぺろしたいお
peropero shitai o
何をぺろぺろしたいかは
nani wo peropero shitai ka wa
恥ずかしくて 言えないお
hazukashikute ienai o


ぺろぺろされたいお
pero pero saretai o
ぺろぺろされたいお
pero pero saretai o
何にぺろぺろされたいかは
nani ni peropero saretai ka wa
恥ずかしすぎて 言えないお
hazukashi sugite ienai o
External links
Edit
| | |
| --- | --- |
| | Articles |