Ad blocker interference detected!
Wikia is a free-to-use site that makes money from advertising. We have a modified experience for viewers using ad blockers

Wikia is not accessible if you've made further modifications. Remove the custom ad blocker rule(s) and the page will load as expected.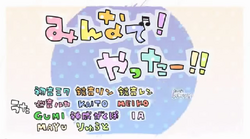 Song title
"みんなで!やったー!!"
Romaji: Minna de! Yattaa!!
English: Come on everyone! Hurray!!
Uploaded March 25, 2015, with 31,000+ views
Singer(s)
Hatsune Miku, Kagamine Rin, Kagamine Len, Megurine Luka, KAITO, MEIKO, GUMI, Camui Gackpo, IA, MAYU and Ryuto
Producer(s)
Fuwari-P (music, lyrics)
Nazyo (illust, video)
Links
Niconico Broadcast • YouTube Broadcast (reprint)

Background
Edit
The song was written for the campaign "Suku Suku Japan (すくすくジャパン!)".
A VOCALOID version was uploaded on March, 2015 and was Fuwari-P' first work with Ryuto.
Japanese (日本語歌詞)
Romaji (ローマ字)
ミク)みんなでみちを あるくのさ
Miku) minna de michi o aruku no sa
MEIKO)そらにおひさま こんにちは
MEIKO) sora ni ohisama konnichi wa
レン)わくわくみちを あるくのさ
Len) waku waku michi o aruku no sa
KAITO)ほがらかに ちきゅうはまわる
KAITO) ho gara ka ni chi kyuu wa mawaru


IA)よろこびのいろで
IA) yorokobi no iro de
いちばんのみんな)かざろうよ ゆめをかざろうよ
ichiban no minna) kazarou yo yume o kazarou yo


いちばんのみんな)やったー やったー やったー
ichiban no minna) yatta yatta yatta
えがおをつなげば(すくすく!)
egao o tsunage ba (suku suku!)
やったー やったー やったー
yatta yatta yatta
こころもわらった
kokoro mo waratta
やったー やったー やったー
yatta yatta yatta
えがおをつなげば(すくすく!)
egao o tsunage ba (suku suku!)
きょうのひはそう しあわせになる
kyou no hi wa sou shiawase ni naru
きょうのひはそう しあわせになる
kyou no hi wa sou shiawase ni naru


MAYU)みんなでみちを あるくのさ
MAYU) minna de michi o aruku no sa
リン)かわにおさかな こんにちは
Rin) kawa ni o saka na konnichi wa
がくぽ)わくわくみちを あるくのさ
Gackpo) waku waku michi o aruku no sa
ルカ)かろやかに せかいはまわる
Luka) karo ya ka ni sekai wa mawaru


GUMI)よろこびのいろで
GUMI) yorokobi no iro de
にばんのみんな)あそぼうよ ゆめをあそぼうよ
ichiban no minna) asobou yo yume o asobou yo


にばんのみんな)やったー やったー やったー
Ichiban no minna) yatta yatta yatta
えがおをつなげば(すくすく!)
egao o tsunage ba (suku suku!)
やったー やったー やったー
yatta yatta yatta
こころもわらった
kokoro mo waratta
やったー やったー やったー
yatta yatta yatta
えがおをつなげば(すくすく!)
egao o tsunage ba (suku suku!)
きょうのひはそう しあわせになる
kyou no hi wa sou shiawase ni naru
きょうのひはそう しあわせになる
kyou no hi wa sou shiawase ni naru


リュウト)みんなのおもいが
Ryuto) minna no omoi ga
きょうをつくりだす
kyou o tsukuri dasu
みんな)みんなのおもいで
minna) minna no omoide
つくろうよ ゆめをつくろうよ
tsukurou yo yume o tsukurou yo


みんな)やったー やったー やったー
minna) yatta yatta yatta
えがおをつなげば(すくすく!)
egao o tsunage ba (suku suku!)
やったー やったー やったー
yatta yatta yatta
こころもわらった
kokoro mo waratta
やったー やったー やったー
yatta yatta yatta
えがおをつなげば(すくすく!)
egao o tsunage ba (suku suku!)
きょうのひはそう しあわせになる
kyou no hi wa sou shiawase ni naru
きょうのひはそう しあわせになる
kyou no hi wa sou shiawase ni naru
External links
Edit
| | |
| --- | --- |
| | Articles |