もしもキヨテル先生が元No.1ホストだったら (Moshimo Kiyoteru Sensei ga Moto No.1 Host Dattara)
Comments

0
Share
Ad blocker interference detected!
Wikia is a free-to-use site that makes money from advertising. We have a modified experience for viewers using ad blockers

Wikia is not accessible if you've made further modifications. Remove the custom ad blocker rule(s) and the page will load as expected.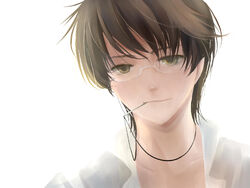 Song title
"もしもキヨテル先生が元No.1ホストだったら"
Romaji: Moshimo Kiyoteru Sensei ga Moto No.1 Host Dattara
Uploaded March 12, 2012, with 15,500+ views
Singer(s)
Hiyama Kiyoteru
Producer(s)
Shosho-P (music, lyrics)
Tenryuu Kou (illustration)
Links
Niconico Broadcast
Background
Edit
Shosho-P's 50th original song. It is his fifth song featuring Kiyoteru.
Japanese (日本語歌詞)
Romaji (ローマ字)
お嬢様…失礼お母様
ojou-sama... shitsurei okaa-sama
ご指名の、いえ 担任の氷山です
go shimei no, ie tannin no hiyama desu
本日ご足労頂きましたのは
honjitsu go sokurou itadakimashita no wa
美しい貴方に いえ、お子様のお話です
utsukushii anata ni ie, okosama no ohanashi desu
夢の時間 いえ、厳しい現実です
yume no jikan ie, kibishii genjitsu desu


お嬢様…失礼お母様
ojou-sama... shitsurei okaa-sama
貴方の、いえ 担任の氷山です
anata no, ie tannin no hiyama desu
シャンパンコールを いえ、こちらのお茶をどうぞ
shanpan kooru o ie, kochira no ocha o douzo
さっそく メンバーの いえ、お子様の成績の事
sassoku membaa no ie, okosama no seiseki no koto
歌舞伎町で いえ、学年でビリなんです
kabukichou de ie, gakunen de biri nan desu


茜色に染まった
akane iro ni somatta
その素肌 いえ、並んだこの赤点は
sono suhada ie, naranda kono akaten wa
遅すぎたこの出会い…
oso sugita kono deai...
いえ、いまからでもまだ間に合います
ie, ima kara demo mada mani aimasu
私と貴方で未来を
watashi to anata de mirai o


お嬢様…失礼お母様
ojou-sama... shitsurei okaa-sama
裸の いえ、担任の氷山です
hadaka no ie, tannin no hiyama desu
少し立ち入ったことを伺います
sukoshi tachi itta koto o ukagaimasu
夜のたしなみ いえ、お家での予習復習
yoru no tashinami ie, ouchi de no yoshuu fukushuu
愛の悶え いえ、宿題はやってません
ai no modae ie, shukudai wa yattemasen


乙女のように潤んだ
otome no youni urunda
その瞳 いえ、授業中は寝ています
sono hitomi ie, jugyouchuu wa neteimasu
今夜は眠らせない
konnya wa nemurase nai


いえ、夜更かしさせるのは良くない事です
ie, yofukashi saseru no wa yoku nai koto desu
真夏の夜の夢のよう
manatsu no yoru no yume no you


非常に申し上げにくい事なんですが
hijou ni moushiage nikui koto nandesu ga
当店の禁止事項
touten no kinshi jikou
いえ、お子様の素行について
ie, okosama no sokou ni tsuite
唇を いえ、多分タバコを吸ってます
kuchibiru o ie, tabun tabako o suttemasu


違法なサービスは
ihouna saabisu wa
いけません いえ、喫煙が公になれば
ikemasen ie, kitsuen ga ooyake ni nareba
出禁が待ってます
dekin ga mattemasu
いえ、停学もあるという事なんです
ie, teigaku mo aru to iu koto nandesu
危険な大人の火遊び
kikenna otona no hiasobi
手を伸ばして触れれば
te o nobashi te furereba
すぐにでも いえ、今夜から変えてゆきましょう
sugu ni demo ie, konnya kara kaete yukimashou
アフターはどうするぅ?
afutaa wa dousuruu?
いえ、お子様と三人でお話しするんです
ie, okosama to sannin de ohanashi surun desu
それではお嬢様 お会計を
sore de wa ojousama okaikei o
External links
Edit
| | |
| --- | --- |
| | Official |
| | |
| --- | --- |
| | Downloads |
| | |
| --- | --- |
| | Articles |