Ad blocker interference detected!
Wikia is a free-to-use site that makes money from advertising. We have a modified experience for viewers using ad blockers

Wikia is not accessible if you've made further modifications. Remove the custom ad blocker rule(s) and the page will load as expected.
This song article is lacking a proper background. You can help by adding one! The relevant section in the Song Article Guideline is a good starting point, and this blog post may also be helpful. We apologize for the inconvenience this may cause in the meantime.

Song pages lacking proper backgrounds are automatically sorted into this category.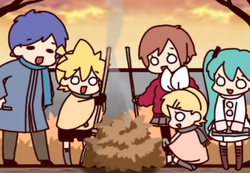 Song title
やきいものうた"
Romaji: Yakiimo no Uta
English: Roasted Sweet Potato Song
Uploaded October 25, 2010, with 83,000+ (NND) / 19,000+ (YT) views
Singer(s)
Kagamine Rin, Kagamine Len, Hatsune Miku, MEIKO, KAITO
Producer(s)
Zankyou-P (lyrics)
Kid-P (music)
Crystal-P (arrangement)
Tamara (art, video)
Links
Niconico Broadcast • YouTube Broadcast
YouTube Broadcast (reprint, English subs)

Background
Edit
"
I had a go at a song that pictures the autumn (fall) season
"
 

— Kid-P
"Roasted Sweet Potato Song" is an original song by Zankyou-P and Kid-P featuring Kagamine Rin, Kagamine Len, Hatsune Miku, MEIKO and KAITO.
This song is featured in Kid-P's albums, Season's and ALL MY BEST and is also featured in the 3Lenpu compilation album, Fruits Mix!+. This song is featured in the single, Song of combustion potato, along with the instrumentals.
Japanese (日本語歌詞)
Romaji (ローマ字)
ふわわ ふわわ おくちのなかに
fuwawa fuwawa okuchi no naka ni
ひろがるしあわせのよかんさ
hirogaru shiawase no yokan sa
やきいも やきいも そうさやきいもさ
yakiimo yakiimo sou sa yakiimo sa
やきいもたべたいな
yakiimo tabetai na


もふもふ もふもふ  あまいおいもあじ
mofumofu mofumofu amai oimo aji
おくちにつつんでおいしいな
okuchi ni tsutsunde oishii na
もっともっと もっとたべたいな
motto motto motto tabetai na
やきいもたべたいな
yakiimo tabetai na


ゆうやけのなかひびくこえ あきといったらやきいもさ
yuuyake no naka hibiku koe aki to ittara yakiimo sa
おいしそうなおいもさんを しんぶんしにつつみましょう
oishisou na oimo san o shinbunshi ni tsutsumi mashou


まいて まいて まいてかいたいな
maite maite maite kaitai na
しんぶんしにつつんでかいたいな
shinbunshi ni tsutsun de kai tai na
ほかほか ほかほか ぼくのほっぺたを
hokahoka hokahoka boku no hoppeta o
まっかにそめるかな
makka ni someru ka na


ふわわ ふわわ おくちのなかに
fuwawa fuwawa okuchi no naka ni
ひろがるしあわせのかおりさ
hirogaru shiawase no kaori sa
やきいも やきいも そうさやきいもさ
yakiimo yakiimo sou sa yakiimo sa
やきいもたべたいな
yakiimo tabetai na


はむむ はむむ  あまいおいもあじ
hamumu hamumu amai oimo aji
おくちにつつんでおいしいな
okuchi ni tsutsunde oishii na
まだまだ まだまだ まだたべたいな
madamada madamada mada tabetai na
やきいもたべたいな
yakiimo tabetai na


おおきなてぶくろににぎる こぜにをわたしたならほら
ookina tebukuro ni nigiru kozeni o watashi ta nara hora
おいしそうなおいもさんを うでのなかにつつみましょう
oishi sou na oimo san o ude no naka ni tsutsumi mashou


ぽかか ぽかか だいてあるいたら
pokaka pokaka daite aruitara
むねのなかまであったかいな
mune no naka made attakai na
ぐるる ぐるる おいしいにおい
gururu gururu oishii nioi
おなかをならしちゃうな
onaka o narashichau na


ふわわ ふわわ おくちのなかに
fuwawa fuwawa okuchi no naka ni
ひろがるしあわせのじかんさ
hirogaru shiawase no jikan sa
やきいも やきいも そうさやきいもさ
yakiimo yakiimo sō sa yakiimo sa
やきいもたべたいな
yakiimo tabetai na


むしゃむしゃ むしゃむしゃ あまいおいもあじ
mushamusha mushamusha amai oimo aji
おくちにつつんでおいしいな
okuchi ni tsutsunde oishii na
ずっとずっと ずっとたべたいな
zutto zutto zutto tabetai na
やきいもたべたいな
yakiimo tabetai na


あたりいちめんのおちばを たけぼうきでかきあつめて
atari ichimen no ochiba o take bouki de kakiatsume te
おいしそうなおいもさんを たいせつにかくしましょう
oishi sou na oimo san o taisetsu ni kakushi mashou


やいて やいて やいてたべたいな
yaite yaite yaite tabetai na
おちばをあつめたらやきたいな
ochiba o atsumeta ra yakitai na
ひらら ひらら とんでゆくおちば
hirara hirara tonde yuku ochiba
てんまでとどくかな
ten made todoku ka na


やきいもたべたいな
yakiimo tabetai na
External links
Edit
| | |
| --- | --- |
| | Articles |
| | |
| --- | --- |
| | Lyrics |