Ad blocker interference detected!
Wikia is a free-to-use site that makes money from advertising. We have a modified experience for viewers using ad blockers

Wikia is not accessible if you've made further modifications. Remove the custom ad blocker rule(s) and the page will load as expected.
The following song article is still a work in progress. For information on how to help, see the song article guideline. We apologize for the inconvenience this may cause in the meantime.

What is being worked on?

Full version Romaji and Japanese.

Work-in-progress song pages are automatically sorted into this category.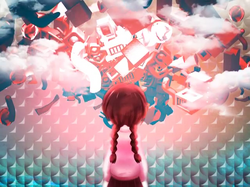 Song title
"ゆめにっき の ため の ワルツ"
Romaji: Yume Nikki no Tame no Waltz
English: Waltz for a Dream Diary
Uploaded March 17, 2013(YT) and March 18, 2013(NND), with 101,000+ (NND)/ 41,000+(YT) views
Singer(s)
Aoki Lapis
Producer(s)
Machigerita-P (music, lyrics)
Edielec (video)
Links
Niconico Broadcast • YouTube Broadcast (official)

Background
Edit
A song Machigerita wrote as part of the Dream Diary Project.
The full version is featured on the album of the same name.
Japanese (日本語歌詞)
Romaji (ローマ字)
真っ白な日記帳の片隅
masshiro na nikkichou no katasumi
ニコニコ笑いかける
nikoniko warai kakeru
今日もたくさん夢を見せるよ
kyou mo takusan yume o miseru yo
ああ ゆめにっき
aa yume nikki


すやすや眠ろう何もかもを忘れて
suyasuya nemurou nanimokamo o wasurete
ほら見て綺麗な夢色の空さ
hora mite kirei na yume iro no sora sa
夢を見ようよみんな素敵さ
yume o miyou yo minna suteki sa
夢の中ではみんな素敵さ
yume no naka de wa minna suteki sa


真っ白な日記帳の片隅
masshiro na nikkichou no katasumi
ニコニコ笑いかける
nikoniko waraikakeru
今日もたくさん夢を見せるよ
kyou mo takusan yume o miseru yo
ああ ゆめにっき
aa yume nikki
External links
Edit
| | |
| --- | --- |
| | Articles |