This song article is lacking a proper background. You can help by adding one! The relevant section in the Song Article Guideline is a good starting point, and this blog post may also be helpful. We apologize for the inconvenience this may cause in the meantime.

Song pages lacking proper backgrounds are automatically sorted into this category.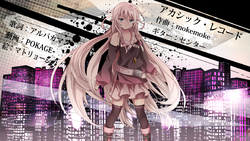 Song title
"アカシック・レコード"
English: Akashic Record
Uploaded Jan 28, 2013, with 12,600+ (NND) & 1,000+ (YT) views
Singer(s)
IA
Producer(s)
mokemoke (music)
Alpaca Man (lyrics)
Center (gutiar)
P O K A G E (video)
Matryoshka (illust)
Links
Niconico Broadcast • YouTube Broadcast

Background
Edit
"Akashic Record" is an original song by mokemoke, Alpaca Man and Center featuring IA.
Succeeding versions
Edit
IAα Type C's Cover

| | |
| --- | --- |
| Featuring | IAα Type C |
| Author(s) | mokemoke |
| Category | Succeeding Version, VOCALOID cover |
Japanese (日本語歌詞)
Romaji (ローマ字)
怯えてた終焉(はじまり)にバイバイ
obieteta hajiari ni bai bai
片足魅(ひ)かれ 振り切った
kataashi hi kare furikitta


さよなら惹かれ 剥離した感情
sayonara hika re hakuri shita kanjou
どうやったって 足掻けど 見ツカラナイサ
douyatte agakedo mi tsukaranaisa
そう確かに轢(ひ)かれ 過ぎ去った愛情
sou tashika ni hi kare sugisatta aijou
綴じて 閉じて 忘レチャイナイヨ
tojite tojite wasurechainaiyo


時代に焦り 湿気た熱情
jidai ni aseri shikketa netsujou
理想(あす)を知って 愚かに右手を上げた
asu wo shitte oroka ni migite wo ageta
さぁ 愚かな神は 捨て去った紋章
saa orokana kami wa sutesatta monshou
消して 消して 探シツヅケテル
keshite keshite sagu shitsudzuketeru


零れてしまった 欠片を見つめるしか出来ぬ葛藤
koborete shimatta kakera wo mitsumeru shika dekinu kattou
叩かれて 膝を抱き 嗤(わら)う
tataka rete hiza wo daki warau
同じ光があの日と違う色に見えた滑稽
onaji hikari ga ano hi to chigau iro ni mieta kokkei
叫んだ 音もなく 傷痕抉り 崩れる
sakenda oto mo naku kizuato eguri kuzureru


限られた足場で もがく
kagira reta ashiba de mogaku
罵声を浴びて 求める格好
basei wo abite motomeru kakkou
綴じた世界で独り
tojita sekai de hitori
誰もその手を伸ばすことなく
dare mo sono tewonobasu koto naku
神に生きる意を問え
kami ni ikiru i o toe
虚しく響くだけでも
munashiku hibiku dake demo
置き忘れた宿命 追って
okiwasureta shukumei otte
今 崩れ出した
ima kuzure dashita


終焉(はじまり)告げた 怠惰の日常
hajimari tsugeta taida no nichijou
そうだったんだ この手で 振リ切ッタンダ
sou dattanda kono te de furisetsu ttanda
そう誰かに焦がれ 吐き出した温床
sou dareka ni kogare hakidashita onshou
示す 此岸(しがん) 描キカエラレタヨ
shimesu shigan kakikaeraretayo


時代に辿る 懸けた最小
jidai ni tadoru kaketa saishou
理想(あす)を負って 確かな光で咲いた
asu wo otte tashikana hikari de saita
さぁ 未知なる選択(えらび) 広がった感情
saa michinaru erabi hirogatta kanjou
1つ 一つ 羽バタキ続ケタ
hitotsu hitotsu hane bataki zoku keta


崩れてしまった 欠片を紡いでいくための決定
kuzurete shimatta kakera wo tsumuide iku tame no kettei
飲み込まれ 針がさす 願い
nomikoma re hari ga sasu negai
違う景色が稚拙に晒す恥を消した憧憬
chigau keshiki ga chisetsu ni sarasu haji o keshita dōkei
望んだ 跡もなく 想いは戻り 超えてく
nozonda ato mo naku omoi wa modori koete ku


憧れた世界で遊ぶ
akogareta sekai de asobu
時間を馳せて 崇める成功
jikan wo hasete agameru seikou
明けた世界で呼んだ
aketa sekai de yonda
人が望んだ 有限世界
hito ga nozonda yuugen sekai
空に刻む英知は
sora ni kizamu eichi wa
絶対のない再生
zettai no nai saisei
与えられた生命 持って
ataerareta seimei motte
さぁ
saa


存在否定 手を伸ばした先には恥じぬ終息
sonzai hitei te wo nobashita sakini wa hajinu shūsoku
何処にもない「今」が指す世界
dokonimonai "ima" ga sasu sekai
終わる命が 微かに笑い、傷をつける証明
owaru inochi ga kasuka ni warai, kizu o tsukeru shoumei
見えない 城壁が 規制を始め 裏切る
mienai jouheki ga kisei wo hajime uragiru


規制を始め 裏切る
kisei wo hajime uragiru


限られた世界で足掻く
kagira reta sekai de agaku
罵声を浴びて 求める格好
basei wo abite motomeru kakkou
恥じた世界で独り
hajita sekai de hitori
誰もその手を伸ばすことなく
dare mo sono tewonobasu koto naku
神に生きる意を問え
kami ni ikiru i o toe
まやかす支配者からの
maya kasu shihaisha kara no
吐き出された契約
hakidasa reta keiyaku


憧れた世界で遊ぶ
akogareta sekai de asobu
時間を馳せて 崇める成功
jikan wo hasete agameru seikou
明けた世界で呼んだ
aketa sekai de yonda
人が望んだ 有限世界
hito ga nozonda yuugen sekai
空に刻む英知は
sora ni kizamu eichi wa
絶対のない再生
zettai no nai saisei
与えられた運命 持って
ataerareta unmei motte
今 書き換えてく
ima kakikaete ku
External links
Edit
| | |
| --- | --- |
| | Official |
| | |
| --- | --- |
| | Lyrics |
| | |
| --- | --- |
| | Downloads |
| | |
| --- | --- |
| | Articles |