Ad blocker interference detected!
Wikia is a free-to-use site that makes money from advertising. We have a modified experience for viewers using ad blockers

Wikia is not accessible if you've made further modifications. Remove the custom ad blocker rule(s) and the page will load as expected.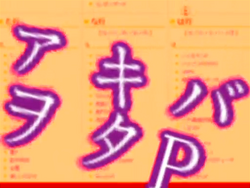 Song title
"アキバヲタP言ってみろ"
Romaji: Akibawota-P Ittemiro
English: Try to Say Akibawota-P
Uploaded April 10, 2011, with 52,000+ views
Singer(s)
Hatsune Miku
Producer(s)
maretu (music, lyrics)
Links
Niconico Broadcast
Background
Edit
A song made in response to "P-mei Iwaretakatta". "P-mei Iwaretakatta" itself was a reply by Akibawota-P to "P-mei Ittemiro!", a song by maretu featuring the names of VOCALOID producers (but not all).
This song also has sound effects and soramimi lyrics of the Angry German Kid.
Singer + Color
Miku

Black

Angry German Kid

Dark Grey
Japanese (日本語歌詞)
Romaji (ローマ字)
アキバヲタ アキバヲタ
akibawota akibawota
アキバヲタ アキバヲタ
akibawota akibawota


アキバヲタア
akibawotaa
キバヲタアキ
kibawotaaki
バヲタ
bawota


アキバヲタ アキバヲタ
akibawota akibawota
アキバヲタ アキバヲタ
akibawota akibawota


アキバヲタア
akibawotaa
キバヲタアキ
kibawotaaki
バヲタ
bawota


アキバヲタP
akibawota-p


やけくそP
yakekuso-p


アキバヲタP
akibawota-p


アキバヲタP アキバヲタP アキバヲタP アキバヲタP アキバヲタP アキバヲタP
akibawota-p akibawota-p akibawota-p akibawota-p akibawota-p akibawota-p


アキバヲタP
akibawota-p
アキバヲタP
akibawota-p


アキバヲタ
akibawota
Pアキバヲ
p-akibawo
タPアキバ
ta-p-akiba
ヲタPアキ
wota-p-aki


バァァァァァァ
baaaaaaa
ヲ゛ッタァァァァァァァ!!!
wottaaaaaaaa!!!


アキバヲタP
akibawota-p


アキバヲタP
akibawota-p
アキバヲタP
akibawota-p
ア

タピオカパン

キバヲタP
a

tapiokapan

kibawota
External links
Edit