The following song article is still a work in progress. For information on how to help, see the song article guideline. We apologize for the inconvenience this may cause in the meantime.

What is being worked on?

Background and derivatives.

Work-in-progress song pages are automatically sorted into this category.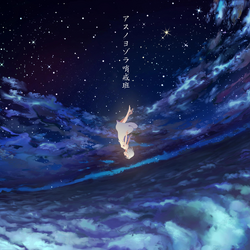 Song title
"アスノヨゾラ哨戒班"
Romaji: Asu no Yozora Shoukaihan
English: Night Sky Patrol of Tomorrow
Uploaded August 19, 2014 (NND) / January 11, 2015 (YT), with 1,757,000+ (NND) / 463,000+ (YT) views
Singer(s)
IA
Producer(s)
Orangestar (music, lyrics)
M.B (illustration)
Links
Niconico Broadcast • YouTube Broadcast
YouTube Broadcast (with English subtitles)

Background
Edit
"
To the night sky, where I can meet you and your smile again.
"
 

— Author's comment
"Asu no Yozora Shoukaihan" is an original IA song by Orangestar.
This song has entered the Hall of Legend. It has exceeded 100,000 views on YouTube.
It is featured in the albums EXIT TUNES PRESENTS Vocalofantasy feat.初音ミク and Mikansei Eight Beats.
Japanese (日本語歌詞)
Romaji (ローマ字)
気分次第です僕は 敵を選んで戦う少年
kibun shidai desu boku wa teki o erande tatakau shounen
叶えたい未来も無くて 夢に描かれるのを待ってた
kanaetai mirai mo nakute yume ni egakareru no o matteta
そのくせ未来が怖くて 明日を嫌って過去に願って
sono kuse mirai ga kowakute asu o kiratte kako ni negatte
もう如何しようも無くなって叫ぶんだ
mou dou shiyou mo nakunatte sakebunda
明日よ明日よもう来ないでよって
asu yo asu yo mou ko naide yotte


そんな僕を置いて 月は沈み陽は昇る
sonna boku o oite tsuki wa shizumi hi wa noboru
けどその夜は違ったんだ 君は僕の手を
kedo sono yo wa chigattanda kimi wa boku no te o


空へ舞う 世界の彼方 闇を照らす魁星
sora e mau sekai no kanata yami o terasu kai sei
「君と僕もさ、また明日へ向かっていこう」
"kimi to boku mo sa, mata asu e mukatte ikou"
夢で終わってしまうのならば 昨日を変えさせて
yume de owatte shimau no naraba kinou o kaesasete
なんて言わないから また明日も君とこうやって 笑わせて
nante iwanai kara mata asu mo kimi to kou yatte warawasete


あれから世界は変わったって 本気で思ったって
are kara sekai wa kawattatte honkide omottatte
期待したって変えようとしたって 未来は残酷で
kitai shitatte kaeyou to shitatte mirai wa zankoku de
それでもいつだって君と見ていた 世界は本当に綺麗だった
soredemo itsu datte kimi to mite ita sekai wa hontou ni kirei datta
忘れてないさ 思い出せるように仕舞ってるの
wasuretenai sa omoidaseru you ni shimatteru no


君がいてもいなくても翔べるなんて妄想
kimi ga ite mo inakute mo toberu nante mousou
独りじゃ歩くことさえ僕はしないまま藍色の風に吐いた幻想
hitori ja aruku koto sae boku wa shinai mama aiiro no kaze ni haita gensou
壊してくれって願って踠いたって
kowashite kurette negatte mo ga itatte


願ったんなら叶えてしまえやって
negattan nara kanaete shimaeyatte
Eh... 君は言って
Eh... kimi wa itte


また明日の夜に 逢いに行こうと思うが
mata ashita no yoru ni ai ni ikou to omou ga
どうかな君はいないかな
doukana kimi wa inai kana
それでもいつまでも僕ら一つだから
soredemo itsu made mo bokura hitotsu dakara
またね Sky Arrow 笑ってよう
mata ne Sky Arrow waratteyou
未来を少しでも君といたいから叫ぼう
mirai o sukoshi demo kimi to itai kara sakebou
今日の日をいつか思い出せ 未来の僕ら
kyou no hi o itsuka omoidase mirai no bokura
Derivatives
Edit
GUMI's cover

| | |
| --- | --- |
| Featuring | GUMI |
| Author(s) | Epokku (arrangement), Shirokane (video editor) |
| Category | VOCALOID cover; Arrangement |
Amatsuki's cover

| | |
| --- | --- |
| Featuring | Amatsuki |
| Author(s) | Yurin (mix) |
| Category | Human cover |
Ayan's cover

| | |
| --- | --- |
| Featuring | Ayan |
| Author(s) | djseiru (mix) |
| Category | Human cover |
Other media appearances
Edit
This song was featured in the IA First Live Concert in JAPAN -PARTY A GO-GO- concert.
External links
Edit
| | |
| --- | --- |
| | Articles |
| | |
| --- | --- |
| | Lyrics |
| | |
| --- | --- |
| | Downloads |
Ad blocker interference detected!
Wikia is a free-to-use site that makes money from advertising. We have a modified experience for viewers using ad blockers

Wikia is not accessible if you've made further modifications. Remove the custom ad blocker rule(s) and the page will load as expected.