Ad blocker interference detected!
Wikia is a free-to-use site that makes money from advertising. We have a modified experience for viewers using ad blockers

Wikia is not accessible if you've made further modifications. Remove the custom ad blocker rule(s) and the page will load as expected.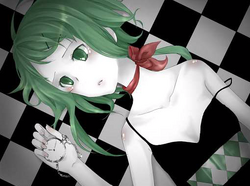 Song title
"アリスにさよなら"
Romaji: Arisu ni Sayonara
English: Goodbye to Alice
Uploaded July 10, 2009, with 77,700+ views
Singer(s)
GUMI
Producer(s)
Nem (music, lyrics, video)
Nagato (illustration)
Links
Niconico Broadcast • YouTube Broadcast (with subtitles)

Background
Edit
Nem's third published VOCALOID work.
This song is featured in Nem's album from Neverland ~Best of Nem~.
Japanese (日本語歌詞)
Romaji (ローマ字)
ベットに隠れて開く絵本
beddo ni kakurete hiraku ehon
パパとママは気付いていないわ
papa to mama wa kizuite inai wa


ねえ ウサギさん
nee usagi san
その時計は 止めておいてよね
sono tokei wa tomete oite yo ne
ページの先 連れて行って
peeji no saki tsurete itte
ここにはもういたくないの
koko ni wa mou itaku nai no


夢の中で見る夢 まぼろしの国
yume no nake de miru yume maboroshi no kuni
その声が 私には聞こえる
sono koe ga watashi ni wa kikoeru
真夜中の冒険に ドキドキしちゃう
mayonaka no bouken ni dokidoki shichau
この続き 教えてよ
kono tsuzuki oshiete yo
夜が明けるその前に
yo ga akeru sono mae ni


いつまでも甘く見ないでよね
itsumade mo amaku minaide yo ne
ミルクも砂糖もいらないわよ
miruku mo satou mo iranai wa yo


ねえ ウサギさん
nee usagi san
どうしたのよ? 最近無口ね…
doushita no yo? saikin mukuchi ne...
ページの先 いつも同じ
peeji no saki itsumo onaji
そこにはもういたくないの
soko ni wa mou itakunai no


夢はみなくなったわ 悲しくはない
yume wa minaku natta wa kanashiku wa nai
その声も もう思い出せない
sono koe mo mou omoidasenai
新しい洋服は 汚せないのよ
atarashii youfuku wa yogosenai no yo
一緒には遊べない だから
issho ni wa asobenai dakara
アリスにさよなら
arisu no sayonara


動き出した秒針 解けた魔法が
ugokidashita byoushin toketa mahou ga
真実を曇らせてしまうの
shinjitsu wo kumorasete shimau no


私の中に咲いた まぼろしの国
watashi no naka ni saita maboroshi no kuni
もう一度 連れてって
mou ichido tsuretette
私 まだ大人にはならないわ
watashi mada otona ni wa naranai wa


永遠の空 飛ぶ鳥たちを
eien no sora tobu toritachi wo
今はもう 見上げるしかないの
ima wa mou miageru shika nai wo


ママがくれた あの絵本?
mama ga kureta ano ehon?
もう燃やしてしまったわ
mou moyashite shimatta wa
Derivatives
Edit
Teto's Cover

| | |
| --- | --- |
| Featuring | Kasane Teto |
| Author(s) | StarryBumbleBee (cover) |
| Category | UTAU cover |
External links
Edit
| | |
| --- | --- |
| | Articles |
| | |
| --- | --- |
| | Downloads |