Ad blocker interference detected!
Wikia is a free-to-use site that makes money from advertising. We have a modified experience for viewers using ad blockers

Wikia is not accessible if you've made further modifications. Remove the custom ad blocker rule(s) and the page will load as expected.
This song article is lacking a proper background. You can help by adding one! The relevant section in the Song Article Guideline is a good starting point, and this blog post may also be helpful. We apologize for the inconvenience this may cause in the meantime.

Song pages lacking proper backgrounds are automatically sorted into this category.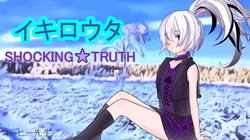 Song title
"イキロウタ"
Romaji: Ikirouta
English: Permafrost
Uploaded January 19, 2016, with 70+ (YT), 430+ (SC) views
Singer(s)
flower
anon and kanon (chorus)
Producer(s)
SHOCKING★TRUTH:
Coffee Sensei (music, arrangement, lyrics, anon & kanon tuning, illust)
kevinlyspirit (mixing)
lʌntєrn (flower tuning)
Blackbird (recording)
Links
YouTube Broadcast
SoundCloud Broadcast
Background
Edit
"Ikirouta" is an original song by the VOCALOID circle, SHOCKING★TRUTH, featuring flower along with anon and kanon in the chorus.
A song set to be featured in SHOCKING★TRUTH upcoming E.P. album.
Japanese (日本語歌詞)
Romaji (ローマ字)
English
幸福に囲まれて
koufuku ni kakomarete
Surrounded by happiness
自分自身を聞くことなく、
jibun jishin o kiku koto naku,
Careless without listening to my past self
僕はさらなる見ます
boku wa saranaru mimasu
I'll keep going


春に私がほとりに到着
haru ni watashi ga hotori ni touchaku
When I arrive to the shore in the Spring
私の目の前に凍った湖
watashi no me no mae ni koutta mizuumi
The frozen lake greets me
風景画の白い僕の言葉を失い
fuukeiga no shiroi boku no kotoba o ushinai
Painting the scenery white, I'm at a loss for words
北からイキロウタをすべての生命を巻き込む
kita kara ikirouta o subete no seimei o makikomu
Permafrost from the north, swallowing all life whole


しかし、温かい気持ちに後悔になりつけて
shikashi, atatakai kimochi ni koukai ni naritsukete
However, regret shadows the warm feelings
ゆっくり、寒波は僕の心を征服
yukkuri, kanpa wa boku no kokoro o seifuku
Cold conquering my heart slowly


傷を修復しようとする、
kizu o shuufuku shiyou to suru,
Trying to mend the wound, I synthetically warm it
合成暖かい人工心臓をもたらし
gousei atatakai jinkou shinzou o motarashi
Creating an artificial heart


しばらくの間、再加熱
shibaraku no ma, sai kanetsu
For a while, I feel warm
私の目の前に凍った湖
watashi no me no mae ni koutta mizuumi
The frozen lake greets me
風景画の白い僕の言葉を失い
fuukeiga no shiroi boku no kotoba o ushinai
Painting the scenery white, I'm at a loss for words
北からイキロウタをすべての生命を巻き込む
kita kara ikirouta o subete no seimei o makikomu
Permafrost from the north, swallowing all life whole


しばらくの間、再加熱
shibaraku no ma, sai kanetsu
For a while, I feel warm
私の目の前に凍った湖
watashi no me no mae ni koutta mizuumi
The frozen lake greets me
すべてを失う私が持っていました
subete o ushinau watashi ga motte I mashi ta
Losing everything I had
北からイキロウタをすべての生命を巻き込む
kita kara ikirouta o subete no seimei o makikomu
Permafrost from the north, swallowing all life whole
External links
Edit
| | |
| --- | --- |
| | Articles |
| | |
| --- | --- |
| | Lyrics |