!

Warning:

This song contains explicit lyrics and themes (

Suicide

); it may be inappropriate for younger audiences.

The Vocaloid Wiki does not have a policy on lyrical content or theme; however, it attempts to follow the Wikia TOU.
For further discussion see Thread:68883. Explicit songs are automatically sorted into this category.

!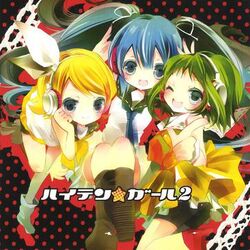 Song title
"ウェンディ"
English: Wendy
Uploaded May 9, 2010 (album)
Singer(s)
Kagamine Rin
Producer(s)
Akuno-P
Links
Background
Edit
A young girl writes a letter to her parents and then jumps out her window to follow Peter Pan. She descibes all the things she sees as she flies around, including the peple which look so small from where she is. She also sees a school where a flower vase decorates a desk. Evetually she admits that there is no Peter Pan and that she's all alone, she letter was a suicide letter and she jumped out and died.
This song was released on Haiten Girl 2 and later featured on mothy's Judgment of Corruption ~a court of greed~.
Succeeding versions
Edit
Japanese (日本語歌詞)
Romaji (ローマ字)
ピーターパンが私のもとへやってきたの
peetaa pan ga watashi no moto e yattekita no


机にかじりついて
tsukue ni kajiritsuite
手紙に妄想を書きなぐった
tegami ni mousou o kakinagutta
隣であの子が言った
tonari de ano ko ga itta
なんと人は空を飛べるらしい
nanto hito wa sora o toberu rashii


おかしいくらいに欠けたお月様
okashii kurai ni kaketa otsuki sama
そこへ向けて窓から飛び出した
soko e mukete mado kara tobidashita


羽がなくても空を飛べるんだと
hane ga nakute mo sora o toberun da to
信じてたから怖くはなかった
shinjiteta kara kowaku wa nakatta
両手広げて風を受け止めた
ryoute hirogete kaze o uketometa
どこまで行くの? 高く 高く
doko made iku no? takaku takaku


ピーターパンが私のもとへやってきたの
peetaa pan ga watashi no moto e yattekita no


人がゴミのようだわ
hito ga gomi no you da wa
高すぎる空から見えたものは
taka sugiru sora kara mieta mono wa
ものすごいスピードで
mono sugoi supiido de
どこかへ向かっているアカイヒカリ
dokoka e mukatte iru akai hikari


抱えてたはずのココロの悩みも
kakaeteta hazu no kokoro no nayami mo
悲しいほどに全てが小さくて
kanashii hodo ni subete ga chiisakute


羽がなくても空を飛べるんだと
hane ga nakute mo sora o toberunda to
信じてたから怖くはなかった
shinjiteta kara kowaku wa nakatta
そんな私に気づくことなく
sonna watashi ni kizuku koto naku
みんなどこかで笑ってる
minna dokoka de waratteru


ピーターパンはどこにもいない 私は一人
peetaapan wa doko ni mo inai watashi wa hitori


灯りの消えた私の部屋では
akari no kieta watashi no heya de wa
机の上に花が咲いていた
tsukue no ue ni hana ga saite ita


羽がなくても空を飛べるんだと
hane ga nakute mo sora o toberun da to
信じてたから怖くはなかった
shinjiteta kara kowaku wa nakatta
黒い服着た人たちに向けて
kuroi fuku kita hito tachi ni mukete
手を振ったんだ じゃあね バイバイ
te o futtan da jaa ne bai bai


パパもママもお願いだから泣かないでよ
papa mo mama mo onegai dakara nakanai de yo
External Links
Edit
| | |
| --- | --- |
| | Articles |
| | |
| --- | --- |
| | Lyrics |