Ad blocker interference detected!
Wikia is a free-to-use site that makes money from advertising. We have a modified experience for viewers using ad blockers

Wikia is not accessible if you've made further modifications. Remove the custom ad blocker rule(s) and the page will load as expected.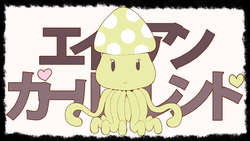 Song title
"エイリアンガールフレンド"
Romaji: Eirian Gārufurendo
Official English: Arien girl friend
English: Alien Girlfriend
Uploaded March 24, 2016, with 78,000+ (NND) & 79,000+ (YT) views
Singer(s)
Fukase
Producer(s)
40meterP (music, lyrics, movie)
[TEST] (guitar)
Links
Niconico Broadcast • YouTube Broadcast
YouTube Broadcast (reprint, English+Romaji subs)

Background
Edit
"Alien Girlfriend" is an original song by 40meterP featuring Fukase. The song begins with a man seeing the arrival of a green squid-like alien landing on earth whom he fell in love with at first sight. He then tells the alien how he feels about her, the alien replies with a high frequency sound and the man assumes that the alien feels the same way about him and she becomes his alien girlfriend. The two later go on their first date, meeting in front of the Hachiko statue. Everyone who passes by looks at the alien surprised and frightened but the man believes they are staring at the alien because of how beautiful and unique she looks. The man soon talks about how great she looks.
It is soon revealed that the alien is a princess by M04 who begins a rescue mission to return the princess to her planet. The alien is later returned to her planet, Squid Ink Planet, by M04. The man now spends his time looking for her.
Japanese (日本語歌詞)
Romaji (ローマ字)
ある日閃光とともに突如姿現した
aru hi senkou to tomo ni totsujo sugata arawashita
緑色したクリーチャー
midoriiro shita kuriichaa
スルメイカみたいな生命体
surumeika mitai na seimeitai


大きなその瞳に一目惚れした僕は
ookina sono hitomi ni hitomebore shita boku wa
勇気を出して君に思いの丈を伝えたよ
yuuki o dashite kimi ni omoi no take o tsutaeta yo


君からの返答は高周波の信号
kimi kara no hentou wa koushuuha no shingou
言葉では分からない
kotoba de wa wakaranai
でも感じる・・・たぶん、YES
demo kanjiru ... tabun, YES


エイリアンガールフレンド
eirian gaaru furendo
侵略された 僕のハート
shinryaku sareta boku no haato
エイリアンガールフレンド
eirian gaaru furendo
10本の手を僕は死んでも離さない
juppon no te o boku wa shinde mo hanasanai


今日は君と初デート 待ち合わせのハチ公
kyou wa kimi to hatsudēto machiawase no Hachikō
5分遅刻のテレポート
gofun chikoku no terepooto
「遅れてごめんね」の高周波
"okurete gomen ne" no koushuuha


すれ違う人が皆 振り返るその美貌
surechigau hito ga mina furikaeru sono bibou
個性的な魅力で惹きつける数多の視線
koseiteki na miryoku de hikitsukeru amata no shisen


トレンドを先取りの水玉模様の素肌
torendo o sakidori no mizutamamoyou no suhada
口紅もマスカラもいらないほど極彩色
kuchibeni mo masukara mo iranai hodo gokusaishoku


エイリアンガールフレンド
eirian gaaru furendo
銀河の果てで巡り会えた
ginga no hate de meguri aeta
エイリアンガールフレンド
eirian gaaru furendo
10億年に一度だけの奇跡よ
jūoku nen ni ichido dake no kiseki yo


恋は未知との遭遇 まさに未確認の愛
koi wa michi to no souguu masa ni mikakunin no ai
たとえ幻か夢だとしても
tatoe maboroshi ka yume da to shite mo


エイリアンガールフレンド
eirian gaaru furendo
星へと帰る 僕を置いて
hoshi e to kaeru boku o oite
エイリアンガールフレンド
eirian gaaru furendo
これはいわゆる宇宙の遠距離恋愛?
kore wa iwayuru uchuu no enkyori ren'ai?


エイリアンガールフレンド
eirian gaaru furendo
侵略された 僕のハート
shinryaku sareta boku no haato
エイリアンガールフレンド
eirian gaaru furendo
夜空の星にいつも君を探してるよ
yozora no hoshi ni itsumo kimi o sagashiteru yo
External links
Edit
| | |
| --- | --- |
| | Articles |
| | |
| --- | --- |
| | Downloads |
| | |
| --- | --- |
| | Lyrics |