Ad blocker interference detected!
Wikia is a free-to-use site that makes money from advertising. We have a modified experience for viewers using ad blockers

Wikia is not accessible if you've made further modifications. Remove the custom ad blocker rule(s) and the page will load as expected.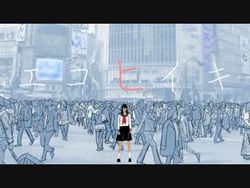 Song title
"エコヒイキ"
Romaji: Ekohiiki
English: Favoritism
Uploaded January 5, 2016, with 33,000+ views
Singer(s)
Hatsune Miku
Producer(s)
Kashiko.
Links
Niconico Broadcast
Background
Edit
"Ekohiiki" is an original Japanese VOCALOID song featuring Hatsune Miku. The song tells the story of a high school girl who's bitter about her childhood ending, and is in love with her teacher whose obliviousness towards her feelings make her feel even worse about life. She sings of despising girls who are younger, "pretending to look innocent", and are "more appealing" to her teacher than she is. All she asks for throughout the song is for her teacher to also give her "special treatment", like the other girls.
Japanese (日本語歌詞)
Romaji (ローマ字)
教えて欲しいことがあるの 他の誰にも内緒なの
oshiete hoshii koto ga aru no hoka no dare ni mo naisho nano
鍵をかけた部屋の隅っこ 午後9時の個人授業
kagi o kaketa heya no sumikko gogo kuji no kojin jugyou
「友達の家に泊まります。」嘘つきメールを送りましょう
"tomodachi no uchi ni tomarimasu." usotsuki meeru o okurimashou
細いリボン床にひらりと 終電なんて忘れましょう
hosoi ribon yuka ni hirari to shuuden nante wasuremashou


いけない子ったら いけない子 
ikenai kottara ikenai ko
わかっているの いけないの
wakatte iru no ikenai no
罪悪感は 消えないの
zaiakukan wa kienai no


ごめんごめんごめんごめんね 私誰に謝ってるの?
gomen gomen gomen gomen ne watashi dare ni ayamatteru no?
ごめんごめんごめんごめんね 今日も歯医者に行けないわ
gomen gomen gomen gomen ne kyou mo haisha ni ikenai wa
赤い赤い赤い赤い 花が咲いていました
akai akai akai akai hana ga saite imashita
ねぇ先生私だけにエコヒイキをしてくれますか?
nee sensei watashi dake ni eko hiiki o shite kuremasu ka?


教えて欲しいことがあるの 他にも好きな子がいるの?
oshiete hoshii koto ga aru no hoka ni mo sukina ko ga iru no?
見え透いた上目遣いの 二年生のあの子でしょう
miesuita uwamezukai no ninensei no ano ko deshou
ニセモノ天然少女なんて さっさと死んじゃえばいいのに
nisemono tennen shōjo nante sassato shinjaeba ii noni
「そういえばここはどこだっけ?」天井は宇宙になった
"sou ieba koko wa doko dakke?" tenjou wa uchuu ni natta


プラトニックは プラスチック
puratonikku wa purasuchikku
ほんとの私は サディスティック?
honto no watashi wa sadisutikku?
黒髪清楚はズレていく
kurokami seiso wa zurete iku


「ごめんごめんごめんごめん」て 制服脱いだら終わりなの?
"gomen gomen gomen gomen"tte seifuku nuidara owari nano?
「ごめんごめんごめんごめん」て 子供みたいで可愛いわ
"gomen gomen gomen gomen"tte kodomo mitai de kawaii wa
淡い淡い淡い淡い 青春はそっぽ向いた
awai awai awai awai seishun wa soppomuita
ねぇ先生私たちは もう戻れないの?
nee sensei watashitachi wa mou modorenai no?


いけない子ってば いけない子 
ikenai kotteba ikenai ko
わかっているの いけないの
wakatte iru no ikenai no
ヒロインなんて なれないの
hiroin nante narenai no


「ごめんごめんごめんごめんね…」
"gomen gomen gomen gomen ne…"
ごめんごめんごめんごめんね 私誰に謝ってるの?
gomen gomen gomen gomen ne watashi dare ni ayamatteru no?
ごめんごめんごめんごめんね 私も痛いの嫌いなの
gomen gomen gomen gomen ne watashi mo itai no kirai nano
赤い赤い赤い赤い 花が咲いていました
akai akai akai akai hana ga saite imashita
「ねぇ先生私だけにエコヒイキをしてくれますか?」
"nee sensei watashi dake ni eko hiiki o shite kuremasu ka?"


「えこひいきをして」
"eko hiiki o shite!"
External links
Edit
| | |
| --- | --- |
| | Articles |
| | |
| --- | --- |
| | Lyrics |