This song article is lacking a proper background. You can help by adding one! The relevant section in the Song Article Guideline is a good starting point, and this blog post may also be helpful. We apologize for the inconvenience this may cause in the meantime.

Song pages lacking proper backgrounds are automatically sorted into this category.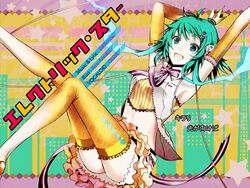 Song title
"エレクトリック・スター"
Romaji: Erekutorikku・Sutaa
English: Electric Star
Uploaded September 1, 2011 (NND), March 30, 2016 (YT), with 107,000+ (NND), 530+ (YT) views
Singer(s)
GUMI
Producer(s)
Hachioji-P (music, lyrics)
Arisaka Aco (illustration)
Links
Niconico Broadcast • YouTube Broadcast (official)

Background
Edit
"Electric Star" is an original song by Hachioji-P featuring GUMI.
This song is featured in Hachioji-P's albums, whiteout and electric love, as well as in the video game Megpoid the Music♯. The song was also performed at the annual Nicofarre concert in 2012.
This song has entered the Hall of Fame.
Japanese (日本語歌詞)
Romaji (ローマ字)
エレクトリック・スター
erekutorikku sutaa
エレクトリック・スター
erekutorikku sutaa
あの星みたいにかがやくの
ano hoshi mitai ni kagayaku no


キラリ 光を浴びたら
kirari hikari wo abitara
どこだってそこはライブステージ
doko datte soko wa raibu suteeji
わたしが歌えば光の先は
watashi ga utaeba hikari no saki wa
たくさんの笑顔が花開く
takusan no egao ga hana hiraku


あなたのコエやコトバは全部
anata no koe ya kotoba wa zenbu
わたしがウタにして届けるの
watashi ga uta ni shite todokeru no
あなたのユメやキボウは全部
anata no yume ya kibou wa zenbu
わたしがウタにして伝えるの
watashi ga uta ni shite tsutaeru no
あなたのアイやオモイは全部
anata no ai ya omoi wa zenbu
わたしがウタにして捧げるの
watashi ga uta ni shite sasageru no
セカイはあなたのウタを
sekai wa anata no uta wo
きっと心待ちにしてる
kitto kokoro machi ni shiteru


エレクトリック・スター
erekutorikku sutaa
エレクトリック・スター
erekutorikku sutaa
あの星みたいにきらめくの
ano hoshi mitai ni kirameku no


キラリ 光が向けば
kirari hikari ga mukeba
いつだってそこはライブステージ
itsu datte soko wa raibu suteeji
わたしが歌えば光の先の
watashi ga utaeba hikari no saki no
みんなのハートはひとつになる
minna no haato wa hitotsu ni naru


あなたのコエやコトバは全部
anata no koe ya kotoba wa zenbu
わたしがウタにして届けるの
watashi ga uta ni shite todokeru no
あなたのユメやキボウは全部
anata no yume ya kibou wa zenbu
わたしがウタにして伝えるの
watashi ga uta ni shite tsutaeru no
あなたのアイやオモイは全部
anata no ai ya omoi wa zenbu
わたしがウタにして捧げるの
watashi ga uta ni shite sasageru no
セカイはあなたのウタを
sekai wa anata no uta wo
ずっと待ち望んでる
zutto machinozonderu


エレクトリック・スター
erekutorikku sutaa
エレクトリック・スター
erekutorikku sutaa
あの星みたいにかがやくの
ano hoshi mitai ni kagayaku no


エレクトリック・スター
erekutorikku sutaa
エレクトリック・スター
erekutorikku sutaa
あの星みたいにきらめくの
ano hoshi mitai ni kirameku no
Derivatives
Edit
Bakin & Minka Rii's dance cover

| | |
| --- | --- |
| Featuring | GUMI |
| Author(s) | Aniki (choreography) |
| Category | Dance cover |
Yoruto & Asupara's dance cover

| | |
| --- | --- |
| Featuring | GUMI |
| Author(s) | |
| Category | Dance cover |
Meruru & Nayugorou's dance cover

| | |
| --- | --- |
| Featuring | GUMI |
| Author(s) | |
| Category | Dance cover |
MMD PV

| | |
| --- | --- |
| Featuring | GUMI |
| Author(s) | QuanQuan |
| Category | MMD PV |
Other media appearances
Edit
This song was featured in the following concerts:
External links
Edit
| | |
| --- | --- |
| | Articles |
| | |
| --- | --- |
| | Lyrics |