This song article is lacking a proper background. You can help by adding one! The relevant section in the Song Article Guideline is a good starting point, and this blog post may also be helpful. We apologize for the inconvenience this may cause in the meantime.

Song pages lacking proper backgrounds are automatically sorted into this category.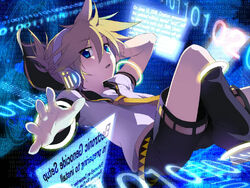 Song title
"エレクトロニック・ジェノサイド"
Romaji: Erekutoronikku・Jenosaido
English: Electronic・Genocide
Uploaded March 28, 2010, with 203,000+ views
Singer(s)
Kagamine Len
Producer(s)
Neru (music, lyrics)
Noraneko (Shikabane P) (guitar solo)
potchi (illustration)
Links
Niconico Broadcast
Background
Edit
This song is Neru's fifth work and has entered the Hall of Fame.
Japanese (日本語歌詞)
Romaji (ローマ字)
アシタへ逃げるための切符さえ 
ashita e nigeru tame no kippu sae
ボクらは求めて争い合う 
bokura wa motomete arasoi au
何か見てたような気になって
nanika miteta youna ki ni natte
何も見ちゃいないんだ 
nani mo micha inain da
だから何かを失くすんだろう
dakara nanika o nakusun darou


雲の無い空 
kumo no nai sora
飽和した絶対零度 
houwa shita zettai reido
無味無臭の心臓 
mumi mushuu no shinzou
壊れた時間
kowareta jikan


<<飾りすぎた日々を殺せ>> 
kazari sugita hibi o korose
(感情論に打ち込まれていた
(kanjouron ni uchikoma rete ita
無限等比のようなフォルティッシモ
mugen touhi no youna forutisshimo
排他的ナノセカンドのセカイで 
haita teki nano sekando no sekai de
ボクらリアリズムを奪い合うんだ)
bokura riarizumu o ubaiaun da)


色の無い空
iro no nai sora
超過した絶対零度 
chouka shita zettai reido
可逆性の心臓 
kagyakusei no shinzou
廃れた時間
sutareta jikan


<<耳を絶対値で塞げ>> 
mimi o zettaichi de fusage
(弾圧されたダイナミクス達の 
(dan'atsu sa reta dainamikusu tachi no
涙一粒のような願いすら 
namida hitotsubu no youna negai sura
絶たれるお腹の空いたジユウに 
tata reru onaka no suita jiyuu ni
意味などきっと無いんだ)
imi nado kitto nain da)


あぁ、そう全ては決められてたから 
aa, sou subete wa kime rarete ta kara
目の前だけただ眺めて
me no mae dake tada nagamete
あぁ、そう見えない両手に飲まれた 
aa, sou mienai ryoute ni noma reta
「ボクらのサイゴのユメ」
"bokura no saigo no yume"


アシタへ逃げるための切符さえ
ashita e nigeru tame no kippu sae
ボクらは求めて争い合う 
bokura wa motomete arasoi au
何か見てたような気になって 
nanika mite ta youna ki ni natte
何も見ちゃいないんだ
nani mo micha inain da
だから何かを失くすんだろう 
dakara nanika o nakusun darou
『エレクトロニック・ジェノサイド.exe』は日々を殺す 
"erekutoronikku jenosaido.exe" wa hibi o korosu
『エレクトロニック・ジェノサイド.exe』は耳を塞ぐ 
"erekutoronikku jenosaido.exe" wa mimi o fusagu
ボクはこんなホシを揺らして 
boku wa kon'na hoshi o yurashite
何を求めるんだ 
nani o motomerun da
そんな事もわからないのか 
son'na koto mo wakara nai no ka
そんな事もうわかっているんだよ 
son'na koto mou wakatte irun da yo
実は何もわかっちゃいない
jitsuwa nani mo wakatcha inai


この渦が、時代が祈りを焦がして 
kono uzu ga, jidai ga inori o kogashite
この渦が、時代が命を燃やした 
kono uzu ga, jidai ga inochi o moyashita
全ての、全ては創られたハコニワ 
subete no, subete wa tsukura reta hakoniwa
このコエは届かないんだ
kono koe wa todokanain da


あぁ、そう全てはわかっていたんだ
aa, sou subete wa wakatte itanda
だけれど諦め切れずに 
dakeredo akirame kirezu ni
あぁ、そう手と手を繋いで紡いだ 
aa, sou te to te o tsunaide tsumuida
「ボクらのサイゴのユメ」
"bokura no saigo no yume"


アシタへ逃げるための切符など 
ashita e nigeru tame no kippu nado
もはや有っても無くても同じ物 
mohaya atte mo nakute mo onaji mono
何か見てたような気になって
nanika mi teta youna ki ni natte
何も見ちゃいないんだ 
nani mo micha inain da
だから何かを失くすんだろう 
dakara nanika o nakusun darou
『エレクトロニック・ジェノサイド.exe』は日々を殺す 
"erekutoronikku jenosaido.exe" wa hibi o korosu
『エレクトロニック・ジェノサイド.exe』は耳を塞ぐ 
"erekutoronikku jenosaido.exe" wa mimi o fusagu
ボクはこんなホシを揺らして 
boku wa kon'na hoshi o yurashite
何を求めるんだ 
nani o motomerun da
歌うプログラムは叫んだ
utau puroguramu wa sakenda
死んだハコニワでただ独り
shinda hakoniwade tada hitori
ついにジブンさえ愛せずに
tsuini jibun sae aisezu ni
External links
Edit
| | |
| --- | --- |
| | Articles |