!

Warning:

This song contains explicit lyrics and themes; it may be inappropriate for younger audiences.

The Vocaloid Wiki does not have a policy on lyrical content or theme; however, it attempts to follow the Wikia TOU.
For further discussion see Thread:68883. Explicit songs are automatically sorted into this category.

!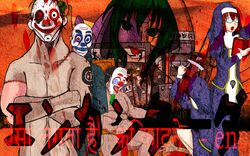 Song title
"エンカンターダ"
Romaji: Enkantaada
Uploaded March 11, 2013 (YT) and March 12, 2013 (NND), with 100,000+ (YT) / 28,000+ (NND) / 3,100+ (SC) views
Singer(s)
GUMI and Hatsune Miku
Producer(s)
masa (music, lyrics, illust, video, guitar, drum)
Ryusuke Oukawa (bass)
Links
Niconico Broadcast • YouTube Broadcast
SoundCloud Broadcast

Background
Edit
"
A song about brainwashing
"
 

— Author's quote
Enkantaada is masa's eighteenths original song. It has over 100,000 views on youtube.
Main article: Maha's Story
Succeeding versions
Edit
孤児の唄

Romaji/English
Koji no Uta (Orphan's Song)
Featuring
Hatsune Miku, GUMI
Author(s)
masa
Category
Remake

Description

A remade version of the song featured on Masas

ADULT

.
Japanese (日本語歌詞)
Romaji (ローマ字)

黒い金とギャンブルにまみれた 夜の都

kuroi kane to gyanburu ni mamireta yoru no miyako

エンカンターダ

enkantaada




カジノ アヘン 石油王の指輪 嘘に交尾 全てが許されるこのオアシス

kajino, ahen, sekiyuou no yubiwa uso ni koubi subete ga, yurusareru kono oashisu




夢に満ちた死人達

yume ni michi ta shinin tachi




煙巻いてる 闇の支配者は 無類の女好きだと

kemuri maiteru yami no shihai sha wa murui no onna zuki dato




イングラム ピル トカレフ 孤児の詩

inguramu, piru, tokarefu koji no uta




ばら売り少女の花言葉は 「明日天気になぁれ」

bara uri shoujo no hanakotoba wa 「ashita tenki ni naare」




パンダの餌は腹下ピンインぶら下げて

pa pa panda no esa wa harashita pinyin burasagete




異常なアルビノ 性欲表現 ばらばらにされた君と

ijouna arubino, seiyoku hyougen barabara ni sareta kimi to




朝には無くなる 楽園の香り 夢の街

asa ni wa nakunaru rakuen no kaori yume no machi




ガンジャ アヘン 孤独な栽培者 飴と鞭で働く

ganja, ahen kodoku na saibaisha ame to muchi de hataraku




汚されたこのオアシス 嘘に満ちた聖女達

kegasareta kono oashisu uso ni michita seijo tachi




薬撒いてる裏の支配者は 騙すことが得意だと

kusuri maiteru ura no shihaisha wa damasu koto ga tokuidato




ドラグノフ 鉈 ギロチン 晒し首

doragunofu, nata, girochin, sarashi kubi




人間バクテーおいしいでしょ? 証拠も残らぬ味は

ningen bakutee oishī desho ? shouko mo nokoruranu aji wa




猿の脳みそを啜る 肥えたボンボン ご主人様

sa sa saru no noumiso o susuru koeta bonbon goshujin sama




異常な世界と 性欲体現  ばらばらにされた君は

ijouna sekai to seiyoku taigen barabara ni sare ta kimi wa




朧火掲げて 私を見守る あと少し

oborohi kakagete watashi o mimamoru ato sukoshi




يرا من الجذاميرا من الجذاميرا من الجذاميرا من الجذاميرا من الجذاميرا من الجذام

yra mn aljdamyra mn aljdamyra mn aljdamyra mn aljdamyra mn aljdamyra mn aljdam




हमारे लिए इस बलिदान के खून, हे भगवान ओह द्वारा अनन्त जीवन प्रदान تضفي الحياة الأبدية علينا من دم هذه الذبيحة، يا الله يا Дай жыццё вечнае нас крывёю гэтай ахвяры, Божа, Аб

hamārē li'ē isa balidāna kē khūna, hē bhagavāna ōha dvārā ananta jīvana pradāna tdfy alhyah alabdyh 'elyna mn dm hdh aldbyhh, ya allh ya daj žyccio viečnaje nas kryvioju hetaj achviary, Boža, Ab




煙巻いてる 闇の支配者は 無類の女好きだと

kemuri maiteru yami no shihaisha wa murui no onna zuki dato




イングラム ピル トカレフ 孤児の詩

inguramu, piru, tokarefu, koji no uta




薔薇色少女の花言葉は 「どうか許しておくれ」

barairo shoujo no hana kotoba wa 「douka yurushite okure」




リカオンの餌は貴方と私の2人だけ

rikaon no esa wa anata to watashi no futari dake




異常なアルビノ 性欲表現 ばらばらにされた君と

ijouna arubino, seiyoku hyougen, barabara ni sare ta kimi to




朝には無くなる 楽園の香り 夢の街

asa ni wa nakunaru rakuen no kaori yume no machi
External links
Edit
| | |
| --- | --- |
| | Lyrics |