オフィシャルガイドブック ボーカロイド3 公式 完全マスター (Official guidebook VOCALOID3 Koshiki Kanzen Master)
Comment

1
Vocaloid3 Complete Official Guide Book (オフィシャルガイドブック ボーカロイド3 公式 完全マスター ) was an introductory book for the Vocaloid3 engine.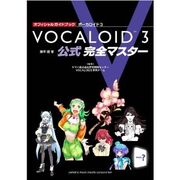 Was produced to cover information on all upcoming Japanese Vocaloids for the Vocaloid3 engine in the autumn/winter 2011 period and was released in conjunction with the software in October 2011. There are 12 chapters and an interview covering topics from how to import Vocaloid2 vocal into the Vocaloid3 engine, to how to use the new Job Plug-ins, as well as use the software in conjunction with DAWs.
The following navigation template is currently being improved for the benefit of all visitors. Please bear with us while improvements are being made, and as soon as an editor is available to do so assume good faith until the edits are complete. We apologize for the inconvenience this may cause in the meantime.
Literature
Music material
Fandom material