This song article is lacking a proper background. You can help by adding one! The relevant section in the Song Article Guideline is a good starting point, and this blog post may also be helpful. We apologize for the inconvenience this may cause in the meantime.

Song pages lacking proper backgrounds are automatically sorted into this category.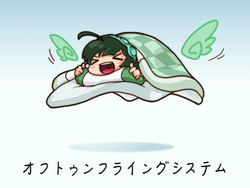 Song title
"オフトゥンフライングシステム"
Romaji: Ofutun Furaingu Shisutemu
English: Often Flying System
Uploaded April 22, 2015, with 7,000+ (NND) & 800+ (YT) views
Singer(s)
Tohoku Zunko
Producer(s)
Aeru (music, lyrics)
Ocha (illustration)
Links
Niconico Broadcast • YouTube Broadcast

Background
Edit
"Often Flying System" is an original song by Aeru featuring Tohoku Zunko.
Japanese (日本語歌詞)
Romaji (ローマ字)
おふとんで空飛ぶ夢を見た
ofuton de sora tobu yume o mita
オフトゥンフライングシステム
ofutun furaingu shisutemu
海越え 山越え 雲を越え
umi koe yamagoe kumo o koe
いざ行かんおふとん天国
iza ikan o futon tengoku
不思議な仕組みで空を飛ぶ それが
fushigi na shikumi de sora o tobu sore ga
オフトゥンフライングシステム
ofutun furaingu shisutemu
信じる思いは翼になる それが
shinjiru omoi wa tsubasa ni naru sore ga
オフトゥンフライングシステム
ofutun furaingu shisutemu
人類史上稀に見る
jinrui shijou mare ni miru
おふとんタイプの飛行システム
ofuton taipu no hikou shisutemu
あたたかいおふとんは上に行く性質を
atatakai o futon wa ue ni iku seishitsu o
利用したそのシステム
riyou shita sono shisutemu


震度5強で棚から落ちてきた
shindo gokyou de tana kara ochite kita
借りっぱなしヴァイのライブビデオ
karippanashi vai no raibu bideo
だから確固たる意思で僕は行く
dakara kakkotaru ishi de boku wa iku
スタイリッシュ返却システム
sutairisshu henkyaku shisutemu
ついでに色々持っていこう
tsuide ni iroiro motte ikou
尾ひれ背びれ付けた土産話
ohire sebire tsuketa miyagebanashi
おふとんぬくぬくよみがえる
ofuton nukunuku yomigaeru
君の香り温もりオヒサシブリー
kimi no kaori nukumori ohisashiburii
ふっとんだふとんは辿り着く
futtonda futon wa tadoritsuku
きっと何も変わらぬ君のもと
kitto nanimo kawaranu kimi no moto
馬鹿げた仕組みは空を飛ぶ
bakageta shikumi wa sora o tobu
僕が望んだ不健全システム
boku ga nozonda fukenzen shisutemu
信じる思いは羽布団(つばさ)になる それが
shinjiru omoi wa tsubasa ni naru sore ga
オフトゥンフライングシステム
ofutun furaingu shisutemu
君と僕を繋ぐ新システム
kimi to boku o tsunagu shin shisutemu
External links
Edit
| | |
| --- | --- |
| | Articles |
| | |
| --- | --- |
| | Lyrics |