Ad blocker interference detected!
Wikia is a free-to-use site that makes money from advertising. We have a modified experience for viewers using ad blockers

Wikia is not accessible if you've made further modifications. Remove the custom ad blocker rule(s) and the page will load as expected.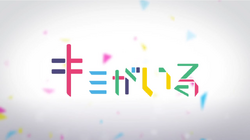 Song title
"キミがいる"
Romaji: Kimi ga Iru
English: You are Here
Uploaded April 17, 2014, with 60,000+ (NND) / 216,000+ (YT) views
Singer(s)
Hatsune Miku (Append), Kagamine Rin, Kagamine Len, Megurine Luka, MEIKO, GUMI and IA
Producer(s)
Arie-P (music, lyrics, Miku tuning)
Jegyll (arrangement, Rin tuning, Len tuning)
RangChang (arrangement, mastering, mix, MEIKO tuning, GUMI tuning, IA tuning)
mstk (Luka tuning, guitar)
Mogelatte (illust, video)
Links
Niconico Broadcast • YouTube Broadcast (official)

Background
Edit
"
Everyone, where is your "you"?
"
 

— Author's note
This song is feature in the album Sugar Brave.
Singer + Color
Miku
Len
MEIKO
IA
Rin
Luka
GUMI
chorus
Japanese (日本語歌詞)
Romaji (ローマ字)
ねえ 僕の隣に今続いていく明日に
nee boku no tonari ni ima tsuzuite iku ashita ni

君がいる

笑ってる

kimi ga iru

waratteru

それだけでいい
sore dake de ii


あぁ 昨日よりも強く沸き上がるこの想い
aa kinou yori mo tsuyoku wakiagaru kono omoi

君が好き

永遠に

kimi ga suki

eien ni

伝えていくよ
tsutaete iku yo



出会いという奇跡の続き

deai toiu kiseki no tsuzuki

気付けばもうこの腕二つじゃ

kizukeba mouko no ude futatsu ja

この愛は持ちきれないよ

kono ai wa mochikirenai yo




あぁ 不意に言った言葉がハモる

aa fui ni itta kotoba ga hamoru

そうどれ位大切な人か小さな瞬間に感じるんだ

sou dorekurai taisetsuna hito ka chiisana shunkan ni kanjirun da




不器用に泣かせたこんなヤツでも

bukiyou ni nakaseta konna yatsu demo

君をきっと幸せにするよ

kimi o kitto shiawase ni suru yo



ねえ 僕の隣に今続いていく明日に
nee boku no tonari ni ima tsuzuite iku ashita ni

君がいる

笑ってる

kimi ga iru

waratteru

それだけでいい
sore dake de ii


あぁ 昨日よりも強く沸き上がるこの想い
aa kinou yori mo tsuyoku wakiagaru kono omoi

君が好き

永遠に

kimi ga suki

eien ni

伝えていくよ
tsutaete iku yo



眩しい位 輝く君の

mabushii kurai kagayaku kimi no

笑顔にもう僕は何度も

egao ni mou boku wa nando mo

救われて 此処まで来たよ

sukuwarete koko made kita yo




あぁ 探していた最後の欠片(ピース)

aa sagashitenita saigo no piisu

気付けばそうこんなに近くで輝いていたのを見つけたんだ
kizukeba sou konnanni chikaku de kagayaite ita no o mitsuketan da


素直になれないそんな日もある

■

■

sunao ni narenai sonna hi mo aru

■

■

でもね 心に嘘はつけないよ

■

■

demo ne kokoro ni uso wa tsukenai yo

■

■



そう どんなに辛い事が二人を待ち受けても
sou donna ni tsurai koto ga futari o machiukete mo

僕がいて

君がいる

boku ga ite

kimi ga iru

それだけでいい
sore dake de ii


あぁ 二人でならきっと乗り越えていけるから
aa futari de nara kitto norikoete ikeru kara

何時までも

君の事

itsumademo

kimi no koto

愛していくよ
aishite iku yo



君が堪え切れずに

kimi ga kotaekirezu ni

流した涙も

nagashita namida mo

止まない雨は無い様に

yamanai ame wa nai you ni

虹に変わるから Yeah
niji ni kawaru kara Yeah



ねえ 僕の隣に今続いていく明日に

nee boku no tonari ni ima tsuzuite iku ashita ni

君がいる

笑ってる

kimi ga iru

waratteru

それだけでいい

sore dake de ii




あぁ 昨日よりも強く沸き上がるこの想い

aa kinou yori mo tsuyoku wakiagaru kono omoi

君が好き

永遠に

kimi ga suki

eien ni

伝えていくよ

tsutaete iku yo



そう どんなに辛い事が二人を待ち受けても
sou donna ni tsurai koto ga futari o machiukete mo

僕がいて

君がいる

boku ga ite

kimi ga iru

それだけでいい
sore dake de ii


あぁ 二人でならきっと乗り越えていけるから
aa futari de nara kitto norikoete ikeru kara

何時までも

君の事

itsumademo

kimi no koto

愛していくよ
aishite iku yo
External Links
Edit
| | |
| --- | --- |
| | Articles |
| | |
| --- | --- |
| | Lyrics |
| | |
| --- | --- |
| | Downloads |