Ad blocker interference detected!
Wikia is a free-to-use site that makes money from advertising. We have a modified experience for viewers using ad blockers

Wikia is not accessible if you've made further modifications. Remove the custom ad blocker rule(s) and the page will load as expected.
This song article is lacking a proper background. You can help by adding one! The relevant section in the Song Article Guideline is a good starting point, and this blog post may also be helpful. We apologize for the inconvenience this may cause in the meantime.

Song pages lacking proper backgrounds are automatically sorted into this category.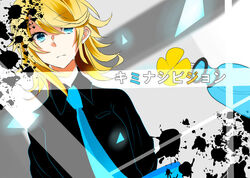 Song title
"キミナシビジョン"
Romaji: Kimi Nashi Bijon
English: A Vision Without You
Uploaded June 20, 2011, with 346,000+ views
Singer(s)
Kagamine Rin
Producer(s)
KulfiQ (music, lyrics)
Saine (video)
Ichi (guitar)
Rokka (encode)
Links
Niconico Broadcast
Background
Edit
"Kimi Nashi Vision" is an original song by KulfiQ featuring Kagamine Rin.
This song has entered the Hall of Fame. It was made into a single and is featured in the albums BRAVERLIZE, EXIT TUNES PRESENTS Supernova 5, and HATSUNE ROCK feat. 初音ミク.
Japanese (日本語歌詞)
Romaji (ローマ字)
純白のカーテン 照明を反(かえ)す
junpaku no kaaten shoumei wo kaesu
月光はこの目に 映らない
gekkou wa kono me ni utsuranai
深々沈む 心身の異常は
shinshin shizumu shinshin no ijou wa
片隅に 僕を追いやる
katasumi ni boku wo oiyaru


囚人の様態 精進します
shuujin no youtai shoujin shimasu
起立、礼 着席しません
kiritsu, rei chakuseki shimasen
非常口 緑のランプ
hijouguchi midori no ranpu
足元よく見て 歩きましょう
ashimoto yoku mite arukimashou


ほら、扉、鍵穴
hora, tobira, kagiana
外に出ないから ひどく錆びついて
soto ni denai kara hidoku sabitsuite


君が いなくて 隣に いなくて
kimi ga inakute tonari ni inakute
未来見えていなくて 想像してほら泣いて
mirai miete inakute souzou shite hora naite


傷は 痛くて、深くて、痛くて
kizu wa itakute, fukakute, itakute
いつか背負った涙 もう零れてしまって
itsuka seotta namida mou koborete shimatte


君がいなくて、いなくて、いなくて、いなくて、いなくて泣いて。
kimi ga inakute, inakute, inakute, inakute, inakute naite.
明日 見えなくて、見なくて、無くて、無くて。
ashita mienakute, minakute, nakute, nakute.
ああ、此処は 何処だろう
aa, koko wa doko darou
君がいなくて、いなくて、いなくて、いなくて、無くて、泣く、泣いて。
kimi ga inakute, inakute, inakute, nakute, nakute, naku, naite.
昨日の ことは 忘れて 消え去って ぽつり
kinou no koto wa wasurete kiesatte potsuri
ああ、孤独は嫌だよ
aa, kodoku wa iya da yo


一心同体の 心閉ざして
isshin doutai no kokoro tozashite
なくした記憶 閉じ込める
nakushita kioku tojikomeru
暗がりで咲く 一輪の花に
kuragari de saku ichirin no hana ni
ひとつだけ 願いを 託して
hitotsu dake negai wo takushite


いつか見た夢の果てはここに
itsuka mita yume no hate wa koko ni
理想なんてもう変わり果てて
risou nante mou kawari hatete


僕ら、二人描いた情景(ビジョン)は
bokura, futari egaita bijon wa
瓦礫と共に崩れ去って
gareki to tomo ni kuzure satte


君が いないこの部屋の中は とても暗い牢屋でした
kimi ga inai kono heya no naka wa totemo kurai rouya deshita
僕はパンをかじりながら 窓の外を見つめる
boku wa pan wo kajiri nagara mado no soto wo mitsumeru
あの空の遠い遠い雲の中の王国には
ano sora no tooi tooi kumo no naka no oukoku ni wa
今も君の笑い声が響いているといいな
ima mo kimi no waraigoe ga hibiite iru to ii na


明日の天気予報は 晴れのち 大雨です
ashita no tenki yohou wa harenochi ooame desu
僕は外に出ませんので 関係ないですけど
boku wa soto ni demasen no de kankei nai desu kedo
今から君に会いに 眠りにつきますから
ima kara kimi ni ai ni nemuri ni tsukimasu kara
あの雲と雲の隙間だけは 開けておいて下さい
ano kumo to kumo no sukima dake wa akete oite kudasai


ほら、やっと君との未来が
hora, yatto kimi to no mirai ga
見えた、見えた、みえていた
mieta, mieta, miete ita
External links
Edit
| | |
| --- | --- |
| | Articles |
| | |
| --- | --- |
| | Lyrics |
| | |
| --- | --- |
| | Downloads |