Ad blocker interference detected!
Wikia is a free-to-use site that makes money from advertising. We have a modified experience for viewers using ad blockers

Wikia is not accessible if you've made further modifications. Remove the custom ad blocker rule(s) and the page will load as expected.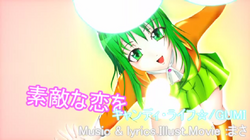 Song title
"キャンディライフ☆"
English: Candy Life☆
Uploaded January 10, 2012, with 233 (NND) (original) / 2,500+ (NND) (remake) / 6,800+ (YT) (remake) views
Singer(s)
GUMI V3
Hatsune Miku (chorus)
Producer(s)
masa (music, lyrics)
Links
Niconico Broadcast (deleted)

Background
Edit
"
This time it's adult style candy pop
"
 

— Author's note
Succeeding versions
Edit
Remake

Featuring
GUMI, Hatsune Miku
Author(s)
masa (music, lyrics, illust, video)
Category
Remake

Description

A remade version of the song.
Japanese (日本語歌詞)
Romaji (ローマ字)
この小さな 胸に秘めた
kono chiisana mune ni hime ta
思い届け 眩しい
omoi todoke mabushii
愛の唄を 君に歌う
ai no uta o kimi ni utau

届けたいよ

todoketai yo



素敵な恋を 教えてね?
suteki na koi o oshiete ne?
そう、キャンディ・ライフ☆
sou, kyandi. raifu


春の日の様な気持ち
haru no hi no you na kimochi
とってももどかしすぎて
tottemo modokashi sugite
君を見てる
kimi o miteru
妄想ばっかりの私じゃダメ?><
mousou bakkari no watashi ja dame?

ワンツー ワンツー エブリバディーセンセーション

wantsuu wantsuu eburibadiisenseeshon

ワンツー ワンツー エブリバディーセンセーション

wantsuu wantsuu eburibadiisenseeshon



休日の午後に駅で
kyuujitsu no gogo ni eki de
君と待ち合わせして
kimi to machiawase shite
君と手つなぐ
kimi to te tsunagu
君は照れてる私の頬をつねる。( ・Д)≡つ)゜Д゜)
kimi wa tereteru watashi no hou o tsuneru

ワンツー ワンツー ソレソレ ハイハイナー

wantsuu wantsuu soresore haihainaa

コイコイコイコイ チュパチュパ センセーション

koikoikoikoi chupachupa senseeshon




内心ドキドキ どうしよう?><

naishin dokidoki dou shiyou?

髪とか平気かな? アヒャヒャヒャヒャ ヘ(゚∀゚ヘ)(ノ゚∀゚)ノ ヒャヒャヒャヒャ

kami toka heiki ka na? ahyahyahyahyahyahyahyahya

内心ドキドキ どうしよう?><

naishin dokidoki dou shiyou?

アーヒャッヒャッヒャヽ(゚∀゚)メ(゚∀゚)メ( ゚▽゚)人(゚▽゚ )メ(゚∀゚)メ(゚∀゚)ノヒャッヒャッヒャ

ahyahyahyahyahyahyahyahya

(゚∀゚≡(゚∀゚≡゚∀゚)≡゚∀゚)

ahyahyahyahyahyahyahyahya



君に名前 呼ばれるたび、
kimi ni namae yobareru tabi,
君が好きに なって行く
kimi ga suki ni natte iku
その腕で 私を抱いて?
sonoude de watashi o daite?

乙女なのよ!

otome na no yo!



素敵な恋を あげたいの!
suteki na koi o age tai no!
そう、キャンディ・ライフ☆
sou, kyandi. raifu


平日の夜に君と
heijitsu no yoru ni kimi to
2人夜景を見てる
futari yakei o miteru
君の隣で
kimi no tonari de
高鳴る鼓動がバレない様に
takanaru kodou ga barenai you ni

ワンツー ワンツー ソレソレ ハイハイナー

wantsuu wantsuu soresore haihainaa

コイコイコイコイ チュパチュパ センセーション

koikoikoikoi chupachupa senseeshon




内心ドキドキ どうしよう?><

naishin dokidoki doushiyou?

服とか平気かな? アヒャヒャヒャヒャ (゚∀゚≡゚∀゚) ヒャヒャヒャヒャ

fuku toka heiki ka na? ahyahyahyahyahyahyahyahya

内心ドキドキ どうしよう?><

naishin dokidoki doushiyou?

(゚∀゚)アヒャヒャヒャヒャ

ahyahyahyahyahyahyahyahya

(゚∀゚ )≡≡( ゚∀゚)

ahyahyahyahyahyahyahyahya

(゚∀゚≡(゚∀゚≡゚∀゚)≡゚∀゚)

ahyahyahyahyahyahyahyahya

(゚∀゚∀゚∀゚∀゚∀゚∀゚∀゚∀゚∀゚∀゚∀゚∀゚)

ahyahyahyahyahyahyahyahya



この小さな胸で
kono chiisana mune de
膨れ上がる君への想い
fukureagaru kimi e no omoi
君のハート打ち抜いちゃう!^^
kimi no haatouchinuichau!
乙女だもん!o(*・∀・)つ☆
otome da mon!


笑う君も 怒る君も
warau kimi mo okoru kimi mo
泣いた君も 好きだよ!
naita kimi mo suki da yo!
愛の唄を 君と歌う
ai nouta o kimi toutau

2人でなら

futari de nara



素敵な日々が やってくる!
suteki na hibi ga yattekuru!
そう、キャンディ・ライフ☆
sou, kyandi. raifu

ソウソウソウソウ チュパチュパ センセーション

sousousousou chupachupa senseeshon



この小さな 胸に秘めた
kono chiisana mune ni himeta
想い届け 眩しい

(ソレソレソレソレ)

omoi todoke mabushii

(soresoresoresore)

愛の唄を 君に歌う
ai nouta o kimi ni utau

届けたいよ Foo!

todoketai yo Foo!



素敵な恋を 教えてね?
suteki na koi o oshiete ne?
そう、キャンディ・ライフ☆
sou, kyandi. raifu


素敵な君を 愛してる
suteki na kimi o aishiteru
そう、キャンディ・ライフ☆
sou, kyandi. raifu
External Links
Edit
| | |
| --- | --- |
| | Lyrics |