Ad blocker interference detected!
Wikia is a free-to-use site that makes money from advertising. We have a modified experience for viewers using ad blockers

Wikia is not accessible if you've made further modifications. Remove the custom ad blocker rule(s) and the page will load as expected.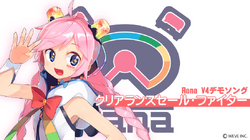 Song title
"クリアランスセール・ファイター"
Romaji: Kuriaransu Seeru ・ Faitaa
English: Clearance Sale Fighter
Uploaded December 4, 2015, with 1,000+ (YT) / 300+ (NND) views
Singer(s)
Rana
Producer(s)
Teta-rePi (music)
Kagome-P (mastering, movie)
Links
Niconico Broadcast • YouTube Broadcast (official)

Background
Edit
"Clearance Sale Fighter" is an original Japanese VOCALOID song featuring Rana. It is the first and currently only demo produced and published for the Rana V4 update.
Japanese (日本語歌詞)
Romaji (ローマ字)
家族が 初夢にまどろむ頃
kazoku ga hatsuyume ni madoromu koro
私の 負けられない戦いが始まる
watashi no make rarenai tatakai ga hajimaru


今年の狙いなコートと
kotoshi no nerai na kooto to
ニットを二枚にスカート
nitto o ni-mai ni sukaato
マフラー二つに手袋
mafuraa futatsu ni tebukuro
忘れちゃいけない福袋
wasure cha ikenai fukubukuro


限られた軍資金で
kagira reta gunshikin de
獲物をゲットするには
emono o getto suru ni wa
人より前に並ぶこと
hito yori mae ni narabu koto
お化粧もそこそこに
okeshou mo sokosoko ni


始発で来たのに結構並んでる
shihatsu de kita no ni kekkou naran deru
あの店の 福袋は無理ね
ano mise no fukubukuro wa muri ne
始まってる 高度な情幸単
hajimatteru koudona jou kou tan
そろそろ 開店の時間だわ
sorosoro kaiten no jikanda wa


硬い面もちの 店長が
katai omomochi no tenchou ga
扉の足下に しゃがみ込む
tobira no ashimoto ni shagami komu
戦の火ぶたは
ikusa no hibuta wa
今切って落とされた
ima kitte otosareta


さあ急げ 群衆をかき分けて
saa isoge gunshuu o kaki wakete
早歩き このビルの構造は把握済み
haya aruki kono biru no kouzou wa haaku zumi
最初の店 いい感じのにっと発見
saisho no mise ii kanji no nitto hakken
ちょっと待って
chotto matte
それはこのセールの対象外
sore wa kono seeru no taishou gai


お目当ての 紺色のピーコート
o meate no kon'iro no piikooto
お値引きは...
o nebiki wa...
うんまあ こんなもんじゃないかなあ?
un maa konna mon janai ka naa?
二軒目は 入場制限で入れない
ni kenme wa nyuujou seigen de hairenai
あのスカート
ano sukaato


あきらめて次の獲物のもとへ
akiramete tsugi no emono moto e
今回の戦いの 達成率は
konkai no tatakai no tassei ritsu wa
6割かそこそこね
roku-wari ka sokosoko ne
うまくいった方ね
umaku itta hou ne


なけなしの授業後の
nakenashi no jugyou go no
バイト代だけじゃ
baito dai dake ja
女子力のキープさえ
joshi ryoku no kiipu sae
楽なモンじゃないわ
raku na mon janai wa