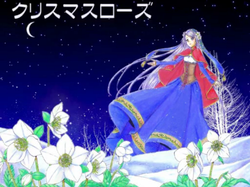 Song title
"クリスマスローズ"
Romaji: KURISUMASU ROOZU
English: Christmas Rose
Uploaded November 26, 2012, with 300+ views
Singer(s)
VY1 and Prima
Producer(s)
SeraRyo (music)
Toono Oto (lyrics, illust)
Links
Niconico Broadcast
piapro Broadcast
Background
Edit
"
Fortunately there.
"
 

— author's comment translated
SeraRyo's second duet song with VY1 and Prima. 
Japanese (日本語歌詞)
Romaji (ローマ字)
淡い粉雪が清らかに降り積もり
awai konayuki ga kiyoraka ni furitsumori
細い三日月は梢に留まる
hosoi mikazuki wa kozue ni tomaru


母に抱かれる 生まれたての命
haha ni dakareru umaretate no inochi
幸いあれと天使は歌う
saiwai are to tenshi wa utau


翼を開くような柔らかな歌声が
tsubasa wo hiraku you na yawaraka na utagoe ga
夜空に広がり輝く
yozora ni hirogari kagayaku


白い雪の花 静けさに満ち満ちて
shiroi yuki no hana shizukesa ni michi michite
透明な風に香りを託す
toumei na kaze ni kaori wo takusu


幼き手に無垢な祈り込めて
osanaki te ni muku na inori komete
幸いあれと少女は歌う
saiwai are to shoujo wa utau


捧げる花のように永遠を誓いたい
sasageru hana no you ni eien wo chikaitai
果てなき大地の約束
hate naki daichi no yakusoku


聖なる花のような喜びの道標
seinaru hana no youna yorokobi no michishirube
心に宿ってきらめく
kokoro ni yadotte kirameku
External links 
Edit
| | |
| --- | --- |
| | Lyrics |
Ad blocker interference detected!
Wikia is a free-to-use site that makes money from advertising. We have a modified experience for viewers using ad blockers

Wikia is not accessible if you've made further modifications. Remove the custom ad blocker rule(s) and the page will load as expected.