Ad blocker interference detected!
Wikia is a free-to-use site that makes money from advertising. We have a modified experience for viewers using ad blockers

Wikia is not accessible if you've made further modifications. Remove the custom ad blocker rule(s) and the page will load as expected.
This song article is lacking a proper background. You can help by adding one! The relevant section in the Song Article Guideline is a good starting point, and this blog post may also be helpful. We apologize for the inconvenience this may cause in the meantime.

Song pages lacking proper backgrounds are automatically sorted into this category.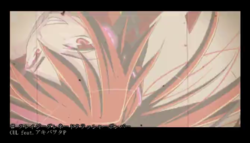 Song title
"クレイジーグレネードクラッシャーボンバー"
Romaji: Kureijii Gureneedo Kurasshaa Bonbaa
English: Crazy Grenade Crusher Bomber
Uploaded July 2, 2012, with 4,700+ views
Singer(s)
CUL
Producer(s)
Akibawota-P (music, lyrics, movie)
Shoudoubutsu (illust)
Links
Niconico Broadcast
Background
Edit
"Crazy Grenade Bomber Crusher" is an original song by Akibawota-P featuring CUL.
Japanese (日本語歌詞)
Romaji (ローマ字)
先生、あの話ですが 決着はつきましたか
Sensei, ano hanashi desu ga kecchaku wa tsuki mashita ka
先生、有耶無耶にせずに ねぇどうか御鞭撻を
Sensei, uyamuya ni sezu ni nee douka gobentatsu wo


Oh! Oh! なんてこった 無難なナルシスト
Oh! Oh! Nante kotta bunan na narushitsuto
Oh! Oh! なんだ一体 アンタどうしたいの
Oh! Oh! Nanda ittai anta dou shitai no


先生、不適切なのは 客観視か冒涜か
Sensei, futekisetsu na no wa kyakkanmi ka boutoku ka
先生、不毛な論争以前に 喋りませんね
Sensei, fumou na ronsou izen ni shaberi masen ne


Oh! Oh! なんてこった 何故かロマンチスト
Oh! Oh! Nante kotta naze ka romanchisuto
Oh! Oh! なんだ一体 アンタどうしたいの
Oh! Oh! Nanda ittai anta dou shitai no


I just want to know is the truth
I just want to know is the truth
拡声器は此処だ
Kakusei ki wa koko da
You have not only a lie
You have not only a lie
さぁ開示しろ
Saa kaiji shiro


Baby,Crazy grenade 逃さないぜ此処から
Baby, Crazy grenade nogasanai ze koko kara
権化と憎悪のネジを ぶっ飛ばす火薬を
Gonge to zouo no neji wo buttobasu kayaku wo
Baby,like a decoration 狂い辿ったミステイク
Baby, like a decoration kurui tadotta misuteiku
空っぽの植木鉢に 水をやる Monkey
Karappo no uekibachi ni mizu wo yaru Monkey


先生、例の件ですが また見てみぬ振りですか
Sensei, rei no kudan desu ga mata mite minu furi desu ka
先生、マニフェストの意味 本当に知っていますか
Sensei, manifesuto no imi hontou ni shitte imasu ka


Oh! Oh! なんてこった 愚劣なナルシスト
Oh! Oh! Nantekotta guretsu na narushisuto
Oh! Oh! なんだ一体 アンタどうしたいの
Oh! Oh! Nanda ittai anta dou shitai no


I just want to know is the truth
I just want to know is the truth
マイクはONなんだぜ
Maiku wa ON nanda ze
You have not only a lie
You have not only a lie
さぁ声明を出せ
Saa seimei wo dase


Baby,Crazy grenade 外さないぜ此処なら
Baby, Crazy grenade hazusanai ze koko nara
無能が詰まった サーバーは燃やすまでだ
Munou ga tsumatta saabaa wa moyasu made da
Baby,like a decoration 無駄が埋めてくリアリティ
Baby, like a decoration muda ga umete kuriariti
魚の居ない水槽を眺める Monkey
Sakana no inai suisou wo nagameru Monkey



Come on! Guitar!



I just want to know is the truth
I just want to know is the truth
拡声器は此処だ
Kakusei ki wa koko da
You have not only a lie
You have not only a lie
さぁ開示しろ
Saa kaiji shiro


Baby,Crazy grenade 逃さないぜ此処から
Baby, Crazy grenade nogasa nai ze koko kara
権化と憎悪のネジを ぶっ飛ばす火薬を
Gonge to zouo no neji wo buttobasu kayaku wo
Baby,like a decoration 狂い辿ったミステイク
Baby, like a decoration kurui tadotta miseteiku
おはようございます 能無し政治家
Ohayou gozai masu nou nashi seijika


Baby,like a decoration 狂い辿ったミステイク
Baby, like a decoration kurui tadotta miseteiku
空っぽの植木鉢に水を撒く Monkey
Karappo no uekibachi ni mizu wo maku Monkey
External links
Edit
| | |
| --- | --- |
| | Articles |
| | |
| --- | --- |
| | Lyrics |