Ad blocker interference detected!
Wikia is a free-to-use site that makes money from advertising. We have a modified experience for viewers using ad blockers

Wikia is not accessible if you've made further modifications. Remove the custom ad blocker rule(s) and the page will load as expected.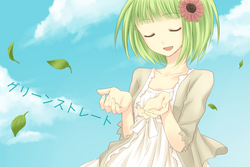 Song title
"グリーンストレート "
English: Green Straight
Uploaded September 28, 2010, with 205,000+ views
Singer(s)
GUMI
Producer(s)
Live-P (music, lyrics)
Buuta (illust)
Shieru (video)
Links
Niconico Broadcast • YouTube Broadcast (reprint, subbed)

Background
Edit
This song is relatively slow, and describes the singer's feelings as they decide to forgive someone. It has a hopeful message, saying although things have been bad, they are sure they will become better soon. They thank the person for what they have done.
It is not one of GUMI's most popular songs, but it has gained merit on both Youtube and Nico Nico Douga.
Japanese (日本語歌詞)
Romaji (ローマ字)
この空が消えゆく日が訪れ
kono sora ga kieyuku hi ga otozure
目を覚ました
me wo samashita
そう昨日を築いてくれたのは
sou kinou wo kizuitekureta nowa
あなたでした
anata deshita


救えない言葉吐き散らすこともある
sukuenai kotoba hakichirasu kotomoaru
だけどまだこの心は「ありがとう」残ってる
dakedo mada kono kokoro wa "arigatou" nokotteru


今日からあなたの風になる
kyou kara anata no kaze ninaru
誰かを許せるように
dareka wo yuruseruyouni
楽しい時間はきっとこの手から始まるから
tanoshii jikan wa kitto konote kara hajimarukara
きっとあなたの風になる
kitto anata no kaze ninaru


I can't hate you anymore
旅立ちの決意といつもの笑顔
tabidachi no ketsuito itsumono egao
これからもありがとう
kore kara mo arigatou
You're fading, but I never


うまく話せない夜には 言葉は忘れて構わない
umaku hanasenai yoru niwa kotoba wa wasurete kamawanai
誰よりも笑って笑っていくんだ 誰よりも最後に泣いて
dare yorimo waratte waratte ikunda dare yorimo saigo ni nait


今日からあなたの風になる
kyou kara anata no kaze ninaru
誰かを許せるように
dareka wo yuruseruyouni
悲しい声が飛び交って人のせいにしたくても
kanashii koe ga tobikatte hito no seinishitakutemo
きっとまたすぐ晴れになる
kitto matasugu hareninaru


今日からあなたの風になる
kyou kara anata no kaze ninaru
誰かを許せるように
dareka wo yuruseruyouni
楽しい時間はきっとこの手から始まるから
tanoshii jikan wa kitto kono te kara hajimarukara
きっとあなたの風になる
kitto anata no kaze ninaru
Derivatives
Edit
JIMMY's Cover

| | |
| --- | --- |
| Featuring | JIMMY |
| Author(s) | |
| Category | Human cover |
Wotamin's Cover

| | |
| --- | --- |
| Featuring | Wotamin |
| Author(s) | |
| Category | Human cover |
Nobunaga's Cover

| | |
| --- | --- |
| Featuring | Nobunaga |
| Author(s) | |
| Category | Human cover |
External links
Edit
| | |
| --- | --- |
| | Articles |
| | |
| --- | --- |
| | Downloads |