Ad blocker interference detected!
Wikia is a free-to-use site that makes money from advertising. We have a modified experience for viewers using ad blockers

Wikia is not accessible if you've made further modifications. Remove the custom ad blocker rule(s) and the page will load as expected.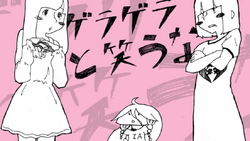 Song title
"ゲラゲラと笑うな"
Romaji: Geragera to Warauna
English: Don't Laugh Out Loud
Uploaded November 2, 2013 (NND) and November 7, 2013 (YT), with 106,000+ (NND) and 140,000+ (YT) views
Singer(s)
IA
Producer(s)
Ishifuro (music, lyrics, illust)
Links
Niconico Broadcast • YouTube Broadcast (official)

Background
Edit
"Geragera to Warau na" is an original Japanese Vocaloid song featuring IA composed by Ishifuro. This song was uploaded on the official IA Project YouTube channel with over 140,000 views. It is in the album Seenoh!!! (せーのっ!!!) and the game IA/VT Colorful and has entered the Hall of Fame.
Japanese (日本語歌詞)
Romaji (ローマ字)
最近はあの辺りずっと向こう工事中で
saikin wa ano atari zutto mukou koujichuu de
道なんかそこかしらで行き止まり 八方塞がり
michi nanka soko kashira de ikidomari happou fusagari


最近はあの店もずっと今も準備中で
saikin wa ano mise mo zutto ima mo junbichuu de
私なんかそこの思い出と一緒に 八方塞がり
watashi nanka soko no omoide to issho ni happou fusagari


君だって 嘘なんかずっと昔にほっぽって
kimi datte uso nanka zutto mukashi ni hoppotte
「もう一生会わない」と決めたことも 笑って話すけど
"mou isshou awanai" to kimeta koto mo waratte hanasu kedo


私の恋を奪ったアイツだけ許すな
watashi no koi o ubatta aitsu dake yurusu na
今もどこかで口を開いて 獲物を待ってるぜ
ima mo dokoka de kuchi o hiraite emono o matteru ze


散々な目によくも合わせてくれたもんだ
sanzan na me ni yokumo awasete kureta mon da
僕だって好きでふらついてるわけではないのだけれども
boku datte suki de furatsuiteru wake dewa nai no dakeredo mo


僕らの恋は腐った 思い出したくもない
bokura no koi wa kusatta omoi dashitaku mo nai
だからいつかは僕らのことを 笑うやつもいるさ
dakara itsuka wa bokura no koto o warau yatsu mo iru sa
週末の予定はずっと 今も埋まらずにいる
shuumatsu no yotei wa zutto ima mo umarazu ni iru
「だから時間に余裕があるぜ」 なんてネタにしてる
"dakara jikan ni yoyuu ga aru ze" nante neta ni shiteru
ゲラゲラと笑うな!!!
geragera to warau na!!!


あたしって 僕なんて
atashitte boku nante
何なんですか
nan nan desu ka


(せーのっ)
(seenot')


私の恋を奪ったアイツだけ許すな
watashi no koi o ubatta aitsu dake yurusu na
今もどこかで口を開いて 獲物を待ってるぜ
ima mo dokoka de kuchi o hiraite emono o matteru ze
いつかは仕返しだって 見事にやってやる
itsuka wa shikaeshi datte migoto ni yatte yaru
だから覚悟はしておいてよね あなたのことです
dakara kakugo wa shite oite yo ne anata no koto desu
ゲラゲラと笑うな
geragera to warau na
Other media appearances
Edit
External links
Edit
| | |
| --- | --- |
| | Articles |
| | |
| --- | --- |
| | Lyrics |
| | |
| --- | --- |
| | Downloads |