Ad blocker interference detected!
Wikia is a free-to-use site that makes money from advertising. We have a modified experience for viewers using ad blockers

Wikia is not accessible if you've made further modifications. Remove the custom ad blocker rule(s) and the page will load as expected.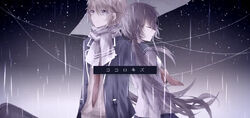 Song title
"ココロキズ"
Romaji: Kokoro Kizu
English: Emotional Pain
Uploaded June 2, 2014, with 76,800+ (NND) and 8,700+ (YT) views
Singer(s)
Hatsune Miku
Producer(s)
Yuuto (music, lyrics, tuning)
Piro (tuning)
Gomatsuko (mix)
moco (illustration)
Emumero (video)
Links
Niconico Broadcast • YouTube Broadcast (official)

Background
Edit
"
When you want someone by your side without saying anything.
"
 

— Author's comment
This song is Yuuto's 9th VOCALOID work, and is featured in the album utopia that was released on June 4, 2014.
Japanese (日本語歌詞)
Romaji (ローマ字)
心の底から笑えていますか?君にそっと問いかけると
kokoro no soko kara waraete imasu ka? kimi ni sotto toikakeru to
何処か上の空で返事する姿泣いているように見えてしまう
dokoka uwa no sora de henji suru sugata naite iru you ni miete shimau


無理し過ぎないで笑って欲しいから
murishi suginaide waratte hoshii kara
ほんの少し力になりたい
honno sukoshi chikara ni naritai


僕に聞かせてよ君が抱えるココロキズを
boku ni kikasete yo kimi ga kakaeru kokoro kizu o
夜が切なくて明日が苦しいと
yoru ga setsunakute asu ga kurushii to
もがいてた事もちゃんと覚えてる
mogaiteta koto mo chanto oboeteru
何が辛いのか君自身今わからなくても
nani ga tsurai no ka kimi jishin ima wakaranakute mo
ただ傍にいることは出来る
tada soba ni iru koto wa dekiru
君は一人きりじゃない
kimi wa hitorikiri ja nai


記憶を辿って想いを集めた君の背中支えたくて
kioku o tadotte omoi o atsumeta kimi no senaka sasaetakute
どうすれば上手く伝えられるかな今の君に届けるには
dousureba umaku tsutaerareru ka na ima no kimi ni todokeru ni wa


拙い歌に気持ちを込めるから
tsutanai uta ni kimochi o komeru kara
ほんの少し心を貸して
honno sukoshi kokoro o kashite


僕に聞かせてよ君が抱えるココロキズを
boku ni kikasete yo kimi ga kakaeru kokoro kizu o
前ばかり向かなくたっていいから
mae bakari mukanakutatte ii kara
ゆっくり進もう誰も責めないよ
yukkuri susumou dare mo semenai yo
何が辛いのか君自身今わからなくても
nani ga tsurai no ka kimi jishin ima wakaranakute mo
ただ傍にいることは出来る
tada soba ni iru koto wa dekiru
君は一人きりじゃない
kimi wa hitorikiri ja nai


僕の言葉がまだ君の心に響かなくても
boku no kotoba ga mada kimi no kokoro ni hibikanakute mo
ふとした時に音に身を任せただただ目を閉じてみて
futoshita toki ni oto ni mi o makase tada tada me o tojite mite


僕に聞かせてよ君が抱えるココロキズを
boku ni kikasete yo kimi ga kakaeru kokoro kizu o
夜が切なくて明日が苦しいと
yoru ga setsunakute asuga kurushii to
もがいてた事もちゃんと覚えてる
mogaiteta koto mo chanto oboeteru
何が辛いのか君自身今わからなくても
nani ga tsurai no ka kimi jishin ima wakaranakute mo
ただ傍にいることは出来る
tada soba ni iru koto wa dekiru
君は一人きりじゃない
kimi wa hitorikiri ja nai


君はずっと独りじゃない
kimi wa zutto hitori ja nai
External links
Edit
| | |
| --- | --- |
| | Articles |
| | |
| --- | --- |
| | Lyrics |