Ad blocker interference detected!
Wikia is a free-to-use site that makes money from advertising. We have a modified experience for viewers using ad blockers

Wikia is not accessible if you've made further modifications. Remove the custom ad blocker rule(s) and the page will load as expected.
This song article is lacking a proper background. You can help by adding one! The relevant section in the Song Article Guideline is a good starting point, and this blog post may also be helpful. We apologize for the inconvenience this may cause in the meantime.

Song pages lacking proper backgrounds are automatically sorted into this category.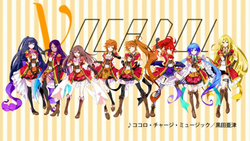 Song title
"ココロ・チャージ・ミュージック"
Romaji: Kokoro Chaaji Myuujikku
English: Heart Charge Music
Uploaded December 12, 2015, with 7,000+ (NND), 13,000+ (YT) views
Singer(s)
VY1, Merli, kokone, anon, kanon, CUL, Aoki Lapis, Lily
Producer(s)
Asin Kuroda (music)
Kato Ryota (arrangement)
Masato Fukuda (guitar)
Links
Niconico Broadcast • YouTube Broadcast

Background
Edit
"Heart Charge Music" is an original song by Asin Kuroda featuring VY1, Merli, kokone, anon, kanon, CUL, Aoki Lapis and Lily.
This song is the theme song for the iOS app VOCADOL.
Japanese (日本語歌詞)
Romaji (ローマ字)
はじまつ お気に入りのミュージック
hajimatsu oki ni iri no myuujikku
体がほら 動き出す
karada ga hora ugokidasu


晴れの日は 楽しい歌歌って
hare no hi wa tanoshii uta utatte
元気をチャージ エンジン全開!!!
genki o chaaji enjin zenkai!!!


夢に見たステージに立つその日まで
yume ni mita suteeji ni tatsu sono hi made
わたし ずっと 走り続けるの
watashi zutto hashiri tsuzukeru no
へこんだときだって 笑顔になれる
hekonda toki datte egao ni nareru
そんな瞬間 作り出してみせるから
son'na shunkan tsukuridashi te miseru kara


小さな努力からコツコツと
chiisa na doryoku kara kotsukotsu to
アイドル道極めますっ
aidoru michi kiwame masu


雨の日も さみしくないように
ame no hi mo samishiku nai you ni
元気をチャージ エンジン全開!!!
genki o chaaji enjin zenkai!!!


たまに躓いて転ぶときもあるさ
tama ni tsumazui te korobu toki mo aru sa
だけど 顔を 上げて見てみたら
dakedo kao o agete mite mitara
手を差し伸べてくれる仲間がいたよ
te o sashinobe te kureru nakama ga ita yo
どんなときも 頑張れる気がするよ
don'na toki mo ganbareru ki ga suru yo


ライトに照らされ 輝くためには
raito ni terasare kagayaku tame ni wa
暗い道にいる時こそ 笑顔を忘れないこと
kurai michi ni iru toki koso egao o wasure nai koto


夢に見たステージに立つその日まで
yume ni mita suteeji ni tatsu sono hi made
わたし ずっと 走り続けるの
watashi zutto hashiri tsuzukeru no
へこんだときはきっと思い出して
hekonda toki wa kitto omoidashi te
わたしたちが 絶対にそばにいること
watashitachi ga zettai ni soba ni iru koto
ずっと 終わらない夢を見よう
zutto owaranai yume o miyou
External links
Edit
| | |
| --- | --- |
| | Articles |
| | |
| --- | --- |
| | Lyrics |