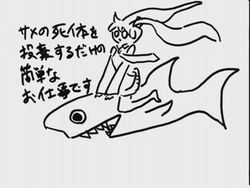 Song title
"サメの死体を投棄するだけの簡単なお仕事です"
Romaji: Same no Shitai wo Toukisuru dake no Kantan na O-shigoto desu
English: The Simple Business of only Dumping a Dead Shark's Body
Uploaded February 19, 2012, with 74,800+ (NND) and 8,400+ (YT) views
Singer(s)
Hatsune Miku
Producer(s)
Hobonichi-P
Links
Niconico Broadcast • YouTube Broadcast

Background
Edit
Hobonichi-P's 304th song, a song inspired by the discovery of a shark's dead body in Yoyogi Park. In this song, Hobonichi-P gives the real-life case the fictional story of being a successful publicity stunt for a budding new producer, Kouen de Same ga Shinderu-P (A Shark is Dead in the Park-P), and the shark actually being a flat fish.
Japanese (日本語歌詞)
Romaji (ローマ字)
深夜の常磐道を激走する黒いワゴン車
shin'ya no joubandou wo gekisousuru kuroi wagon sha
荷台から立ち籠(こ)める強烈なアンモニア臭
nidai kara tachikomeru kyouretsu na anmonia shuu


検問に引っかからないよう 慎重にルート選んで
kenmon ni hikkakaranai you shinchou ni ruuto erande
夜が白(しら)み始める前に代々木公園に着いた
yoru ga shirami hajimeru mae ni yoyogi kouen ni tsuita


レコード会社の社員のくせに こんなことしてる理由は
rekoodo gaisha no shain no kuse ni kon'na koto shiteru riyuu wa
今度デビューする新人の名前が 「公園でサメが死んでるP」
kondo debyuu suru shinjin no namae ga "kouen de same ga shinderu P"


サメの死体を投棄するだけの 簡単なお仕事です
same no shitai wo toukisuru dake no kan'tan na o-shigoto desu
派手に見られがちなこの業界も 地道な仕込みが肝心なんです
hade ni mirare gachi na kono gyoukai mo jimichi na shikomi ga kanjin nandesu


こんな仕事にだってそれなりに苦労はあるのさ
kon'na shigoto ni datte sore nari ni kurou wa aru no sa
本当はサメじゃなくて平べったい魚だったんだ
hontou wa same janakute hirabettai sakana dattanda


できれば公園よりも民家の裏庭がよかった
dekireba kouen yori mo minka no uraniwa ga yokatta
さすがに迷惑すぎるだろう 少し良心が咎(とが)めた
sasuga ni meiwakusugiru darou sukoshi ryoushin ga togameta


この話題がニュースサイトの トップページを飾れば
kono wadai ga nyuusu saito no toppu peeji wo kazareba
絶大な広告効果 オリコン一位を奪(と)るのも夢じゃない
zetsudai na koukoku kouka orikon ichii wo toru no mo yume janai


サメの死体を投棄するだけで 宣伝になるんだったら
same no shitai wo toukisuru dake de senden ni naru ndattara
アーティスト名ちょっと変えるくらいの 路線変更は日常茶飯事(ちゃめしごと)です
aatisutomei chotto kaeru kurai no rosenhenkou wa nichijou chameshigoto desu
Derivatives
Edit
Uramanbou's Cover
External links
Edit
Ad blocker interference detected!
Wikia is a free-to-use site that makes money from advertising. We have a modified experience for viewers using ad blockers

Wikia is not accessible if you've made further modifications. Remove the custom ad blocker rule(s) and the page will load as expected.