Ad blocker interference detected!
Wikia is a free-to-use site that makes money from advertising. We have a modified experience for viewers using ad blockers

Wikia is not accessible if you've made further modifications. Remove the custom ad blocker rule(s) and the page will load as expected.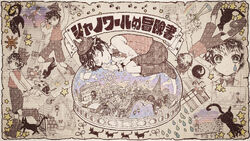 Song title
"シャノワールの冒険書"
Romaji: Shanowaaru no Bouken Sho
English: Chat Noir's Adventure Book
Uploaded June 13, 2014, with 46,000+ (NND) & 16,000+ (YT) views
Singer(s)
flower
Producer(s)
cosMo (music, lyrics)
syuri22 (illust, video)
Links
Niconico Broadcast • YouTube Broadcast (official)

Background
Edit
This is cosMo's first work using flower.
Japanese (日本語歌詞)
Romaji (ローマ字)
さよならは言わないよ……
sayounara wa iwanai yo......




手錠と足枷 世界がつく嘘と知り
tejou to ashikase sekai ga tsuku uso to shiri
寒くて退屈な棲処から 逃げ出した
samukute taikutsuna sumika kara nigedashita


おひさまポカポカ 絶好スポット目指して
ohisama pokapoka zekkou supotto mezashite
泣いてるキミの顔 振り返らず飛び出した
naiteru kimi no kao furikaerazu tobidashita


旅行鞄なんていらないよ
ryokou kaban nante iranai yo
林檎とパン一欠け袋詰め込み
ringo to pan hitokake-bukuro tsumekomi


そう! 夜明けの空に 流れ星見た
sou! yoake no sora ni  nagareboshi mita
冷めた世界から ふわり消えたいと願った
sameta sekai kara fuwari kietai to negatta


大事にしてた物をぽいと空投げ捨てた
daiji ni shi teta mono o poi to sora nagesuteta
チクリ悲しみさえも スパイスに変える
chikuri kanashimi sae mo  supaisu ni kaeru


「楽しい」が見つかる方向に さよならも告げず走る
"utsukushii" ga mitsukaru houkou ni sayounara mo tsugezu hashiru
どこへでも行けるんだ 自由を求めて
doko e demo ikeru nda jiyuu o motomete




怠惰と倦怠(マンネリ) 世界が求めると知り
taida to man'neri sekai ga motomeru to shiri
進まない時計の針に ボクは苛立った
susumanai tokei no hari ni boku wa iradatta


幸せ?本当に? 目減りしてゆくワクワク感
shiawase? hontou ni? meberi shite yuku wakuwaku-kan
自分に嘘つきなキミの元を飛び出した
jibun ni usotsuki na kimi no gen o tobi dashita


単純な世界はいらないよ
tanjun'na sekai wa iranai yo
謎解きする時間はたくさんあるんだ
nazotoki suru jikan wa takusan aru nda


だから!
dakara!


「終わらぬ夜明け」そんな矛盾に
"owaranu yoake" son'na mujun ni
魅せられてボクは 永久に旅すると誓った
miserarete boku wa towa ni tabi suru to chikatta


大きく空いた胸の穴がしがらみ解く
ookiku suita mune no ana ga shigarami hodoku
去った悲しみからは 希望が芽生える
satta kanashimi kara wa kibou ga mebaeru


「楽しい」が見つかる方向に 天邪鬼は惹かれてった
"utsukushii" ga mitsukaru houkou ni amanojaku wa hika rete tta
パッケージされた世界 足で砂かけて
pakkeeji sareta sekai ashi de suna kakete




星は廻(めぐ)り 月は満ち欠け
hoshi wa meguri tsuki wa michikake
時の経過が キミを変えた
toki no keika ga kimi o kaeta


悲しかった ある日目覚めて
kanashikatta aruhi mezamete
キミがキミでなくなっていたから
kimi ga kimi denaku natte itakara


黒と白曖昧に混じり合ったシナリオ
kuro to shiro aimai ni majiri atta shinario
不運(トラブル)続き それも運命だと思えた
toraburu tsudzuki sore mo unmeida to omoeta




大事にしてた物をぽいと空投げ捨てた
daiji ni shi teta mono o poi to sora nagesuteta
チクリ悲しみさえも スパイスに変える
chikuri kanashimi sae mo  supaisu ni kaeru


「楽しい」が見つかる方向に さよならも告げず走る
"utsukushii" ga mitsukaru houkou ni sayounara mo tsugezu hashiru
どこへでも行けるんだ 自由を求めて
doko e demo ikeru nda jiyuu o motomete


別れに蓋をし発つ 自由を求めて
wakare ni futa o shi tatsu jiyuu o motomete
External links
Edit
| | |
| --- | --- |
| | Official |
| | |
| --- | --- |
| | Articles |
| | |
| --- | --- |
| | Downloads |