Ad blocker interference detected!
Wikia is a free-to-use site that makes money from advertising. We have a modified experience for viewers using ad blockers

Wikia is not accessible if you've made further modifications. Remove the custom ad blocker rule(s) and the page will load as expected.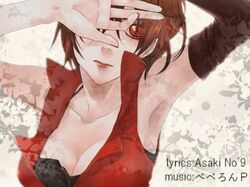 Song title
"スズメノナミダ"
Romaji: Suzume no Namida
English: Tears of a Sparrow (Japanese idiom of very small amount)
Uploaded January 19, 2009, with 105,000+ views
Singer(s)
MEIKO
Producer(s)
Asaki No'9 (lyrics)
Peperon-P (music)
Links
Niconico Broadcast
Background
Edit
Peperon-P personally had received the lyrics to this song from Asaki No'9. He said something close to "he saw the lyrics and an image popped up in his mind of an older sister crying while singing". This song is featured in the Hall of Fame.
The Japanese idiom suzume no namida is a metaphor for very small things. This title implies those in this song shed silent tears.
Japanese (日本語歌詞)
Romaji (ローマ字)
毎日のように 生まれてくる
mainichi no you ni umarete kuru
悲しい欲望や憎しみを
kanashii yoku bou ya nikushimi wo
上手く交わせずに 泣いてるんだ
umaku kawasezu ni naiterun da
盲目の有り得ないニュースが
moumoku no ari enai nyuusu ga


人間の正体なのかな
ningen no shoutai na no kana
君はどう思う? 聞かせてよ
kimi wa dou omou? kikasete yo
大人になっても涙するのは
otona ni natte mo namida suru no wa


ミットモナイと思ってたけど
mittomo nai to omotteta kedo
全然泣いているよ 今でも…
zenzen naite iru yo ima demo...
今夜も スズメノナミダ 僕は泣いているよ
kon'ya mo suzume no namida boku wa naite iru yo


分かり合えない 道徳が 孤独へと誘うけど
wakari aenai doutoku ga kodoku e to sasou kedo
ただ昔と違うのは 流れる涙の意味
tada mukashi to chigau no wa nagareru namida no imi
Ah だから 今夜も 深々と1人きりで…
Ah dakara kon'ya mo fukaguka to hitori kiri de...


今年ももうすぐ 終わるけど
kotoshi mo mou sugu owaru kedo
僕は未だに不安だらけで
boku wa imada ni fuan darake de


君に会うこと また怖くなってる
kimi ni au koto mata kowaku natteru
また有り得ない事件ばかりで
mata ari enai jiken bakari de
人間不信になってしまうよ
ningen fushin ni natte shimau yo


君は信じていい? 縋(すが)らせてよ
kimi wa shinjite ii? sugarasete yo
この歳になれば全てが
kono toshi ni nareba subete ga


器用になると思っていた
kiyou ni naru to omotte ita
全然ダメだよね 笑顔も…
zenzen dameda yo ne egao mo...
今夜も スズメノナミダ 君も泣いてるかな
kon'ya mo suzume no namida kimi mo naiteru kana


めぐり合いの 全てが 幸せとは限らなくて
meguri ai no subete ga shiawase to wa kagira nakute
きれいな月は残酷 僕達を見下すだけ
kirei na tsuki wa zankoku boku tachi wo miorosu dare
Ah だけど 今夜も 君のこと愛してるよ
Ah dakedo kon'ya mo kimi no koto aishiteru yo
8割方争いで 2割方平和かなって
hachi wari gata arasoi de ni wari gata heiwa kanatte
子供の頃に描いた 未来とは正反対だって
kodomo no koro ni egaita mirai to wa seihantai datte


疑いたくなるよね… 恨みたくもなるよね…
utagai taku naru yo ne...urami taku mo naru yo ne...
それでも生きていかなきゃ…
sore demo ikite ika nakya...
撒(ま)いた種が 芽を出すまでは…
maita tane ga me wo dasu made wa...


今夜も スズメノナミダ 誰かが泣いている
kon'ya mo suzume no namida dareka ga naite iru
裸になれば 皆同じ 人間なのに
hadaka ni nareba mina onaji ningen na no ni
そんな 当り前に気付き 君に会いたくなって
sonna atarimae ni kizuki kimi ni ai taku natte
Ah 弱い僕は 急いで君の元へ
Ah yowai boku wa isoide kimi no moto e
External links
Edit
| | |
| --- | --- |
| | Articles |